WARNING! Reading this blog and watching the included video will take 8-10 minutes of your life that you will never get back!
Bob #2 and I were meeting up last Saturday to attend the Edmonton Woodshow.
The show had offerings from Delta, Hitachi, Steel City, General, Dewalt, Lee Valley, Lie Nielsen and a mixture of local guilds and arts and crafts distributors.
Overall, the show was quite good. There was lots of machinery there and Bob and I were able to meet up with Jim Lindsay, inventor of Dowelmax. Jim and his wife Marie, are really great people to spend time with. If you see them at a show, stop by. You'll be glad you did.
Jim has been working on a prototype of another attachment for Dowelmax for mitred box joints. He gave us a heads up and the verbal howto to get it done. A later blog will go through making and testing a similar attachment for my trusty jig.
Bob and I watched a few demos, talked to a lot of tool reps, and one or two reps that were tools. Most products were well represented and the food was pretty good! Bob and I picked up some tools that we wanted. Both of us were impressed with a product from Woodline called, Dadowiz.
Dadowiz is a quick little jig for your router for cutting precise dados. I'm a big fan of having a few different ways to skin a cat and for a quick dado with fast setup and tear down, this little jig works like a charm.
A representative from Laguna Tools was at the show. He was demo'ing the latest and greatest bandsaw offerings as well as their Resaw King blade. There is shot of this in the video at the end of the blog that is worth watch how well this saw and blade cut through a hunk of elm.
Bob got himself an awesome Sliding Compound Mitre Saw from Hitachi. With show price, and rebate, he got a heck of a deal. If I didn't already have the behemoth from Dewalt, this machine would have been in my shop by now.
The folks from Worksharp were also at the show. WayneC did a great blog on the Worksharp system. The show price was also excellent so Bob can't whine about dull tools anymore! Bob picked up the WS3000 System.
I went to the show, jonesing for a Performax 16-32 Drum Sander.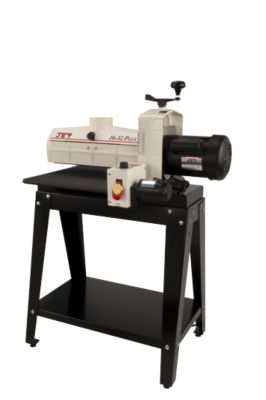 I was quite disappointed to find out that the local dealer didn't bring one to the show. As it turned out, they did, but as our show experience went, the guy that gave us an answer didn't necessarily know the right one. After some wheeling and dealing, and some camel trading that made Bob proud to be my imaginary friend, we had one to load up. The sander came along with it's stand, (which I tried unsuccessfully on several occasions to give to Bob) and infeed/outfeed tables.
We stopped by the Lee Valley booth as they were doing a demo of the Veritas Mk. II Sharpening System. I have this system and have been having less than stellar results with some Lee Valley Chisels that I have. You can read a mini-review in my blog, here. I thought I'd get the guy at the booth to see if he can throw a crazy sharp edge on one of them. Unfortunately, though he was demonstrating the use of the tool the general public, he had quite alot of trouble using it. Bob and I both came to a simultaneous realization, this guy doesn't know how to use it. However, we had him talked into the demo so we sat through it. The biggest time consumer of the demo was watching him put a 20 degree bevel on a 25 degree chisel. Anyway, he finally couldn't get it sharp either so we headed back to the Lie Nielsen booth and I grabbed a few Lie Nielsen Chisels.
At that point, we had been there for about 6 hours and were still having fun. However, all good things must come to an end and we loaded up our booty and headed back to Bob's shop. Our intention was to setup the Hitachi Saw but both being quite fatigued with our day, we saw a big bag of hardware that came with the stand and both instantly lost any motivation to put something together.
There were, four memorable moments from the days outing. Unfortunately we didn't have video running on any of them but I'll do my best to describe the events…
First of all, Bob #2 is a great guy and the day was well spent. We laughed, he cried, it was all good!
Second, was a quote from Bob…."Get my son anything he wants!"
Third was a quote from Mot…"Excuse us, my grandfather is old…he gets confused…"
And the grand daddy of memorable moments came, thanks to hand tool guru, Rob Cosman. It turns out that Rob can be a tad smug. Not known for my ability to understate, I'll just leave it at that. Rob was doing a dovetail demo (go figure,) and asked if anyone in the crowd was over 200 pounds. He was eyeballing our Bob #2 when he asked and wasn't looking anywhere else. Rob said, "Can you step on this dovetail joint?" He then placed it on the ground in front of Bob. Bob brought his leg up, and in a show of force that was as enviable and impressive, Bob SMASHED this joint into the cement. Rob's eyes popped out of his head as he just sort of muttered, "Uhhhhh…" Bob asked, "Oh you meant stand on it. You should have asked for what you wanted."
At that point, Rob did gain composure, looking at the joint and held it up to the crowd (which turned out to be mostly an entourage of previous Cosman students – aka Cosmonites.) Rob exclaimed, "The joint didn't fail, the wood failed." And he was right. The show went on. I was hiding behind a few other people at that point as the general feeling in the group was my grandpa's day pass must be just about up, either that or he needs to take his meds.
Here's a somewhat humorous video of our day:
Cheers!
-- You can discover more about a person in an hour of play than in a year of conversation. (Plato)
---