I was just wondering how many other crazy wood people are out there are like my husband and myself. I am relatively new to wood working but the bug has bitten me pretty hard. I live in a 50 year old suburban neighborhood that is very well treed. Many of these trees are 30-50 yrs. old and when a neighbor cuts one down the wood is left on the curbside for pick up. How many times have you seen freshly (or seasoned) logs, branches, wood pieces laying on the side of the road and just had to stop and inspect and try to haul a branch or log that was way too heavy in to your vehicle, or even come back with an under sized wheel barrel? It's like the ant trying to harvest the grasshopper leg. It just don't go, at least not very far nor very fast.
I have a load of maple under my porch from a year and a half ago. The logs range from 80-600 lbs. each. My husband and I spotted 3 large logs on the curb and asked the owner of the house if we could have them. They had been there for 3-6 months and the wife said her husband would be delighted to have them removed. Their 2 adult sons took all day to get them there. My husband and I got them in his pick-up truck in 5 minutes. The wife frantically called the husband on the phone and he ran home to show us MORE logs on the side and back of the house. We loaded 10 more pieces while the family watched us in awe. (The truck was parked down hill and we used ramps so it wasn't that hard to roll them up a few feet, although we did get some help on the final up-push into the truck.)
We drove back to our house, 2 blocks away and unloaded most of them without mishap. My husband continued to unload the truck while I made lunch and I heard a lot of LOUD THUMPS in the driveway. The last log to tango with was not the largest, maybe 400 lbs., but it was the crotch piece, so it didn't roll very easily. With an iron rod and a square rock/brick underneath, we managed to roll it halfway to it's designated spot until we were too tired and gave up. Meanwhile I kicked the rock so many times to wedge it underneath to prevent it from rolling backwards, that I kicked my right hip out of alignment. My chiropractor calls it "Frog Leg Syndrome". I call it Logitis.
This is not the first nor the last log haul but I'd like to hear some of your stories.
Alas, here is the cullprit as it sits on a concrete paver riddled with lichen. (The garden spade is 39" tall, 7.5" wide blade.)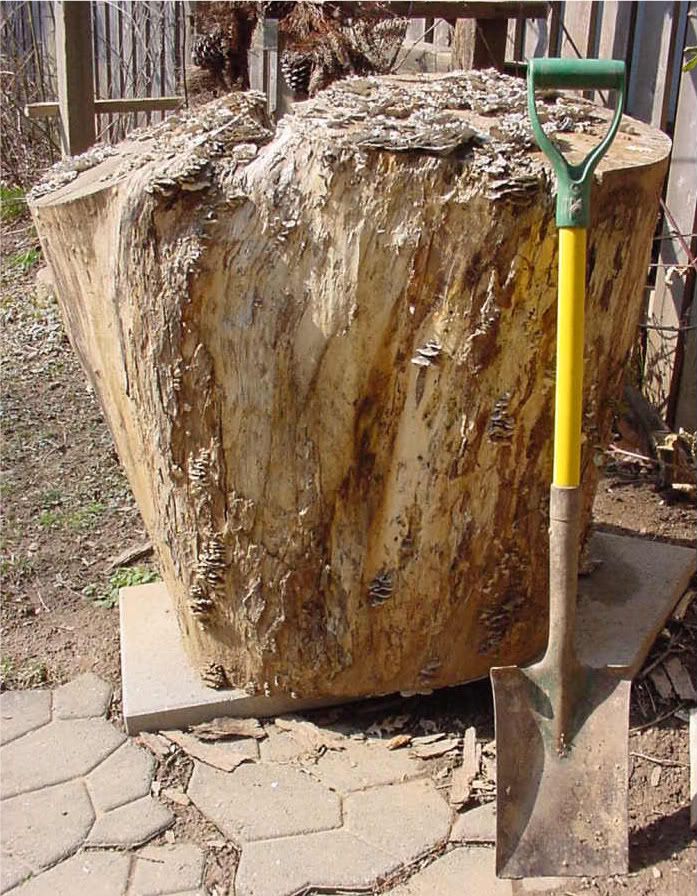 -- "They who dream by day are cognizant of many things which escape those who dream only by night." ~ Edgar Allan Poe
---