I've started the first official project for Upper Cut, check it out here.
Yesterday I went into Seattle after lunch and picked up the materials at Crosscut Hardwoods. The guys there are helpful, and they did most of the labor when picking out the materials, loading them into my trolley and pushing that around, and loading them into my truck. When I got home I was on my own though, and I had a lot of heavy sheet goods to move into the garage myself.
This morning before everyone woke up I made pretty detailed cut lists in sketchup. I had done some on graph paper but I wanted to double check some things and think about the order of cutting. A little time thinking saves you a lotta time working. I noticed a part of the design that was a bit unclear, shot off an email to the customer, and got confirmation from them about which way to go.
My in-laws came over and made breakfast and then I made a short trip out to do some errands. I started in the shop at noon, it's now 3pm and I'm showered and sitting at the computer. Let's see how I did.
Real Progress
In the three hours in the shop today here's what I accomplished:
Back cut to rough width and height after best section picked out.
Drawer box sides cut to final length, rough height, and stacked.
Drawer box fronts and backa cut to rough height, not crosscut to final width, and stacked.
Sides of carcass picked, matched, and cut to rough size.
Top picked from best section and cut to rough size.
Bottom cut to rough size.
Drawer front piece picked and cut to rough size.
Solid stock for trim and bottom frame rough dimensioned (ripped on bandsaw, face jointed, edge jointed, planed, cut to rough length).
Shop cleanup.
Breaking Down Sheets
All the big 4' x 8' sheets are broken down. This is one of my least favorite parts. The sheets are big and heavy, hard to move by yourself, and unsafe to push through the table saw. So I put a piece of insulating foam on the garage floor and cut them down with the circular saw. When I have the sheets broken down, they are much easier to manage and push through the saw safely.
Pictures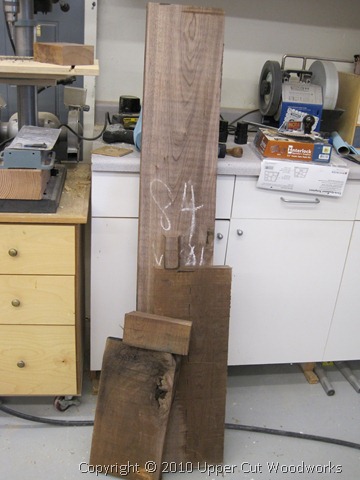 These big hunks of walnut came as one piece. I've cut off the checked end, the end with the knot and twist. This will trim out the piece and be used to build the base.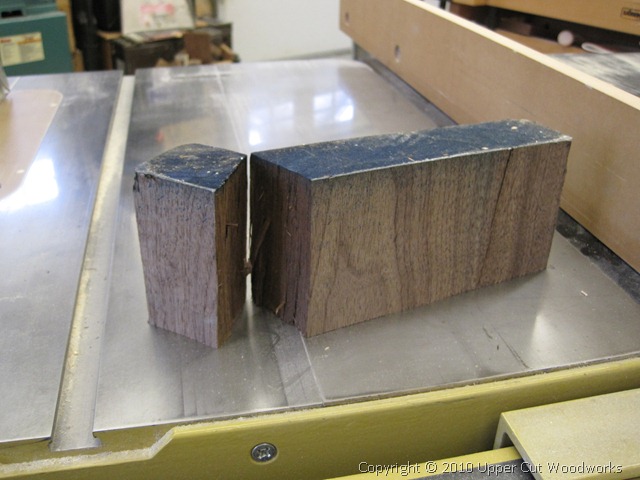 This is how easy a checked end can split.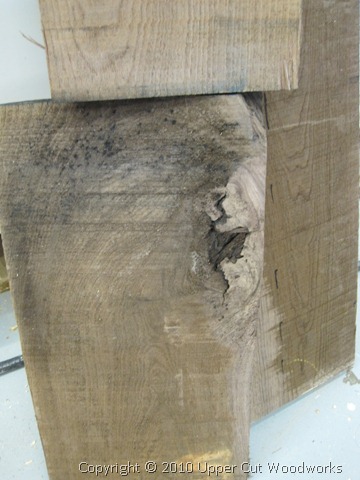 This is why you buy more material than you need. Wood is a natural product and there a pieces that you just can't use.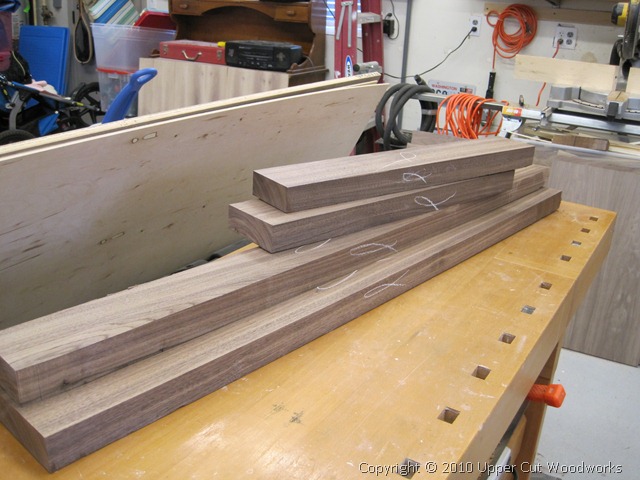 All cleaned up and ready to acclimate for a few days before final dimensioning. After ripping it on the bandsaw, cutting it down to rough lengths, face jointing, edge jointing, and planing the wood will move. The stresses that were exerted on it by the pieces I removed are now gone. It's been cut into two shorter pieces, and the knot which exerts stress is now gone. Moisture content will continue to drop, when I run this through the process again to get to final dimensions – it will be much less likely to move. Those chalk squiggles mean that face or side is flat and can be considered a reference face.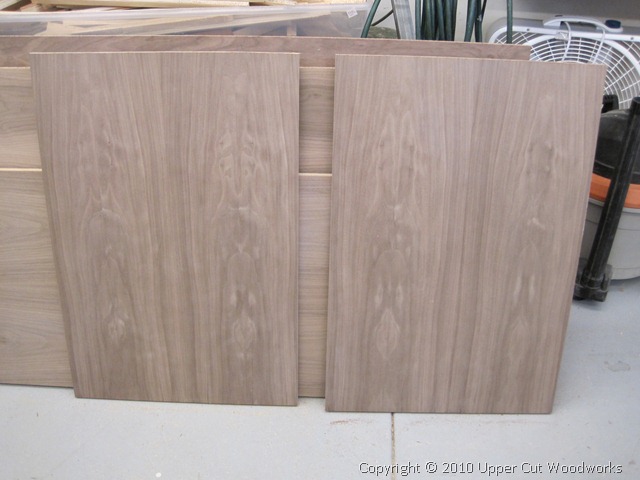 Here are the sides of the dresser. I love that they match, and I'm really glad I was aware of this during the cutdown of the sheets. When these pieces have a finish applied they will rock. The pieces for the top, back, and drawer fronts are behind.
Based on the time estimates in my last post, I feel like I'm on track or maybe a bit ahead.
-- Matt Gradwohl, Upper Cut Woodworks, http://uppercutwoodworks.com/
---