If you are a Weekender Builder will you please let me know about what you think re: "concerns" listed BELOW…
Well…sorry for the lack of photos last time…but since my last post we had some visitors and my last sailing lesson—-I am now a graduate of a US Sailing Program…woot…
Last week I finished cutting out more parts…and then waited for all the stainless screws to come in…
This week I finally "played" with epoxy—-I wanted to do that before I glued up the keel pieces because they are huge and I wanted to know how it worked and mixed…before I went into such a big glue up…
I built a little tool box/tool tote out of some of the ply scraps…so that I could try the epoxy (and my dado blades for the first time—-woot). The dado blades were fun!
I had cut out the keel parts 6 weeks ago…but never glued them up…they were pretty rough so i decided the best thing to do would be to glue them up and then fair them together rather then seperately…
The glue up went well…My wife helped me and we wetted the first two pieces with straight epoxy and then mixed up more with wood flour to make a 'peanut butter' like consistency…if any thing we were on the runny side—-we got some squeeze out as we screwed the keel parts together…but I think it was fine…
In Picture One you see the three layers of keel parts before lamination…they overlap so that the joints DONT meet in the same place—like a PB&J Sandwich…yummy.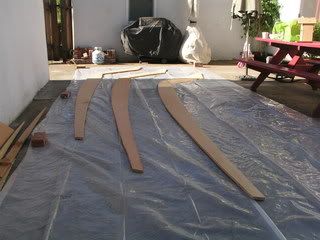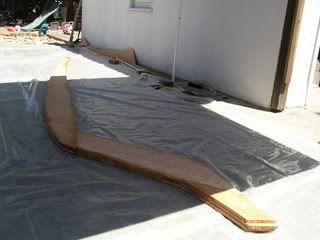 After the glue up we layed the keel out flat on the patio for the rest of the day…and I started on DaveR's suggested boat cart…in his plans he connects the frame with a joist hanger…but I wanted to use the 4×4 scrap blocks I had laying around…after construction I realized the casters I bought for this ages ago we two different sizes…so I went out and got 2 new ones…only to realize they did not lock down…so back to the store again the next morning for locking castors…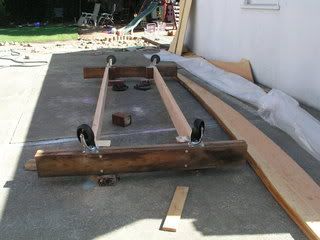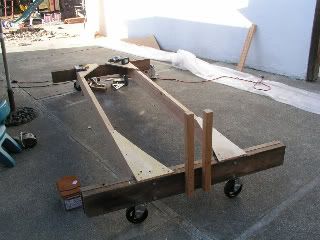 Yesterday I took the rough keel into the shop and started to "fair" or smooth the edges…the edges were pretty jagged in spots because I was affraid to cut too close to the line…this was expensive wood…and wanted to be careful…the middle lamination was the roughest…so the idea was to shave down to the outer pieces…I was super pleased and you can see my new best friend the surform shaper…it worked super well…
I practiced on the bottom edge since it is not as critical (yet) and once I felt comfortable between the shaper, belt sander and circular saw I smoothed the top edge…at this point in the day I felt super great that it was looking good and I had a great keel…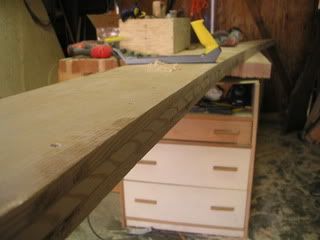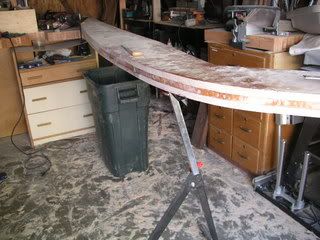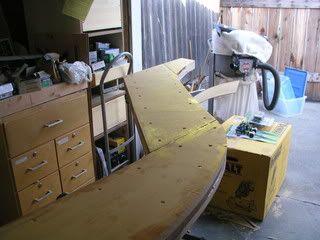 THEN….a big concern arose—-so if you are a Weekender Builder Please Comment here or on BYYB:
After reading a blog on the BYYB forum I started examining my own keel. I realized that the JOINT of the keel and the STEM is not correct…there is supposed to be a one inch gap between the "Station 1" line and where the keel STEM sits down…so I am 1 inch off…see picture below—stem should be 1 inch to the right of the middle line(of three lines there).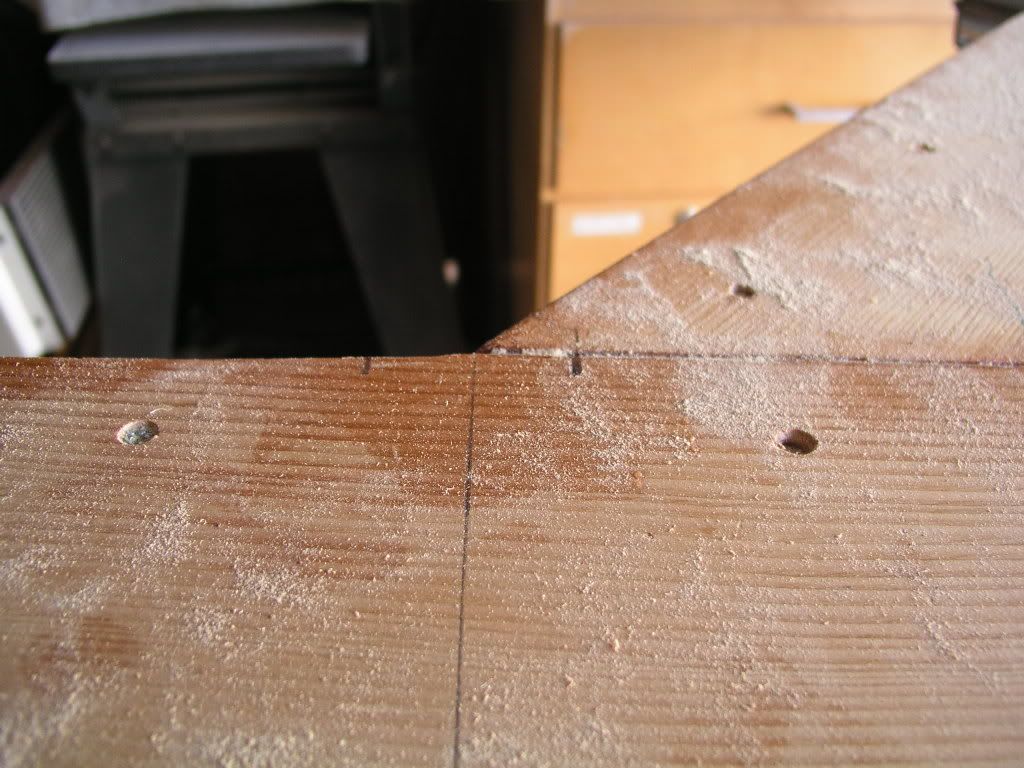 And from the top looking down: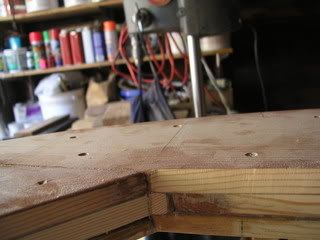 So how to fix…My worry is that I would need to change and adjust everything…so from this point forward the plans become a guide and all my parts will be a slightly different boat…
DaveR suggest that I cut the NOTCH on the stem one inch deeper—-thus sliding the hull bottom up one inch deeper and keeping every other measurement the same relative to the boat bottom and not the edge of the keel stem…in addition I will have to extent the "notch" in the top of the stem for the deck peek…
Okay….let me know what you think…I have not built my boat bottom but I have cut out all the parts…
-- Matt--Proud LJ since 2007
---