Keel and Hull Bottom Parts all cut out…
Well it has been a loooong time between boat building posts…but this is a big week. This is my first week off from school and today was my first full day of building—and it was a good one. Between the last 6 weeks of school always being hectic…and the start of sailing lessons it has taken a while to get going again…but from now on it will only be the wait on materials that slows me down…
Yesterday afternoon I spent my time cleaning/clearing my work space again. It had been such a long time since I had worked on the boat that I needed to clear the area. I decided that I would put down an old tarp so that I can protect the wood a bit while it is on the ground to avoid small rocks and dirt digging into the wood since it would otherwise sit straight on the patio cement while I worked on it.
My focus over the first few days is to cut out all the hull bottom parts and the bulkheads. I will then cut out the lazerette, transom and deck pieces. When all those parts are cut out I will get a friend to help me put them all together—but for now I am waiting for a bunch of items I have ordered.
I have also been finally taking the time to order many much needed items…during the school year it was too hard to concentrate and make any decisions—and in the last few days I have ordered a bunch of items that will help me to take all the parts I am cutting and glue them together…today I ordered about 2,000 stainless steel screws…for some reason I could not make that decision last week…
Okay…the pictures below are of the keel parts that I cut out about 8 weeks ago…yikes has it been that long? Since starting the sailing lessons (all day Saturdays) it has kept me too busy.
There are 9 keel parts…they will be laminated together in an overlapping pattern to give them strength…they are pretty roughly cut, but everyone tells me that it will be fine when I go back and sand/shape them.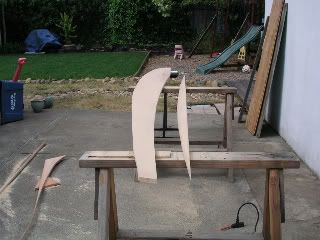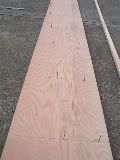 The next set of pictures is from yesterday and today…it was a long day…got out early and started "lofting" the hull bottom onto the two sheets of 1/2 " ply. Lofting is a very difficult process in "classic" boat building, but with the plans I am using for my boat you make a "grid" system and number it off into stations…then from a midline you set nails on the station lines at a distance called for in the plans. I really took a long time to do this…but I was really enjoying my radio and taking my time…double and triple checking for mistakes…I did find a few…by lunch I had finished all the lofting…set all the nails…rough lofted the curves…and then cut out the additional cut out pieces.
The plywood sheets are 4 feet wide—-but the boat width at the bottom of the hull is about 3 inches wider on each sidel…so you rough loft the boat…cut off a couple pieces…and then set them at the widest point and set the last few nails…the last step is to loft the final curves…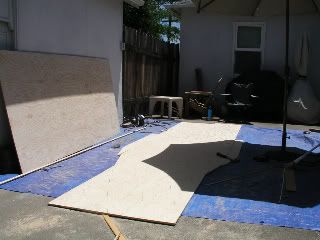 After a long lunch I watched the video for the hull bottom cuts (just to make sure I wasn't missing anything…) and then I went out and cut the hull bottom…this was a big deal…at the end I had the bottom of my boat done!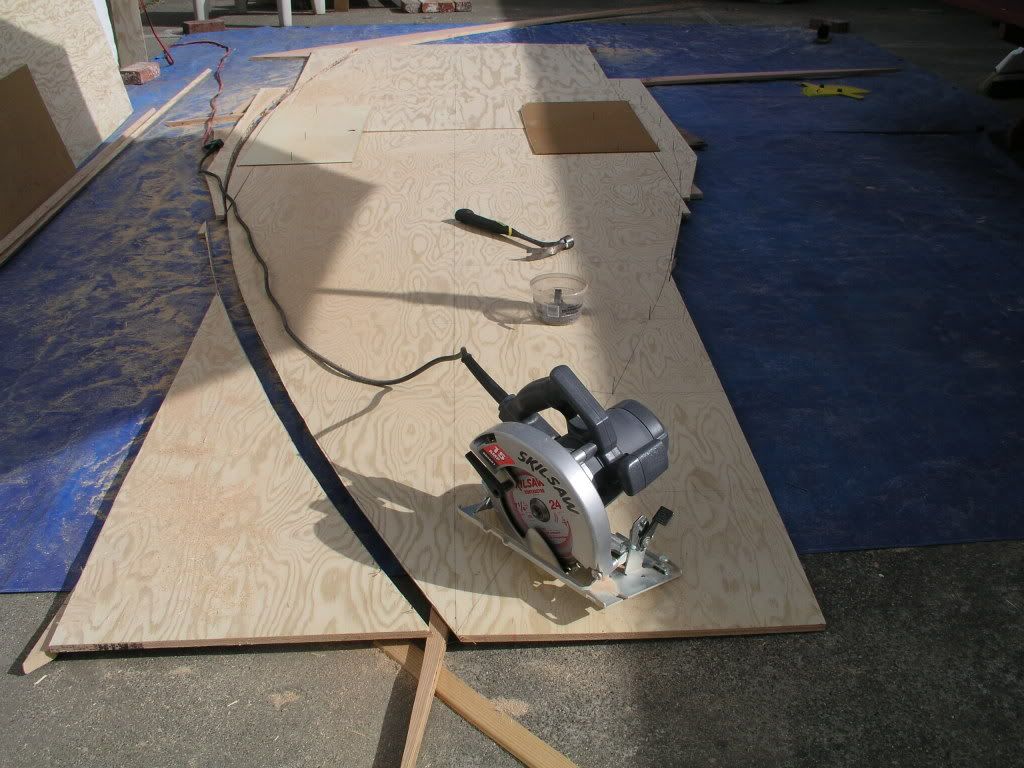 It looks super small—-but this is NOT the actual size of the boat because the sides and deck will extend outward from here at an angle…and then when the deck is on top it will look much bigger…but it was nice to sit in my boat…lol…
LOOK FOR MORE IN THE COMING DAYS…FULL TIME BUILDING THIS WEEK…
BELOW IS AN APPROXIMATE COST LIST—-DID NOT GO BACK AND VERIFY PRICES AND ALL ITEMS…DOING FROM MEMORY BUT WILL EDIT IN FUTURE ENTRIES.
MATT
Boat Building Materials Cost List: AS OF 6/14/2010—not complete
(not all prices are exact because I am trying to put this together a bit later—approx)
1) Stevenson Projects Weekender Plans and DVD: $90.00
2) First round of wood: all marine grade plywood sheets, keel wood, and joiners, etc.: $1,340
3) West System Epoxy, 1 gallon: $93.00
4) West System Hardener, 1 quart: $?
5) Sytem 3 Wood Flour, 1 Quart: $7.99
6) System 3 Silica Thickener, 5 quarts: $26.50
7) Sharx 316 Stainless Steel Screws:
a. #8 –1"x1,500: $123
b. #8—1.25" x 500: $46.00
c. #8—1.5"—-NOT ORDERED YET SINCE ONLY NEED 100 AND THEY SELL 500 ONLY
APPROX TOTAL SO FAR: $1800…ABOUT HALF WAY FOR A 20' SAIL BOAT…SHOULD COME IN ABOVE $4000…
Will need more wood but bulk is purchased…same with screws. Will need more epoxy…but this is about half…
-- Matt--Proud LJ since 2007
---