Ok…here I go…this is the official blog to begin what I hope will be a great quest—-to build a little sail boat by Stevenson Projects called "The Weekender". I have been planning for this for many months and today was a big day. Here is a little bit of the path I have taken to get to this point in case you ever want build a boat.
I just got back from the wood supplier and tomorrow I will have $1300 worth of wood delivered to my house. Its a bit daunting and I am a bit anxious to get it here…sort through it…mark it up for each part so that I have it all organized. This is not all the wood…but will be the biggest one time purchase…I bought more then I needed to start but since I dont have my own truck I decided to go down the materials list and order all the plywood now along with the materials to get the keel done, stringers and MANY other pieces for later—-and are too long for me to fit in our minivan…so some pieces will be kept a while…but now I can just run to the store and pick up what I need when I get to that point…
The Weekender is a 16' Gaff Rigged Sailboat put out by the Stevensons Projects. They have an amazing website that explains everything quite well…when I first started thinking about a boat it was with a 5 year plan…and that would include the time to read books, go to a boat building school some summer…I was not in a hurry…then I found the Stevenson plans and realized that I could bump up my plans much sooner…that weekend I spent 16 hours searching through the site—-the Stevenson's have put many builder photos and videos on their site…and many have links to builder's personal websites/blogs with many pages of stories. I clicked on every link that weekend! Read every word…It felt like that scene in the movie "The Matrix" where "Neo" learned all the martial arts…I was absorbing information for hours on end…
I then started this forum and turned here to LJ's…since I kept thinking there must be a catch…I must be missing something, right? I can build a boat with minimal tools with materials found at most home centers??? (that is the stevenson pitch)...Many people who have much more experience then me (sailing and building) chimed in saying that this is a good plan and a good boat. You can see us discuss this over the last several months on this forum here…where I and many people asked questions and exchanged information.
If you are thinking about getting into building a boat…the forum above could be a good starting point.
In addition…via the Stevenson Site there are links to TWO wooden boat building forums. Go to the Contacts Page and you will see a link to the BYYB yard Builders Association) and Messing About builders forum. On both sites are people who have built the Weekender…
It was on the forums then Warren aka Zignman (Zign-man) chimed in…and said—-hey napa…come check my boat out—-I live 25 minutes in Petaluma…so my wife and I went out, met warren, sat in the boat…asked questions…saw that this is for real…doable…and that the moral (and hopefully physical, lol) help will be there as I build…
Warren took me sailing about a month ago—-and it was a great experience…up to that point I had never even been in a sail boat!!!
I will let you know that I signed up for a series of summer sailing lessons which begin in May…they will take me to mid summer and then I will roll right into an intermediate course…this is all through the Vallejo Yacht Club which is regarded as a good group. I am really excited to sail on the weekends—-and build during the week during summer. ( I am a teacher). #1 again tonight, lol and hope to cut out the keel parts tomorrow…and maybe the boat bottom…I have not bought glue or fasteners yet…so if I can cut out some parts to get me started then I will be happy…I have to leave town on Thursday…other wise I would be doing more…
Between now and the end of school I hope to get all the parts cut out…and several pieces put together…
Ok…the quest begins tomorrow…
COSTS TO DATE:
1) Vacationer Plans and DVD $110
2) Weekender Plans FREE—-stevensons offer a free downgrade in plans if you decide the Vacationer is a bit big to build.
3) Marine Grade Playwood (all sheets) $520 (should not need more)
4) First Lumber Purchase: $656 (this is a big chunk of the wood list—all the pieces 10' more purchased and many smaller pieces except the spars)
5) Tax and delivery of first purchase $127.93
Total Cost So far: $1414 (seems huge—-but this was a big plunge—-if I had a truck I might have gone piece by piece…but now there is no turning back)...
When I handed the clerk my credit card I asked her if they had a reference for a good lawyer…and she said she knew a good minister…by the end of this…I may need both…at least my wife laughed!
Ok…this is the last time my patio will be empty…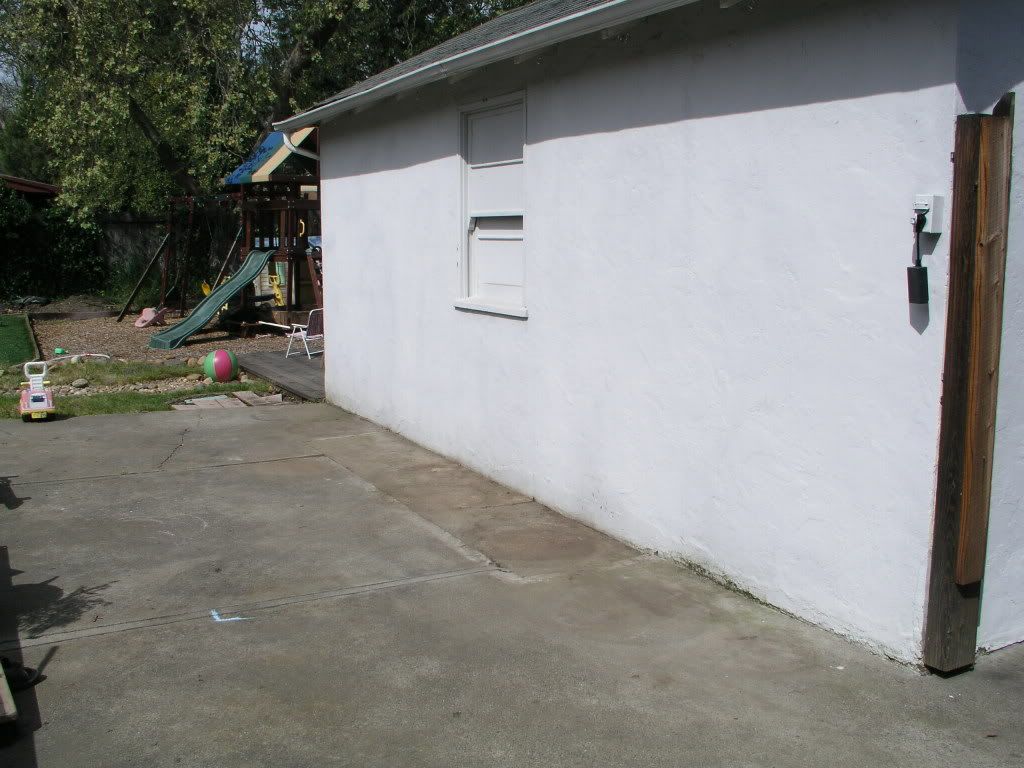 -- Matt--Proud LJ since 2007
---