Two years back, I graduated from college, got a 'grown up' job, and finally had some very limited discretionary income to devote to hobbies. I wanted, more than anything, to get into woodworking. In polite company, I describe it as 'therapeutic'—a productive and beautiful way to give my hands something to do after a full day of 'knowledge work'. Among friends however… I let on that, to me at least, the smell of sawdust and shavings is darn near narcotic. For those who can sympathize, no explanation is required… but for those who don't… perhaps no explanation would suffice!
My biggest problem starting out, however… was the small amount of money I could devote to building up my workshop and tool chest. I've used Lee Nielsen tools at their hand-tool events… but they are way out of my price range. I would have to be satisfied with used, user-grade tools—which is not only easy on the pocket book, but afforded me the opportunity to get to know my tools a little better in the process of restoring them. Win – win!
I started out with two planes… a Trustworthy brand jack-plane that I bought for $8, and a Dunlap smoothing plane I inherited from my Grandfather. You can read (and see) about that here.
My tool collection has grown slowly, but steadily over the past two years. Some of the most recent additions are (finally!) some decent hand saws. (Until two weeks ago, the only saw I owned was a plastic-handled Stanley that came with a plastic mitre box – behold). I've slowly been able to replace poor/mediocre tools with better quality tools… and a gaggle of hand-saws was next on the list.
In this blog series, I'll show the before and after… and share the mistakes (hopefully few) I make along the way as I learn the process.
First off—the saws I intend to restore and house in my frequently used set of tools:
And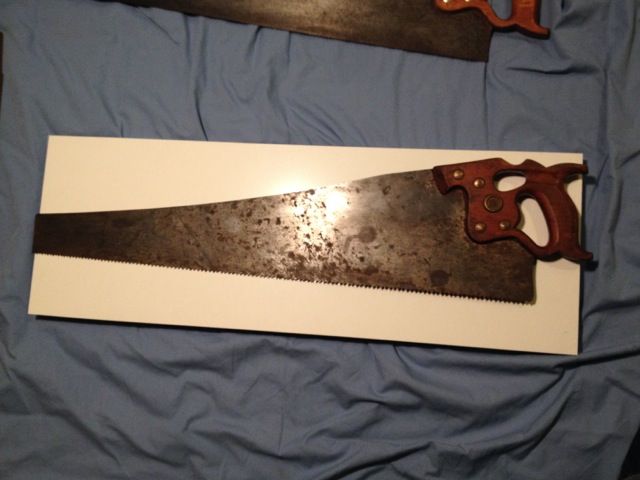 But before I get to those… I have a few other less valuable pieces that I intend to restore first, in the hopes that I'll be able to learn from my mistakes without potentially ruining something I can't easily replace. Hence:

(my brother actually bought the one above for $1—to make other parts/tools out of—figure it can't hurt to shine up the plate a bit?)
And

An apparently 'no name' mitre-saw.
With as little as I know about hand-saw history… I'm sure I've got a learning curve ahead of me as I attempt a restoration. For now it'll have to include just sanding, polishing, and sharpening—I don't have the tools necessary to attempt making a new handle for a saw just yet.
Don't fret – you'll see a good bit of documentation about what I use, and how things progress. Meet you back here in a few days!
-- "In my walks, every man I meet is my superior in some way, and in that I learn from him." ― Ralph Waldo Emerson
---