My wife is an artist, and has had need of an Easel from which to work in order to keep in practice—only, her training is in the style of the 'Old Masters'—from the French Academy, which has seen a bit of a resurgence in our modern day. All of this means, she wanted an easel that was perfectly vertical, with a tray, and a top-clamp (I honestly don't know what else to call it, it's my own term) that were vertically adjustable.
So, like with most woodworking projects these days, I began with trying to get some images down on paper (or on the computer screen) of what kind of easel would service. Truth be told, my search started here on Lumberjocks, where there are a number of fine examples of what an Easel can, (and probably should) be:
http://lumberjocks.com/projects/79867
http://lumberjocks.com/projects/18699
Some limitations I had, from the outset, however, was that the materials had to be under $50 – and it would have to be built mostly by hand, since I have only a hand saw, some chisels, a jack plane and smoothing plane, and a few other common hand tools.
So – having a couple images to work from, I began playing around in Sketchup, moving around digital lumber until it started to look like some of the easels I have seen out there. One important simplification that made my design work easier, was that the Easel would always be used in the vertical position—never at any kind of angle—so there was no need to include any adjustment for that.
So, this is what was the result of my Sketchup design (... it was a Christmas present, so I had to do it without the input of my wife, for the most part—or in such an elliptical way, that her suspicions would not be aroused).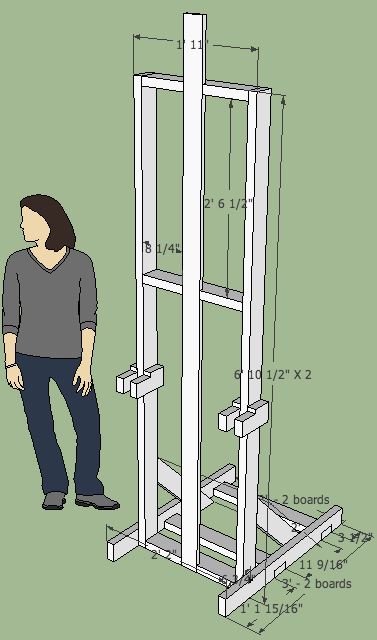 So – I printed off some rough schematics, and snuck out to the garage (with the express understanding that my wife was not allowed in the garage until after Christmas morning!) to begin making some sawdust.
To my eternal shame… the project is nearing completion in the middle of April. Yes – she still loves me, and yes, I have learned the value of planning ahead, and not procrastinating. Now, with that off the chest, we can plow ahead!
What the project has shaped up to be is more complex in someways, and simple in others, than I originally intended. I took the original schematics, and designed on the fly—made changes in one dimension, without accounting for how that would effect the fit into another piece that was already glued together (grrr…) but now that it's almost done, I'm glad that I did it the way I did. As time goes one, I'm sure this Easel will be replaced by a better one – - but for now, this one is more than enough.
-- "In my walks, every man I meet is my superior in some way, and in that I learn from him." ― Ralph Waldo Emerson
---