My husband was planning to install another outlet and rocker switch for our workbench, so I offered to cut the openings. I lifted the top – which hadn't yet been screwed in place – to cut the hole for the outlet box.
.


.
The vibration from cutting and drilling caused the 75-pound top to fall on me. No, I didn't get hurt but I'm too much of a weakling to lift it off, especially without using my hands. The Lord blessed me in that my husband was just outside the shop building his "stockade" for storing the winter's wood. I hollered and he heard my cry for help and came running.
When I heard the shop door close, I told him I was okay and to take his time coming down the stairs (since he already had slipped down a flight of stairs during the winter). This is what he found (well, actually, we staged this picture since he was too concerned about my well being to take the time to get the camera).
.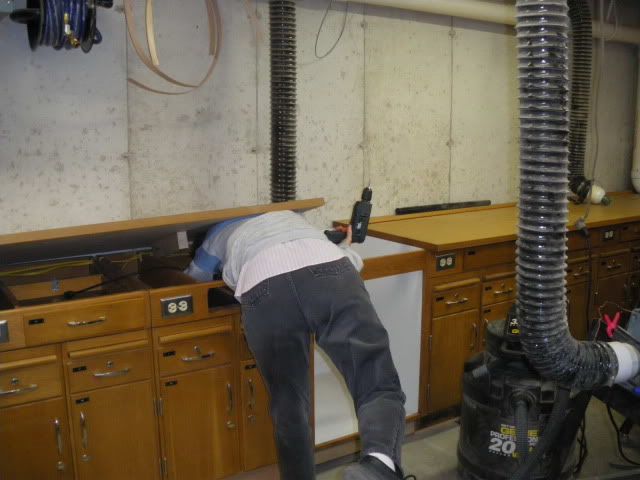 .
I'm not certain how long I would have been there if he hadn't heard my call. We often "visit" one another when in the shop just to make certain everything is going well, but sometimes hours transpire before that happens.
Afterwards, we had a pretty good laugh remembering a commercial we used to love watching (when we still had a television signal) of a young woman turning a mattress and getting caught under it. (That commercial was the highlight of our TV watching, so you can see why we decided not to bother with television anymore.)
-- Jesus is the ONLY reason for ANY season.
---