click the marker to see the address
The layout:

The Shop:

Here's my Craftsman 22400 12" Bandsaw – With new ABEC 5 roller blade bearings to replace the stock guide bearings, and some Timberwolf blades, it works very well.


Showin' off the 7" resaw height:

The Grizzly G1182HW 6" jointer:

Grizzly G1029DC with JDS cannister and 6" mains: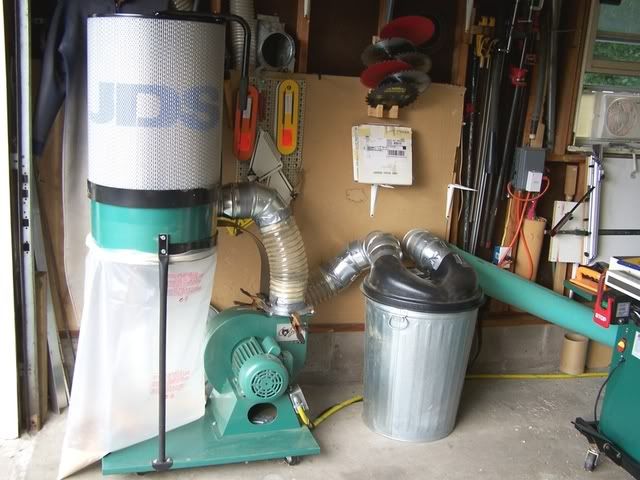 My Shop Fox W1677 cabinet saw:
The Jet Exacta II with router fence:

Router table and storage cabinet:

The Freud FT1700 router mounted:


Doing an easy one handed above table bit change with the FT1700:

The Milwaukee 5625 hanging out (sticking with black and red routers makes it harder for my wife to notice a new one!):

Ridgid EB4424 OSS spindle/edge sander (not my pics but the same sander):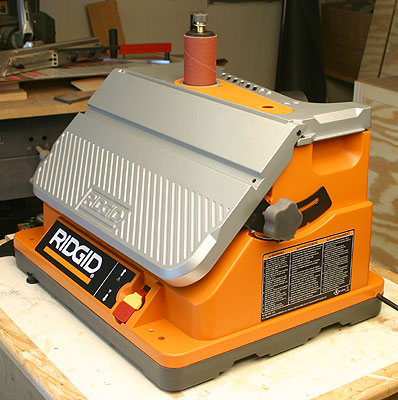 My new flip cart with the R4330 planer and EB4424 sander:

Current blade roster:
80T CMT 210.080.10 Hi-ATB
80T Leitz Pro TK Neg hook ATB
60T Infinity 010-060 Hi-ATB
60T DeWalt DW7646 ATB
60T Leitz/Delta ATB
60T Onsrud TCG
50T Tenryu RS25550 ATB/R
50T Infinity Combomax Lite ATB/R
50T DeWalt DW7640 ATB/R
42T Onsrud ATB
40T Infinity Laser TK 010-046
40T Craftex Blue Tornado ATB
40T Infinity Super General 010-044 Hi-ATB
40T Forrest WWII TK ATB
40T Delta 35-7657 40T ATB
40T Oshlun ATB
30T Delta 35-7653 ATB ripper
24T Leitz/Irwin Woodworking series FTG TK ripper
20T Amana Tools RB1020 FTG ripper
10T Leitz/Delta FTG
Dado set – Infinity Dadonator
< 10"
60T Freud Diablo D0640 (6")
24T CMT (8-1/4")
24T Bosch CRB724 (7-1/4")
20T PC Razor (7-1/4")
Former Blade Roster:
100T Forrest Duraline
80T Freud F810 (LU80) Hi-ATB
80T Freud LU74R010 TK ATB
80T CMT ITK 255.080.10 Hi-ATB
80T DeWalt DW7647 ATB
80T DeWalt DW3218TK ATB
60T Amana Industrial 610600
60T Oldham Industrial ATB
60T Ridgid R1060C TK ATB
60T Freud LU88R010 TK ATB
60T Freud LU82M010 TCG
60T Craftsman 32809 (by Freud)TK ATB
60T Irwin Classic ATB
60T B&D Piranha ATB
60T Leitz/Irwin Woodworking series ATB
60T DML Golden Eagle ATB
50T Amana Tools 610504 ATB/R
50T Freud LU84R011 ATB/R
50T Leitz/Irwin Woodworking series ATB/R
50T Porter Cable Razor TK
40T Infinity General 010-040
40T Freud LU86R010
40T Tenryu Gold Medal GM25540 ATB
40T Tenryu RS25540 ATAF
40T Ridge Carbide TS2000 ATB/R
40T DeWalt DW7657 ATB
40T Leitz ATB
40T CMT 213.040.10 ATB
36T Skil hollow grind
36T Ryobi (stock BT3000 blade) FTG
36T Delta Sidekick ATB
30T CMT 203.030.10 GLR
30T Freud LM74M010 GLR
30T Forrest WWII ATB
28T Skil framing & ripping ATB
28T Vermont American framing & ripping ATB
24T Freud LM72R010 FTG
24T Freud LU87R010 TK FTG
24T Infinity 010-124 TK FTG
24T DeWalt DW7124TK FTG
24T Irwin Marathon ATB
Here are a few pics of my current handplane collection.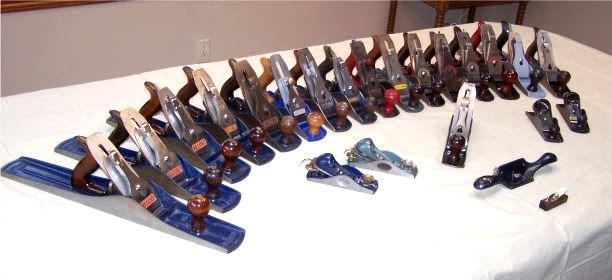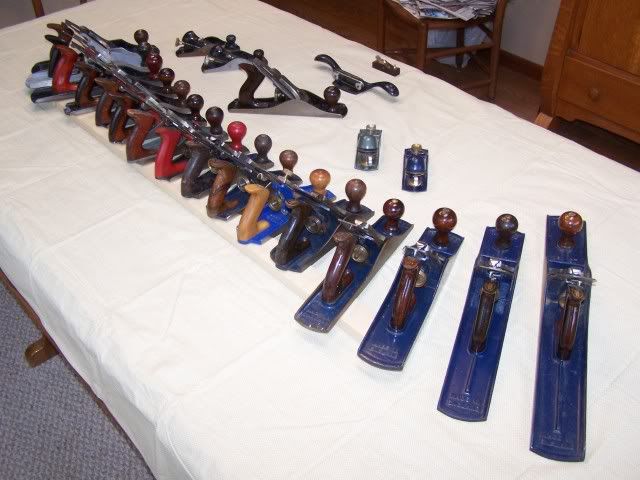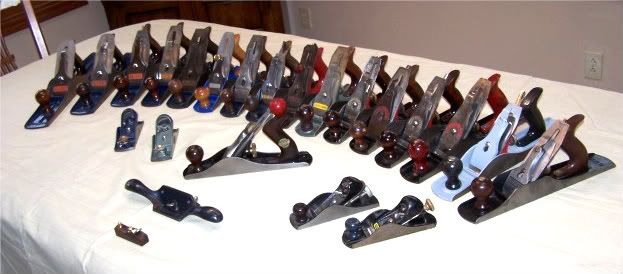 Jack planes – Record 5-1/2, Record 05, Bedrock 605 type 6, Millers Falls 814, Millers Falls 14, Millers Falls 11, Bailey 5-1/4 type 13: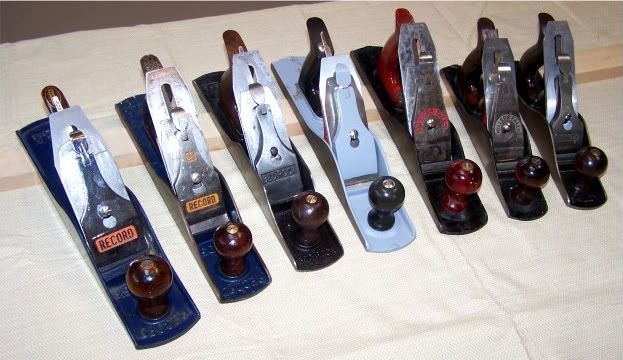 Smoothers – Record 4-1/2, (two) 04, Craftsman 04, Millers Falls 9 (#4), Millers Falls 8 (#3), Fulton #3, Record #03 (circa 1931-1939):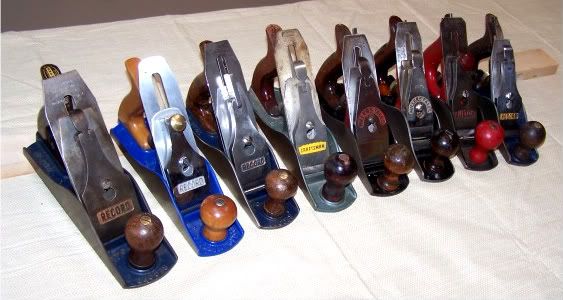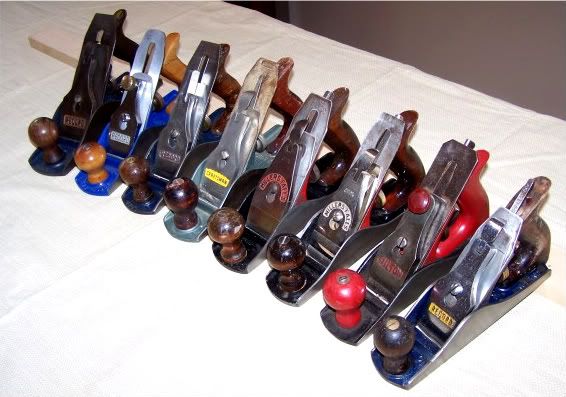 Record wide bodies – Record 07, 06, 05-1/2, 04-1/2: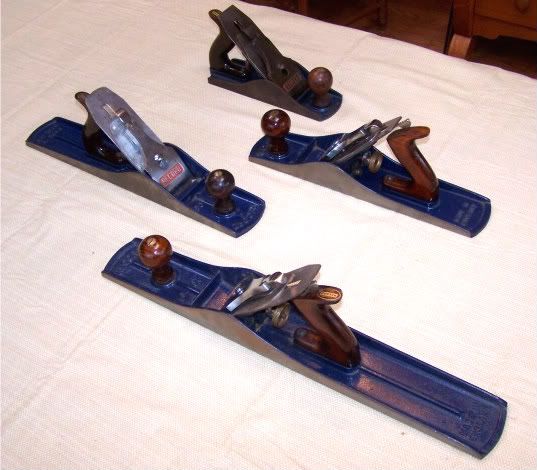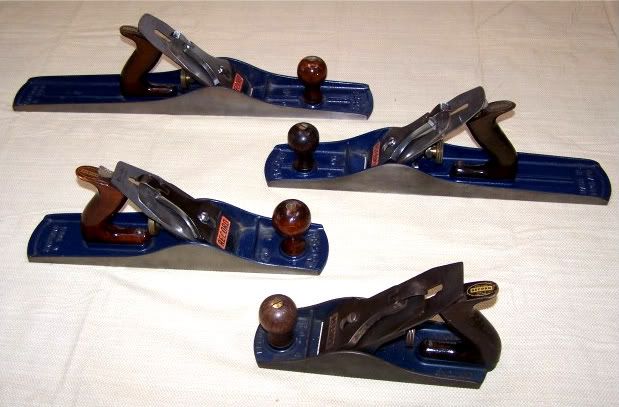 (Added 8/19/09) – Record 04-1/2:
This is a duplicate in my collection, but is also the nicest plane I currently own. I believe "minty" is the appropriate term. It's in nearly flawless original condition. It's one of the few I consider a non-user and intentionally avoid using. This one's "to have and to hold", but I use the other 04-1/2.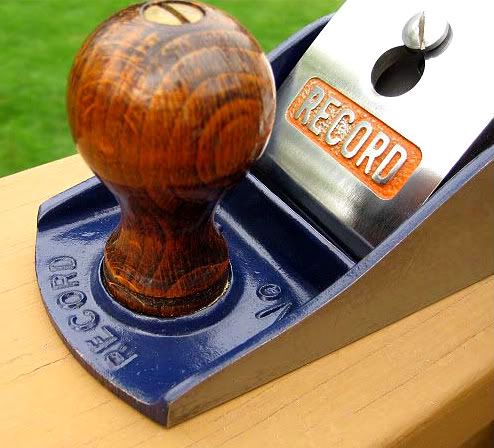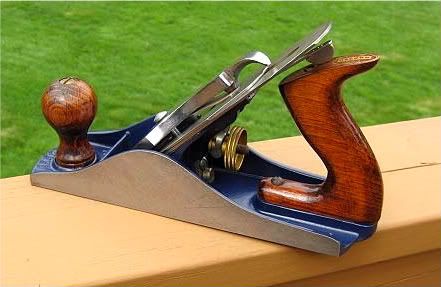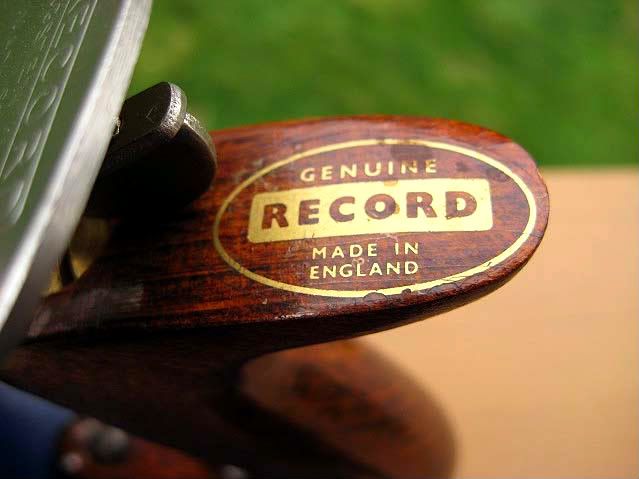 A recent addition added 3/18/10 – a Millers Falls 14 (Stanley #5 equiv). Super clean, beautiful plane.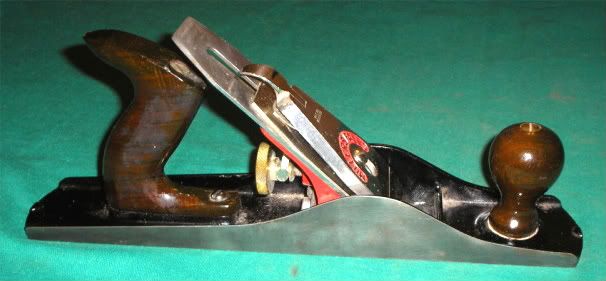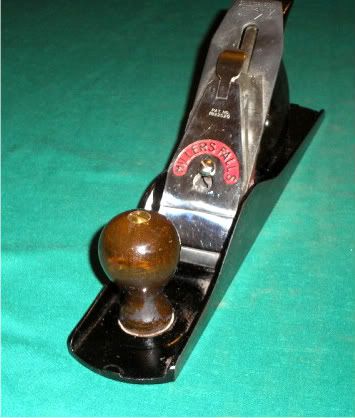 Not present for the photoshoot – a Record Irwin 060-1/2 from England:


Bailey 5-1/4 "Junior Jack" type 13 (circa 1928):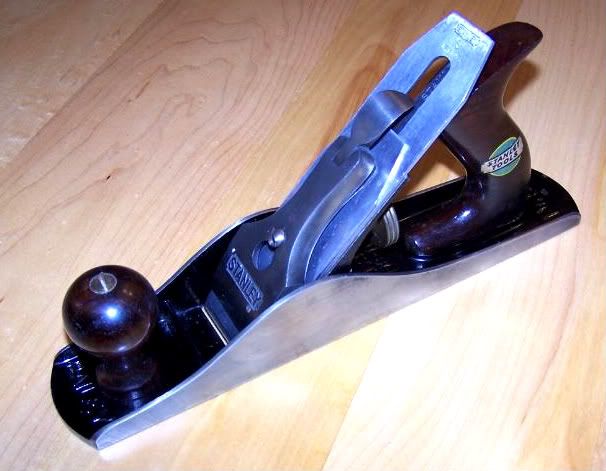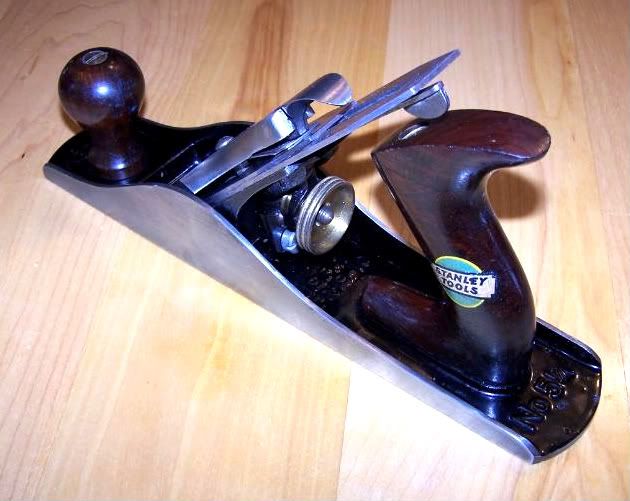 -- Happiness is like wetting your pants...everyone can see it, but only you can feel the warmth....
---