It's been about 2 years since I built any furniture or did anything I'd consider real wwing…the house (front windows, kitchen\den\hall paint\wallpaper and hardwood floor update) and landscaping projects took 2 full summers, and during that time I used and neglected my shop pretty badly….to the point where it was just unpleasant to use whenever I needed to. Earlier in the summer I at least got a chance to rearrange some of the "furniture" ;-), and came up with a new layout. Over the past week or so, I've gotten around to few smaller items to help make the shop work better for me.
In 2008 I bought a Shop Fox cabinet saw that I "temporarily" placed on a mobile base that wasn't rated for that much weight….a couple of weeks ago I finally got around to re-positioning the saw on a Rockler base rated at 600# that I supplied the hard maple struts for. I also resurfaced my workbench/outfeed table with some 1/8" tempered hardboard….I miss the maple color, but the hardboard makes the bench level with the TS, plus it covers the holes of my "downdraft workbench"....God I knows why I thought it would be a good idea to drill several dozen holes in my maple workbench surface! The smooth hardboard is much nicer to work on.
Last week I slapped together a flip top cart out of some old waterbed pine scraps so I could put the planer and sander on one set of wheels, and save some much needed space. It ain't pretty, but it's works, and suited my time constraints.
Next step was to rebuilt my router table cabinet to fit the new space better. I found an old vanity along the curb, and basically just modified to make it suit my needs. It not quite as slick as a custom cabinet made from the ground up, but it works fine. It's basically a free standing unit that rolls out separately from the saw and router table top. I have bottom side dust collection that's directly hooked to the router, and topside DC in the fence, so the cabinet isn't part of the DC equation.
It may not seem like a big deal, but after two years of having the shop in total state of chaos, I'm psyched and ready to roll!
The layout:

The Shop: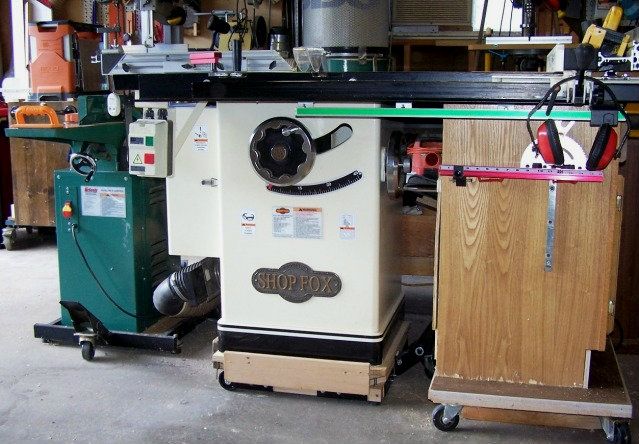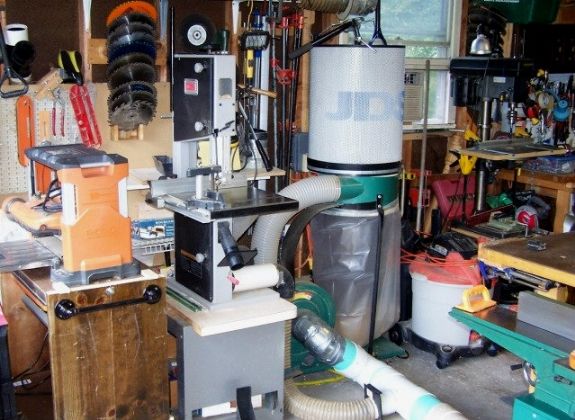 The new workbench/outfeed surface:

The router cabinet:

The fliptop cart:

I also updated My Workshop pics in my profile if anyone wants to see more pics….
-- Happiness is like wetting your pants...everyone can see it, but only you can feel the warmth....
---