Here's the latest for 8/29/10 (the 5th entry in this series):
The "final" clear coat has been applied (a couple of times! ...hopefully this is the last). The neck is drilled and the tuners are mounted. The pickups are mounted to their trim rings, and the final electronics scheme is worked out. From here it's a matter of waiting for the lacquer to cure and deciding how much rubbing out I want to do…the results from the spray can are glossy and smooth in most places, but there's some orange peel and overspray spots in a few areas. Once that's done we bolt the neck up, wire the pups and pots together, mount the chamber cover, string it, and find the ear plugs!
I did run into a slight problem on the back where the neck and body meet. When I rounded over the back of the body, I should have stopped at the base of the neck….the roundover makes the edge of the neck narrower than the neck plate. A smaller two-piece neck plate is on order and will hopefully fit. It's one of the many small things amateurs like me are likely to run into, and fortunately, there are several decent fixes for this problem.
Here's the front of the body with the most recent final coat: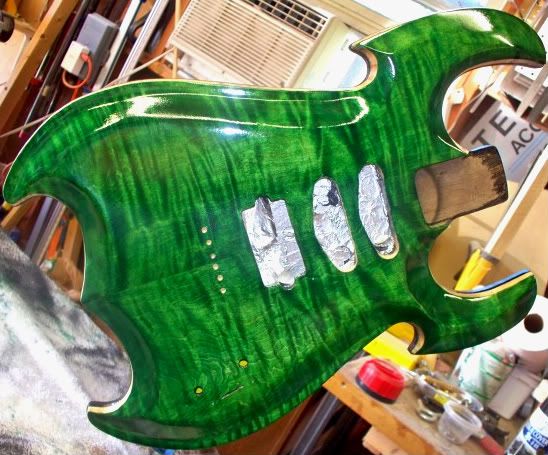 ...And the back with its most recent final coat: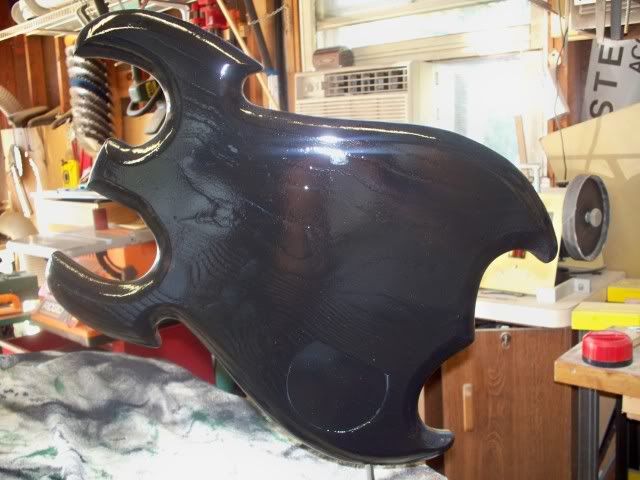 Here's a look at the original style neck plate that will no longer fit, and the two-piece replacement:

Here's the finished neck and the pups in their trim rings: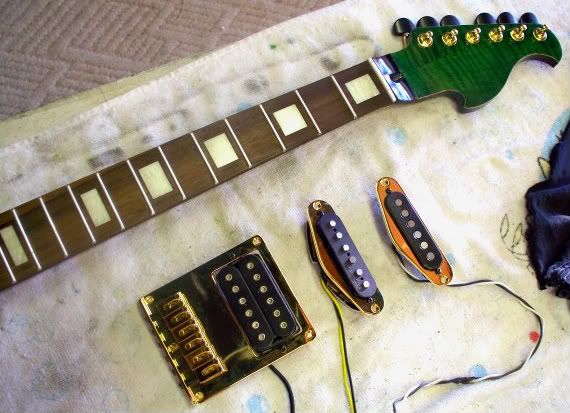 And the back of the neck: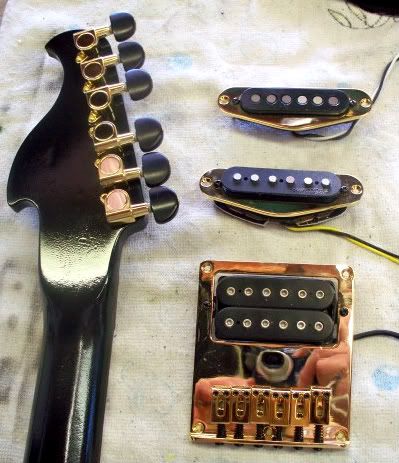 For those who are interested, here's the wiring scheme we'll be using…it's an Humbucker/Single/Single (HSS) setup with a 5-way selecter. A push/pull switch in the volume knob will allow single coil sound from the humbucker, giving us 7 different pickup combinations:

A couple of 12 hour night shifts and some family obligations will likely keep me from until mid week, but I'm hoping to be done by the end of next weekend. More to come!
-- Happiness is like wetting your pants...everyone can see it, but only you can feel the warmth....
---