Here's today's update. Adding the shop-made curly maple veneer to the front of the headstock was a little tricky because it's attached to an existing neck. My plan to rout down the face to accommodate the thickness of the veneer didn't pan out as planned because the radius on the fretboard made it rock. Instead, I ended up using the flat edge and back of the "paddle blank" as a reference and sliced the cutout on the band saw. Once the veneer was in place and glued, I cut the shape with the BS as much as I could, then sanded to final shape with my OSS. The headstock is now shaping up fairly nicely. The back of the neck will get black paint, then I'll reveal the natural curly maple edge on the headstock like the front of the body. Next I'll drill the holes for tuners, give it more clear coats, and some fine sanding, etc.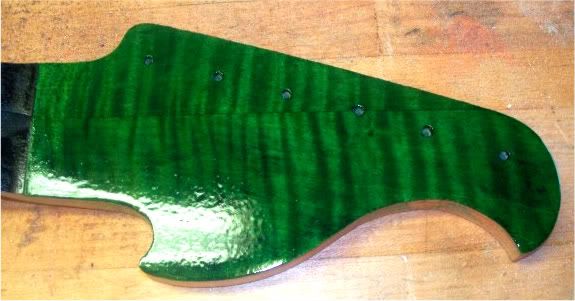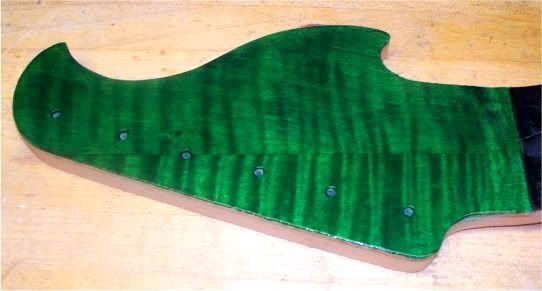 I'm at what I consider the high risk stage…after hours of planning, cutting, shaping, staining, and sanding, I'm now cutting holes in the front of the guitar. It's easy to inflict a few battle scars, and it generally just stresses me out a little.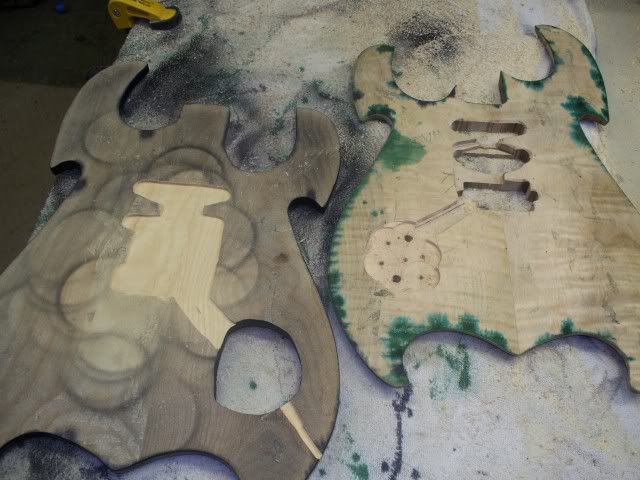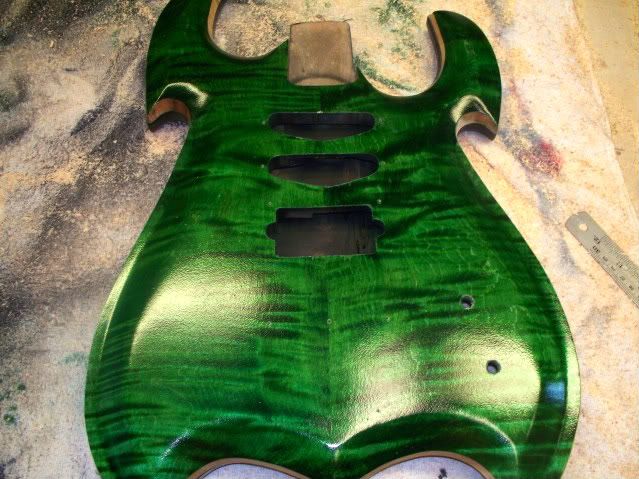 The guitar is coming along pretty nicely and faster than I planned, but I've been going at it pretty hard the last couple of days. The shop's a mess, I'm tired, stressed, and need to back away for a while before I really goof something up! (it definitely happens and the writing's on the wall right in front of me!) Time to mow the lawn, take a nap, tidy up and the shop, and hit the shower. Better to rejuvenate and come back to this later…after all…this is for fun, right?
Evening update: Well, I couldn't stay away forever…tonight I painted the back of the neck, and the cover for the electronics cavity. That's definitely it for tonight!
-- Happiness is like wetting your pants...everyone can see it, but only you can feel the warmth....
---