Here's where things stand as of noon today. All the parts and hardware are in.
Here's the top with the natural maple revealed on the sides. There's one coat of spar varnish to protect the stained surface, plus help prevent fading.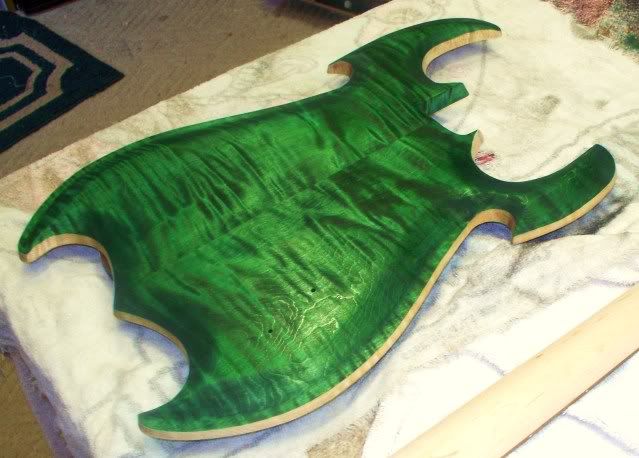 The back now has black paint. While rounding over the edges, we liked the look of the natural ash revealed as well, so we've decided to keep it….got some sanding ahead.

Here's the top and back together next to the unfinished Eden neck. The maple and ash should take on a more golden color as we clear coat it. The neck will get black paint.

Since all the parts are here, we couldn't resist a sneak preview of how it'll look. The unfinished neck is just sitting there, as are the pickup covers and knobs. These pics give the illusion that we're much further along than we are, but we're encouraged by the look so far.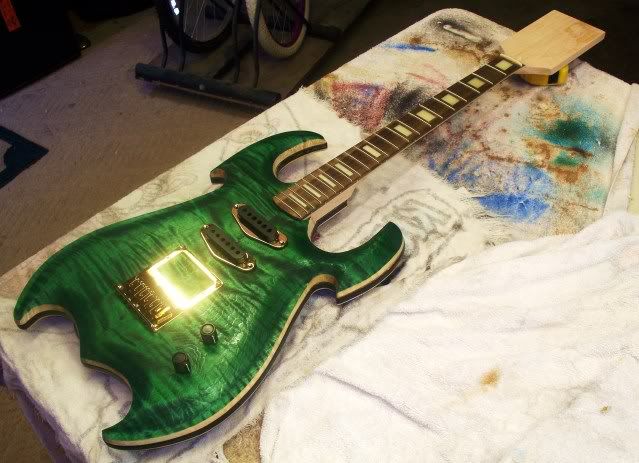 Still to come…some sanding of the back, many more clear coats (lacquer), cut outs for the pickups and input jack, more clear coats, fine sanding, shaping the neck, painting the neck, more clear coats, very fine sanding, drilling holes for the tuning pegs, final clear coat, wiring everything, setting the neck, polishing, stringing it, and sound check! (I probably forgot something too…)
__
-- Happiness is like wetting your pants...everyone can see it, but only you can feel the warmth....
---