I started the process of lofting, drawing the 3D shape hull from front top and side views, based on the measurements from the plans using a scale of 2" = 1'. I have followed the same process that is required for a full size hull, but my scale will result in a hull 21" long and 8" wide.
To create the full sized enlargement of the lines of the hull, the plans list points along the various curves which are carefully laid out on a grid and connected with long flexible batons to get nice fair (smooth) curves. The plans list the points to the 1/8 of an inch but at my scale that is almost 1/64th of an inch. I created a spreadsheet that does all the conversions and lists the new points in 1/64ths of an inch to help minimize errors.
I am using a 24"x48"x1/4" sheet of MDF as my drawing board and some left over primer which leaves a dull white surface that is great for drawing small pencil lines.

The first step is to lay out the grid as accurately and squarely as possible. This is the grid for the profile (side view).

Next I added a grid for the plan view (top down cross section parallel to the water line) which is parallel and offset from the profile grid.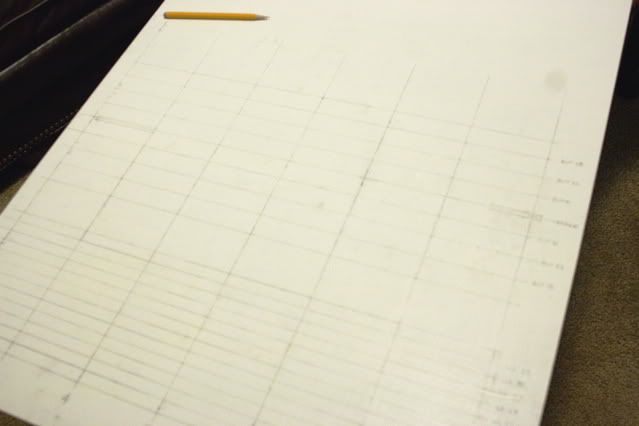 A height from the profile and a width from the waterline become a point on the body plans (cross sections when viewed from the front) which is ultimately what you use to build the boat. Typically the body plans are drawn on top of each other. I am drawing each of the stations of the hull separately so that i can then cut them out and use them as molds for building the model around instead of trying to copy the lines from the lofting on to molds as a separate process.

I have only drawin the points and have not yet connected them. The proper workflow is to loft the waterlines first, then the profile, then the body lines.
A fair curve is more important than following the offsets exactly and when I go back to draw in the curves i will go in this order and make any changes to the points I have already drawn on the body line and then connect the dots.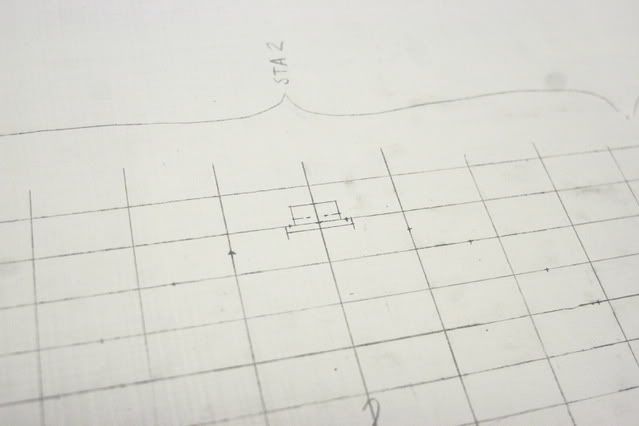 When all three views agree with each other and all the lines are fair curves you're ready to build!
Build Costs:
Plans – $45.00
Lofting– $5.00
Total Cost = $50
Build Hours:
Total Build Hours = 12 hours
Next Steps
---