Hi everyone!
Well, it's taken forever it seems but I'm finally in high gear on this project! We've had a lot going on recently, but it's nice to be back in the sawdust.
I've drawn up a full scale template of the Starbuck's table and started by rough dimensioning all my lumber. I decided to use mortise and loose tenon joinery for most of the case construction. For the center stiles at each end, I used integral stub tenons to fit into the dado required for the maple panels. Here's some of the first pieces.
Here's a layout of all the end pieces.
I also tried my hand at veneering a walnut skin to an MDF form for the first of two curved pieces required for this piece. I wasn't sure how well the veneer would bond to the MDF, but it seems to have worked beautifully. I was nearly to the second knuckle chewing on my fingertips waiting for the glue to dry on this one!!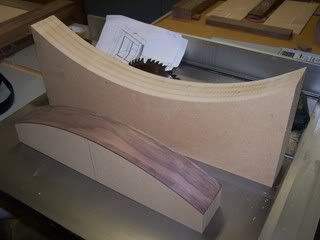 And the end results so far!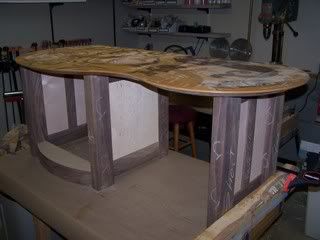 I've got a long way to go still, but things should be moving along faster now. I'll keep everyone up to date with the progress. Thanks!!
-- Can't never did nothin' - Grampa Knapp
---