Ok, here is the hard work and sweat that needs done – the underside of the top need to be reasonably flat. It is 23 3/8" wide by 9' 5"long. First up is the scrub plane to get rid of a bit of misalignment from glue up. Here is the last of the scrub plane work.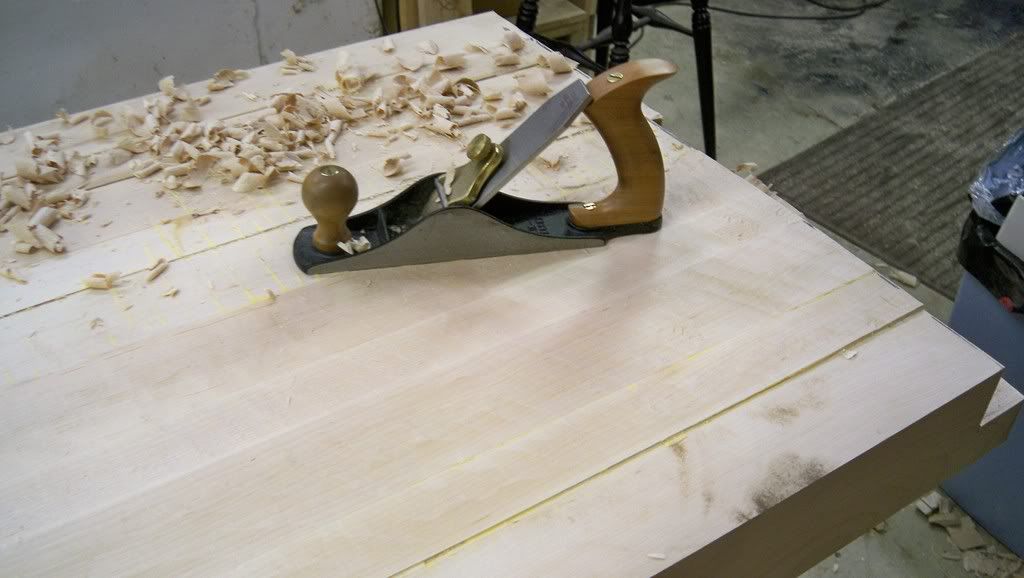 Next I used my #5 jack plane with a blade that has a bit if crown on it to get things flat. As I worked, I checked my progress across each side and for wind and marked the areas that still needed work with a lumber crayon Here's the tool and its results.
As I got near the end of the sweat that this job requires, I checked for wind. The poster board on the other end makes it easier to see all of the winding sticks. I'm real pleased with the results but don't know if this photo really lets you see all three spots in the proper focus. You'll have to trust me that they are dead on flat across the three of them.
DONE! Here's picture of the finished underside if the bench. What a relief that's done but the bad news … I'll have to the entire thing again when I flip it over. Fortunately, that is going to be after the base is built and the top and base are joined together.

I am happy with it. By the way, I can count. I just decided before gluing the last few boards together that board 10 wasn't as pretty as board 8 and they got switched.
Next up, milling the pieces for the base and laying out the mortises.
-- Every cloud has a silver lining
---