I decided that I needed/wanted a new workbench and after some research, including Chris Schwartz's book, I settled on the Roubo style. I gave a lot of thought to my work style and needs, and here are my excuses for needing a new bench (just in case my wife decides to check out my lumberjocks page before I get this baby built).
My work includes windsor chairmaking so I wanted a Record style vise placed in the end vise postion. I have used this style vise in this location at Mike Dunbar's school and really liked them. I do a lot of hand planing so I wanted a heavy top that won't move. I went with hard maple, thinking that maybe if I dropped the bucks now I'd be satisfied and never build another bench (definitly no need for a new top though). A problem with my current bench is that the legs are too close together, especially on the short side, so heavy planing makes it unstable. I haven't been able to redo the base because when I glued up the current bench, I got lazy and left some of the boards thicker preventing widening the base since its held together with short strechers at the top. Plus I figured if I was going to tear apart and redo the current base, I might as well expand the top too. I also do some handcut dovetail work and felt that a leg vise would work great for dovetailing. If I want to add a twin screw vise later for this work, I plan on putting it on the opposite side of the leg vise, maybe in the middle of the bench or towards the end vise.
My biggest excuse, no scratch that… My biggest need for a new bench is that I committed to making a pencil post bed for my son. Those posts are 7' long and my current bench is only 6' long. I felt I might have difficulty working around this issue.
I bought some 10' long, 12/4 hard maple and some 10' long 8/4 hard maple for the top. The idea of hand planing all of those flat for glue up didn't appeal to me, so I found a local cabinet shop that used their surface sander to joint and square up three sides for me. Well worth the $100. Here the boards are coming home.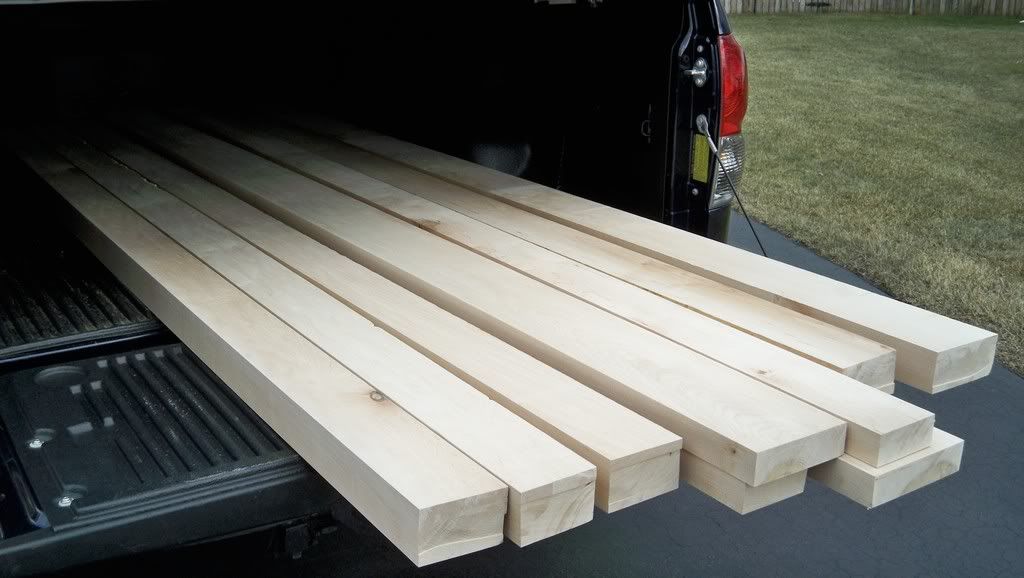 I did a bit of touch up jointing with a hand plane before proceeding. With one of my able shop assistants, I started the glue up, putting just a few boards together at time and then continually adding to them until there were all glued up.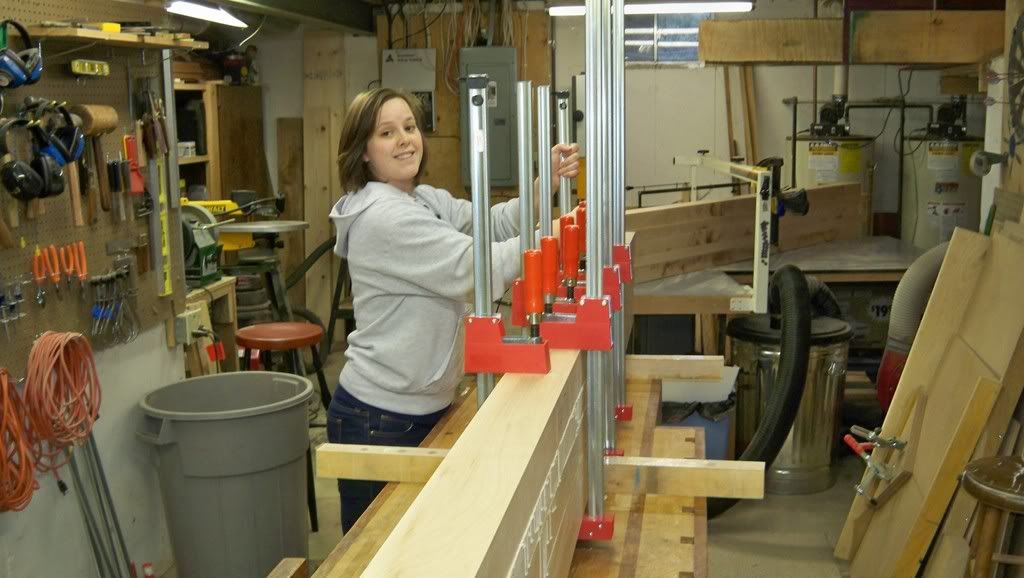 Here we are about mid-way thru the process.

Eventually we got them all glued up.

Next up, I flatten what will be the underside of the top when the bench is finished.
-- Every cloud has a silver lining
---