I have officially made a clock! It ticks, it tocks, it dings and dongs. I can hear the chimes ringing as I write this update for you. Here's what I've done to be able to call this an actual clock.
I've added a support to the dado I cut in the sides. This one is for the dial door. You can see the dado for the mechanism support behind it.

Here's a head on shot of the mechanism support too.

That all looked fine but I thought that adding a cross piece at the top would be a good idea. It'll lock everything in place and add some additional strength. So I mortised the vertical supports after clamping them together so I didn't blow anything out.

Since the sides of this clock slant, a traditional mortise and tenon joint won't work. There's no way to get it into the clock carcass. I left the top of the mortise open (is that a bridle joint? I'm not sure) and that way I'll slip the tenons into position. Everything went well and the supports are glued and locked into place.
Now it's onto the door. I'll need a door to hold the copper dial that I had made. I'm using some popping birdseye maple and chopped the mortises.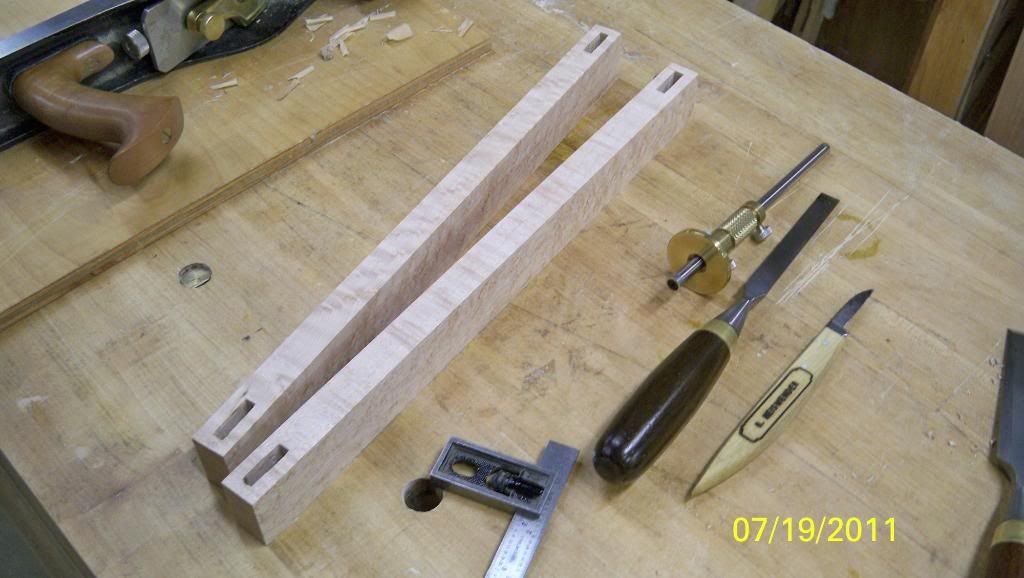 Then it's time to cut and fit the tenons.

Now it's nerve wracking time! I've got to cut that expensive, fancy, impossible to replace, hand hammered copper dial. I used a marking guage and triple checked my calculations as to how much need removed. Tin snips did the work and it was fine. Whew!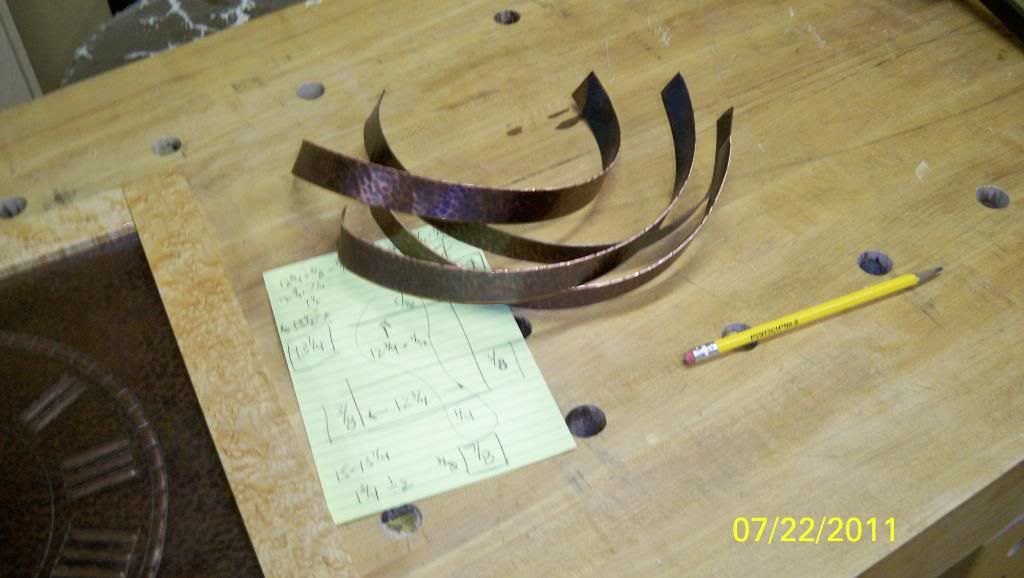 A dry fit, then some glue and clamps, here it is.

That went well. Now I got my hardware organized. That door will need hinges and a pull. The pull needed a stepped hole. This is the first set of hinges that I've installed.

I did most of the work with a chisel but got my little router plane into the game for the final finish. This was the first time it saw action and she did a great job.
Here's a look at what I've done. The clock is upright and the dial door is in place.

I laid it back down on the bench and put the mechanism in place. As you can see, I've got to get the optimal postion for the center and the three winding posts. A bit of fussing and I'm happy with it.

I made riser block that I could screw to the shelf and put the chimes in the right position. I had a lot of taking the mechanism in and out so there's a clamp holding one corner while I adjust things.

Since #4, 1/2" screws hold the mechanism in place, I used an eggbeater drill to make some pilot holes.

Here we are, chimes in place, mechanism screwed in place, ready for a test run.

Here's look at what I've done! It's a clock!

Just as a reminder, this is my goal. A clock from the Grove Park Inn except I am using cherry and birdseye maple.
I think I am doing well. It looks great, sounds great and the bride to be seems excited about it. The groom is sitting for the bar and hasn't seen it lately. I am cautiously optimistic that I'll have it done by the wedding, now 7 weeks, 4 days away. We're heading out to the beach so progress will be halted for the next week or two.
I need to make the upper door (mitered, splined and with a round, centered window) and the lower door. Plus I want to go over the finish and clean up any imperfections (and gouges, like the one the bride helped put in it while we were moving it). All things considered, I'll be able to relax on the beach, enjoy my adult beverages and not stress over my clock project. Thanks for following, one more entry and this will be done!
Here's two final pictures of my progress, enjoy.
-- Every cloud has a silver lining
---