Now that the front and back have been assembled, I'm on to making the sides and the shelves that will sit in dados cut into the sides. Today's blog is getting thoses sides made and ready for the dado process. That means basic milling. So I start with rough lumber, layed out for the best match I think.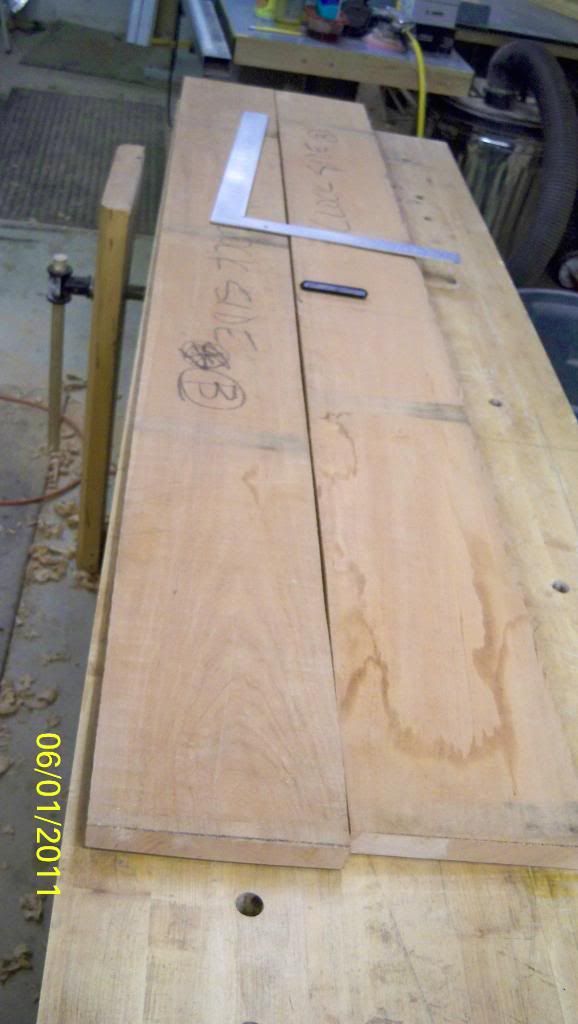 I check the direction the grain is running by planing a bit on each piece. This will allow the grain to be running the same when the whole piece is glued up and, hopefully, make planing easier later. See my little arrows, that means plane from this end.

Then it's a matter of jointing the edge and glueing up the side. Easy to write, tough to do since you want the finished piece to be as flat as you can make it. If your joint has a slant to it, the finished piece will be thin once it's flat. Some people clamp both boards togther to solve this, I just work one at a time and adjust one board until they both are where I want them. Here one side is glued up.

Then it's on to flattening one side. I use winding sticks and a #5 plane for this job.

These sides glued up at about 15" and I want them to be about 14" at the wide end when done. I have a Dewalt 735 planer, which goes up to 13" wide. My neighbor, Russ, has a 15" planer so it's off to Russ' to run these sides through his planer. Thanks, Russ!

Then they go back to the shop after the field trip. Now the sides are flat and parrallel and resting.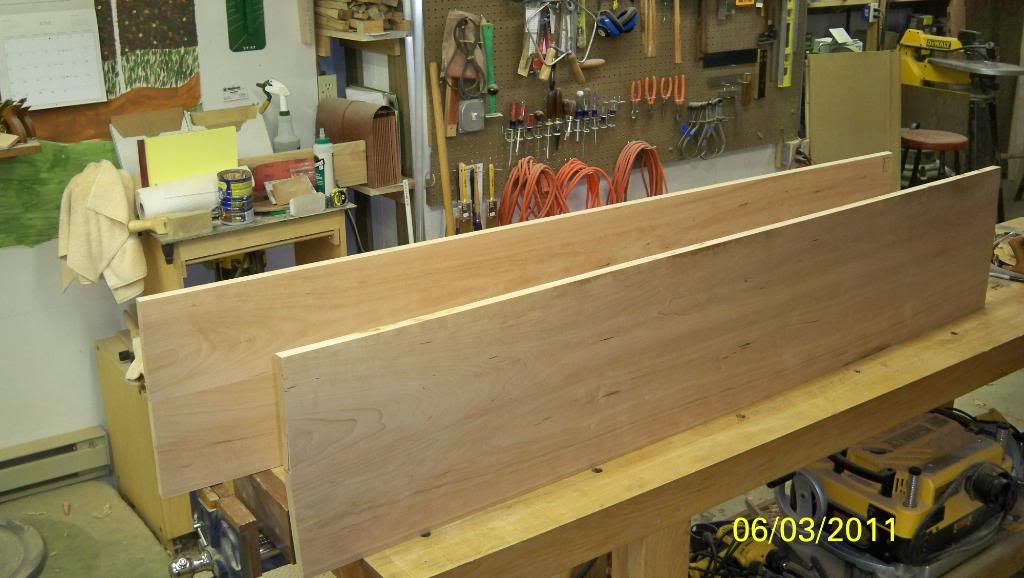 Now I use my #5 1/2 plane to remove the planer marks. You can see the cross hatch lines that I use to tell where the side has been planed and what still needs done. The areas with the hatch marks remaining are slight valleys. To get them, I'll have to keep planing the mountains, areas without hatch marks, until they are all the same depth. just alittle explanation for the non woodworking family & friends that are following this project.

Here's a shot of a shaving, just to show off a bit. Look how long, wide and thin that baby is. It is great when those kinds of shavings are pouring out of the mouth of a plane.

Then I laid out and cut the taper on the front of the side. I am going to keep the back square for now, it will provide a refence face for me when I cut the daos into the sides.

A plane cleans up the edge. I actually had to go back again and redo this. After I got both sides ready, I clamped then together and planed them togther. That way, my clock will be square (hopefully) when I glue it up.

Then I laid the front frame right where it belongs and used it to mark the finished length. This should keep things correct and level.

Now that's progress. I put some BLO on the inside. It looks great, I'm feeling good.

However, I accidently got mixed up and put BLO on the outside of one side. I had planned on waiting and doing this after the clock was assembled. I've been trying to finish only the inside, thinking that it will be very difficult to get the finish to be perfect with all of those shelves and inside corners. Now I'll have to be careful that I don't confuse the inside and outside of that one side that's finished on both sides. No, I didn't mess it up and I don't want to.
I drilled the holes for the bottom profiles, no issues with that since they were full holes and no short grain to deal with.

Then I got down my "cute little bowsaw" as the bride to be a calls it, and cut out the waste.

A little rasp work and I had the side ready. This picture is of the side with BLO on both sides, that's why I confessed earlier.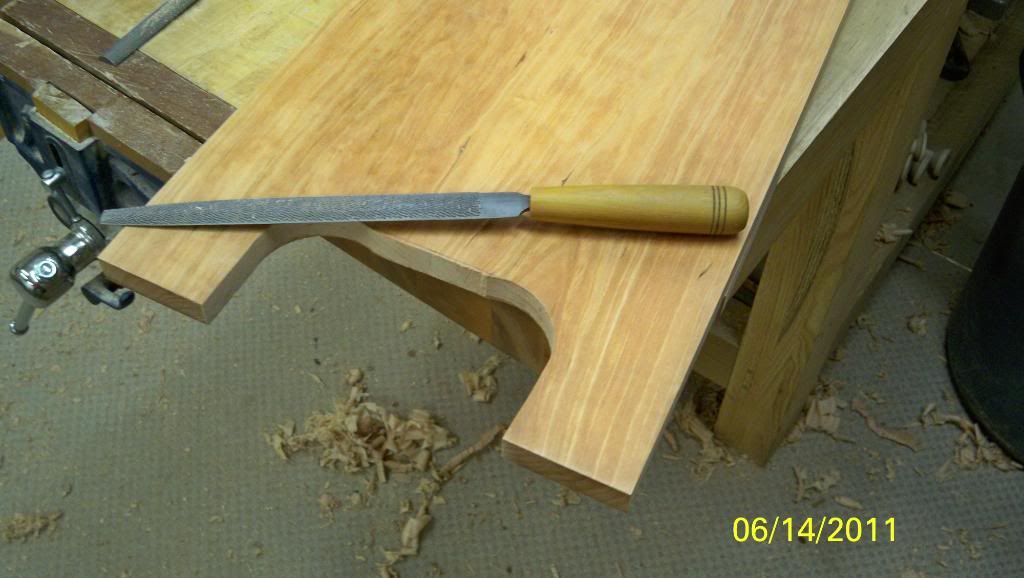 There they are, vertical, in front of their mates.

Then I thought I'd get the shelves ready. I think I already showed you their glue ups. I finish sanded them and lined them up for some BLO.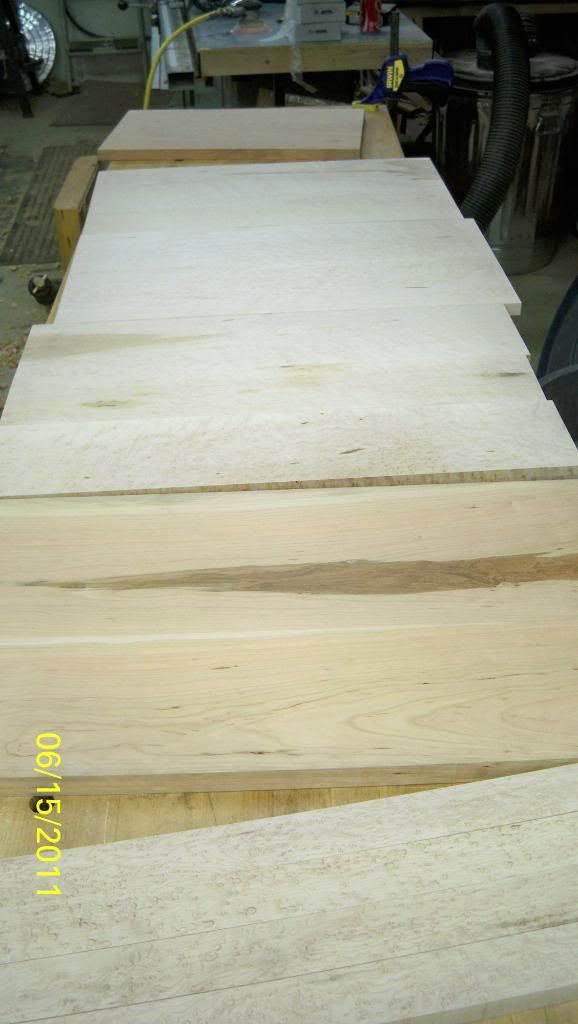 I also did the pieces that will form the frame around the dial. These are my best looking pieces of birdseye, I can't believe the figure in them.

Don't they look amazing with the BLO bringing the eyes to life?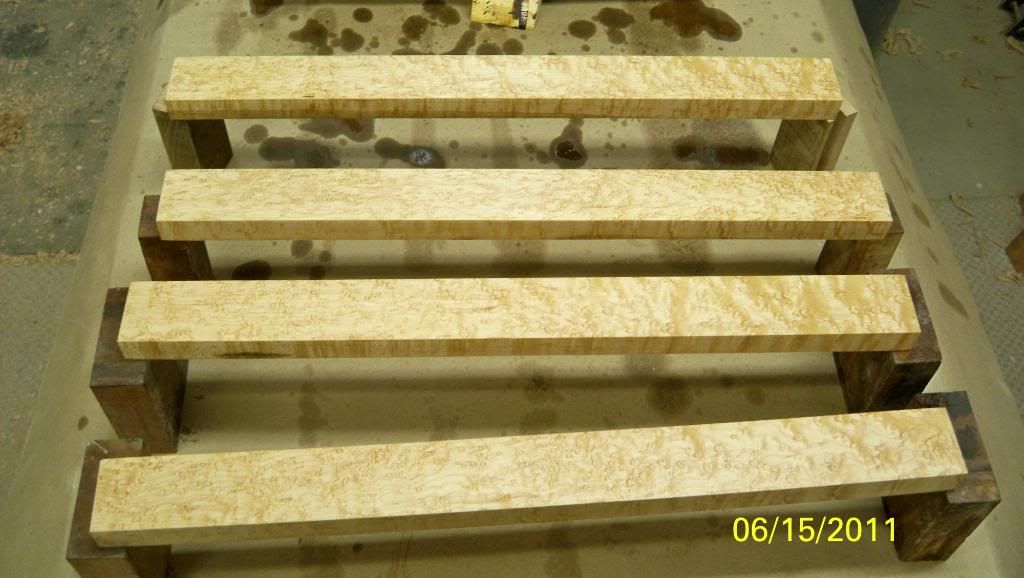 Here I am wiping down the BLO on one of the shelves. I just love to see the wood start to come together.

Alright, that's where I am as of tonight. When I was inspecting the finish, I discovered that I have a few tracks from by Dad's thichness sander that remain in the birdseye dial frame pieces. Bummer. I am going to have to go back and resand the dial frame. I was working ahead on those so it shouldn't be an issue. I am ready to put the shelf dados in the sides. That will be the next installment. Thanks for following along with me. It's 13 weeks and 2 days until the wedding.
-- Every cloud has a silver lining
---