It's time to glue up the panels that are needed. I'm making a frame and panel as the back of the clock that will consist of 2 panels stacked on top of each other, held in place by the 3 horizontal rails and 2 vertical stiles. So I'll need 2 panels for the back. Here's one of those. Note the carpenter's triangle that I use to keep the parts aligned.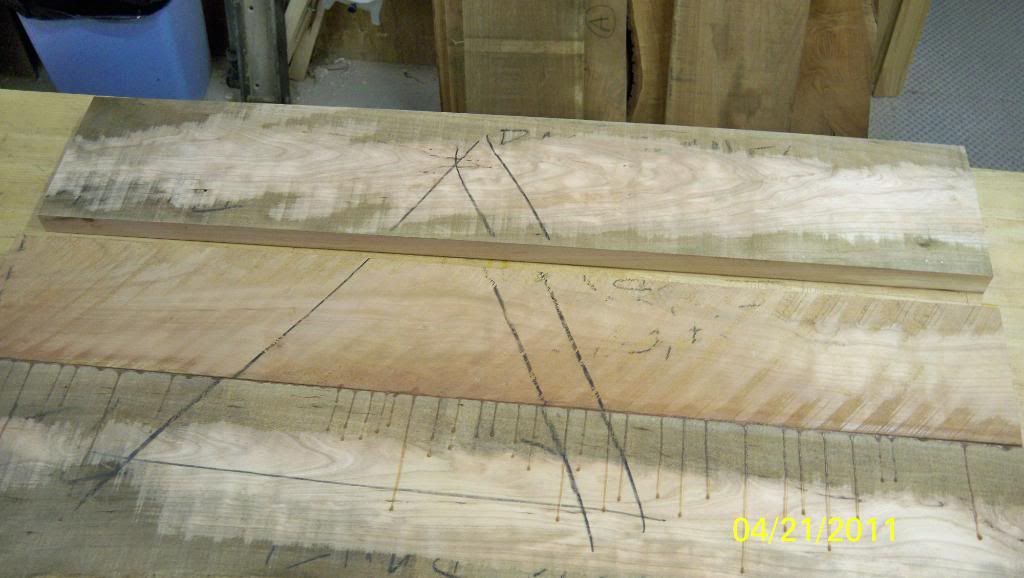 I have already glued the bottom two pieces together but we'll walk through the rest of making this one. Next, I'll need to prepare the edge for glueing by jointing it flat with my Lie-Nielsen #7 plane.

Once it's flat and straight, I test its fit with its mate. I look closely for any gaps at the joint and through trial and error, sometimes lots of error, I get them to mate tightly.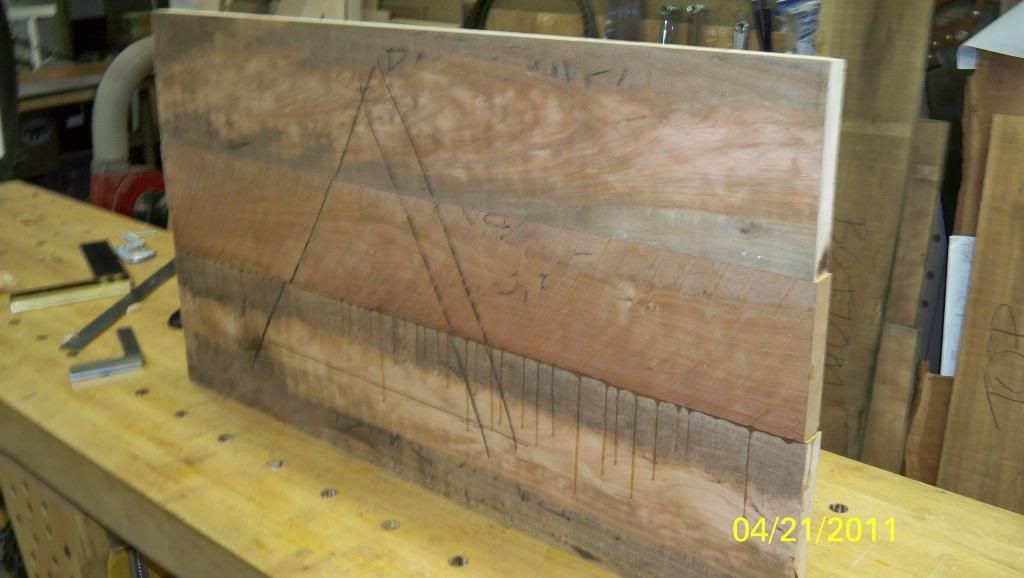 Now I align the pieces in the clamps and get ready to glue up. Unfortunately, I am about to make a mistake … I can hear you yelling at me but I am not paying attention to you.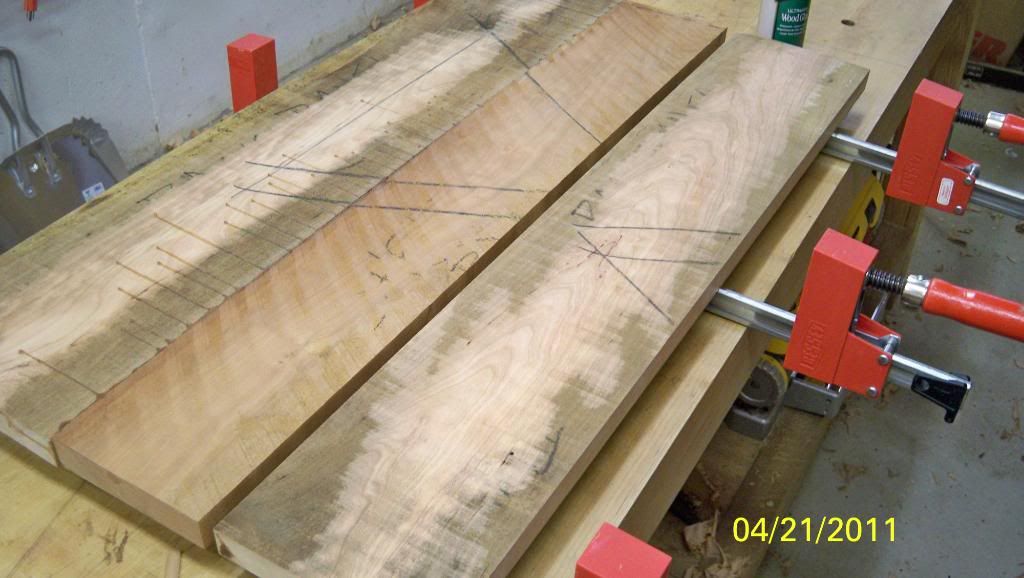 Let's slather glue on this baby and plow ahead!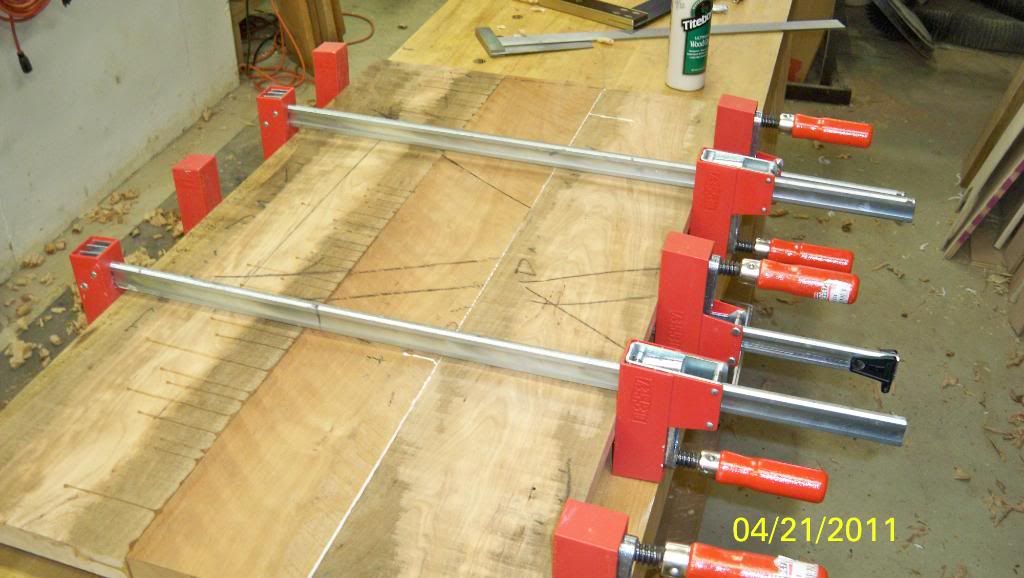 We'll get back to that later. I have three interior shelves to make and have bought some great looking birdseye maple from our own http://lumberjocks.com/barlow and here is a shelf layed out.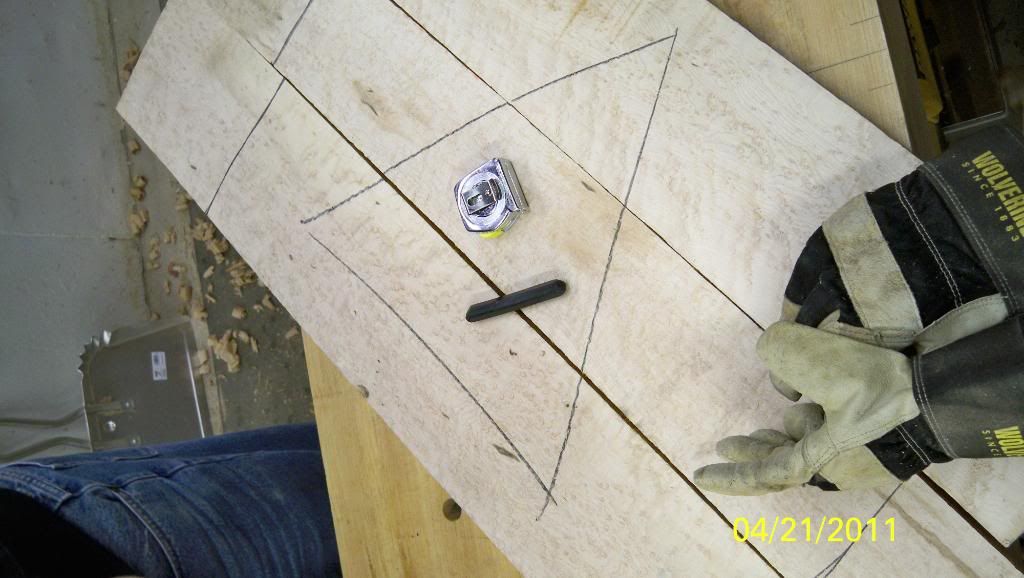 Here's the other two shelves.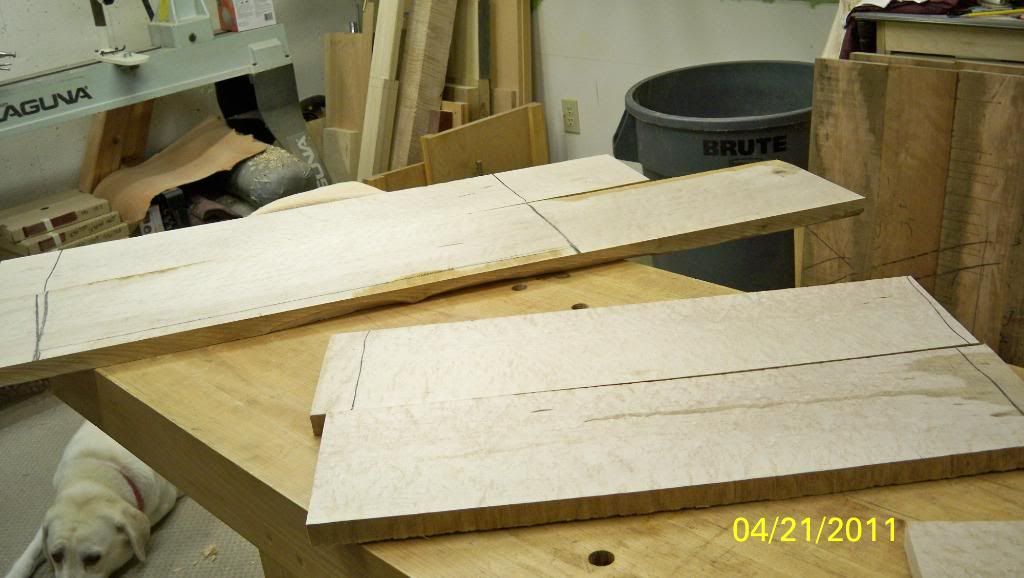 Now we go back to edge jointing the mating surfaces.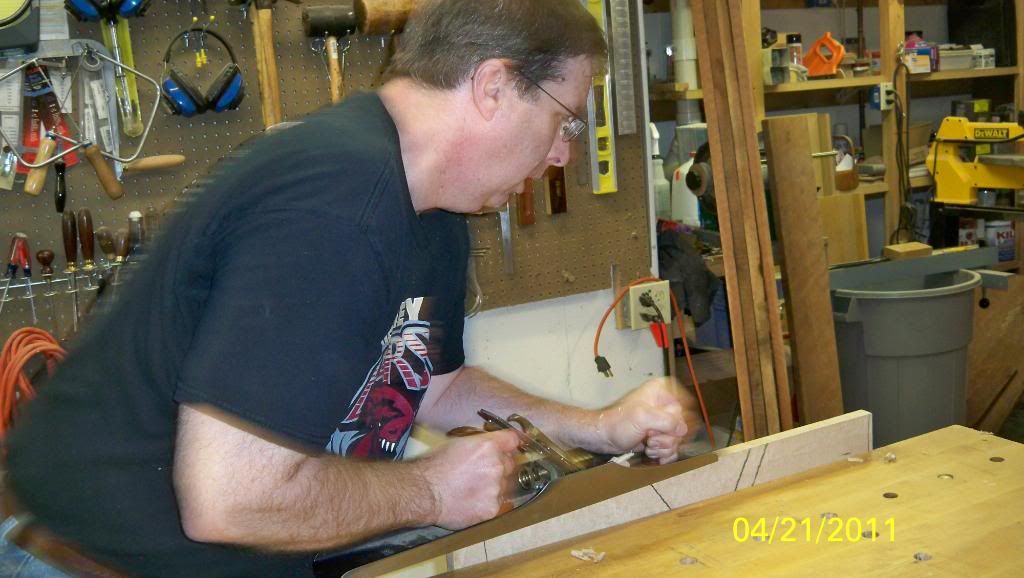 I'll use my straight edge and square to check my progress while the board is still in the vise, it just saves time by not pulling a piece in and out that has a noticable flaw in it.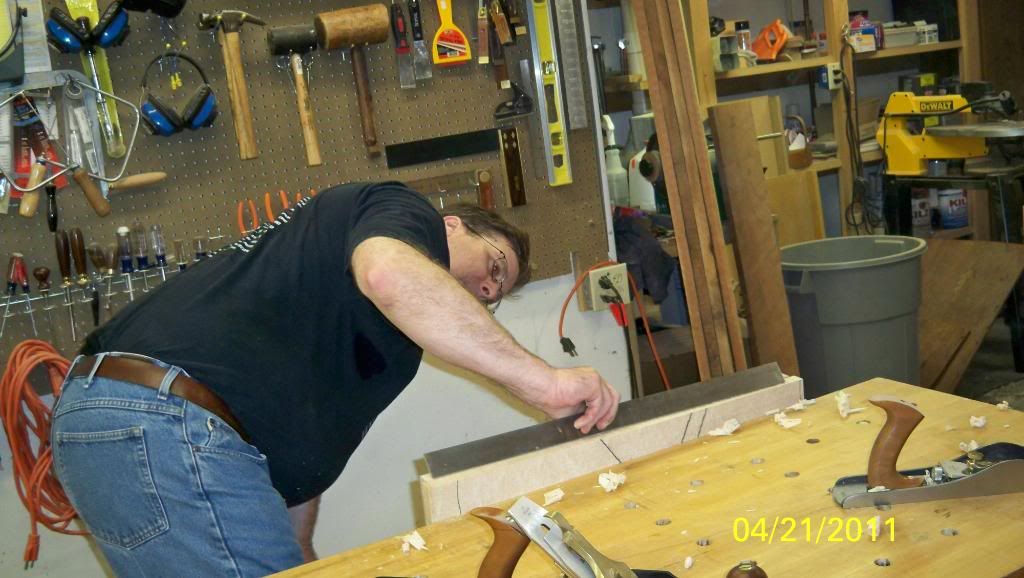 Alright, this shelf looks good. Please note that I have learned my lesson and that triangle is correct on this one.

You know the glue and clamps are next.

Here is my walk of shame. I've cut that back panel apart and re – jointed the edge. Since I hand plane my surfaces, I check the grain direction and glue up panels with the face grain all running the same direction whenever possible. It makes things go easier later on.

Here I am completing the correction of my mistake. I wish you guys would have said someting when you saw me glueing it up wrong, come on, help a fellow out! That triangle is in place now.

Since you've stuck with me so far, I thought you deserved a little woodworkers porn. Here are the planes I'm using for edge jointing, a Lie Nielsen #7, #5 and Low Angle #5 or #62. And some shavings they made.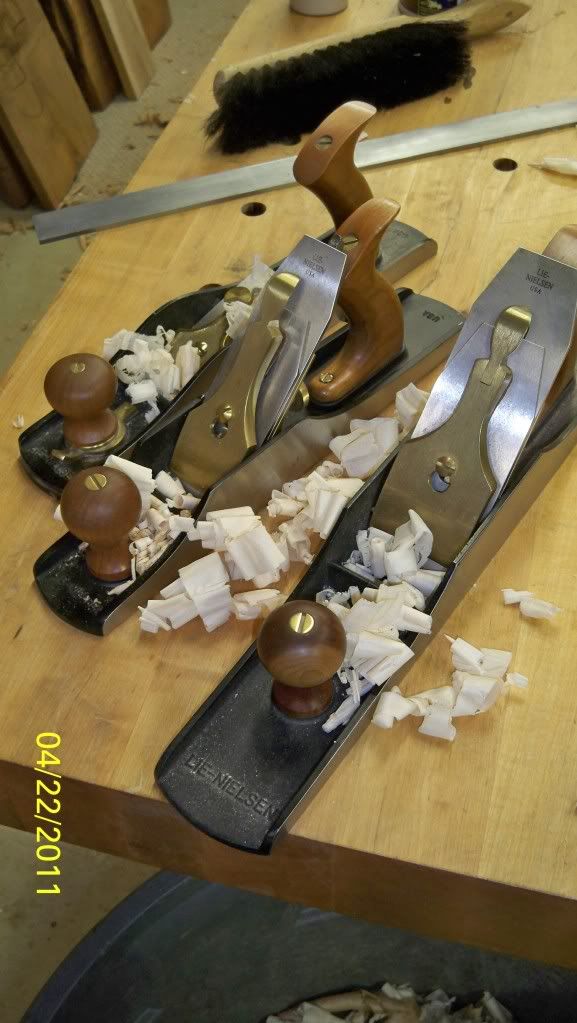 Back to business. I've glued up the 8 panels I need so far. I have 2 sides that I'll glue up later but since it'll be awhile until I need them, They will wait until then. Here the panels are, all stacked nice neat by the router table.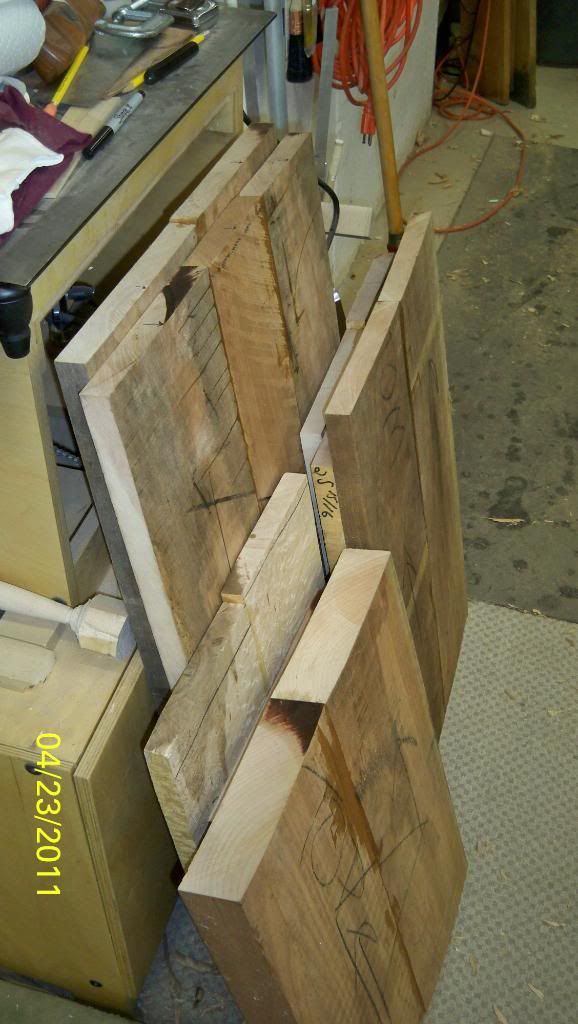 Now I will start to flatten one side of each of those panels. This one will be the top of the clock. I use a scrub plane to hog off most of the waste before switching up to the #5. First I scrub plane down a bit and check where I am on the path to flat with the winding sticks. If you haven't done this before, you lay two flat straight edges at opposite ends of a board and site across the surface. Any twist shows up easily and then you can remove material from the offending corners until you get to flat. Here's a glance at this, but this panel is close already.

Then by planing diagonially, I keep taking material off. The lumber crayon or pencil lines tell me where I have yet to plane.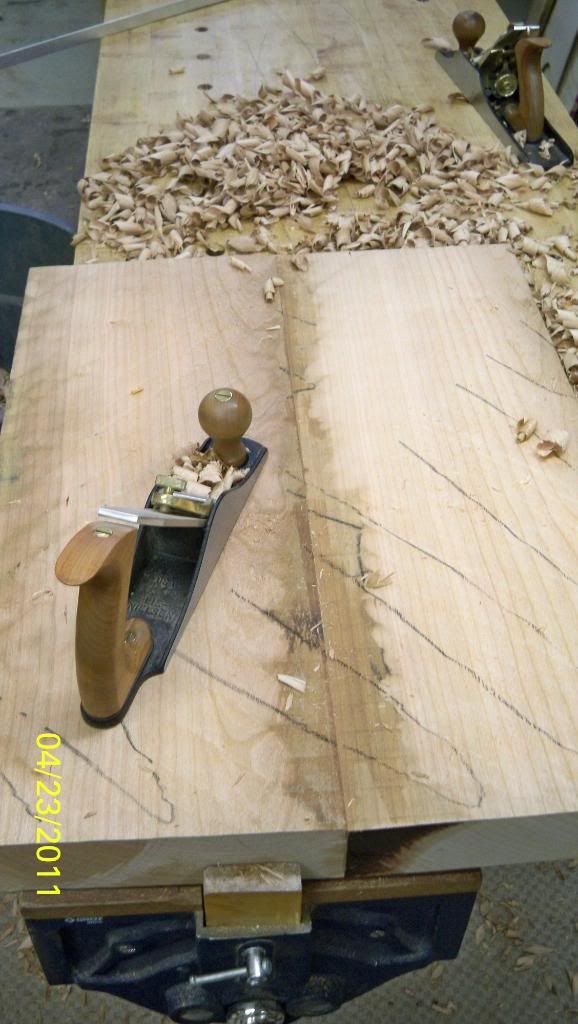 Then I switch diagonials and plane some more.

Now you can see I am down to where there is almost no "valley" running down the middle of this panel.

Let's check to make sure there is no wind in this one.

I then plane a bit with the #5 to give a smoother surface but I don't have any pictures of that, you'll have to imagine those pretty curly shavings coming out of the plane. Look back at the previous pictures if you need to. Since I know you are checking out all the stuff in the backgroud, those cherry boards stacked over that left edge of the sticks are the sides awaiting their turn.
That's where I am at as of now. There are 21 weeks until the wedding and still alot to do on this clock. Next up will be the apprentice I will bring in to help out some. Thanks for following along.
-- Every cloud has a silver lining
---