I have made lots of progress and actually am using my new bench some, I've just needed to get an update here. After putting the top on the base, I marked out so I could start hand planing.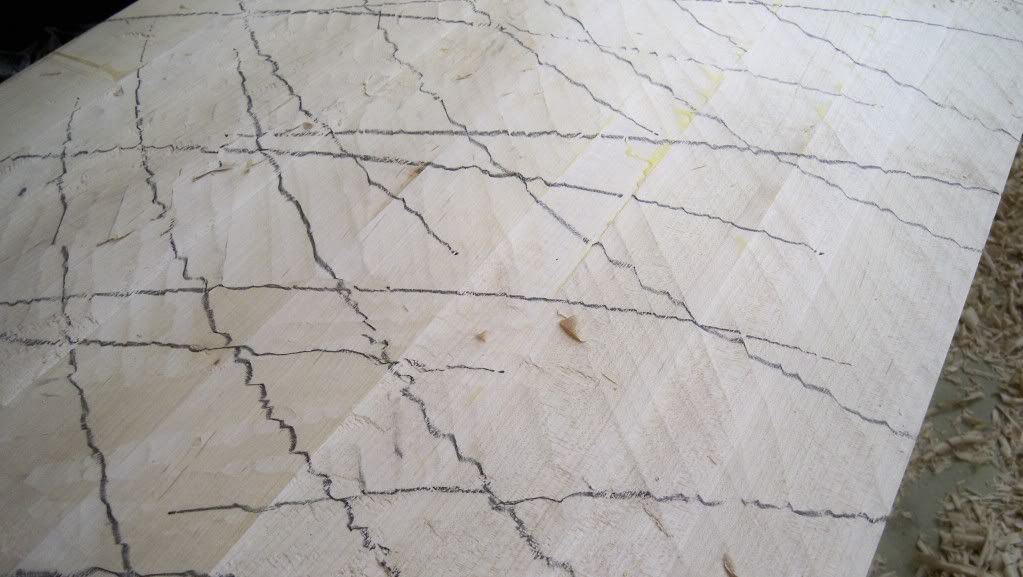 I used my scrub plane to get things close, that's the scrub plane's results above, and then this #5 to get the top flat and without wind.


Here's a picture of the top in "near" flat and smooth. FYI, I ended up with about 45 gallons of shavings.


To trim the ends to final length, I rigged up a straight edge and used my circular saw, here's my set up.


A "little" work and I had a nice smooth end. I put some mineral spirits on so I could appereciate the results.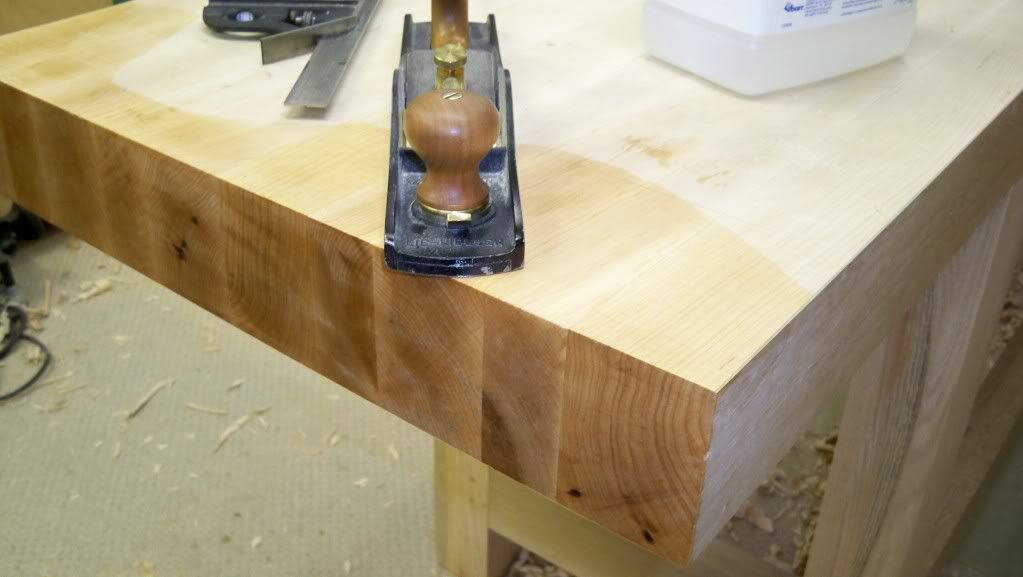 Next order of business is installing my Record style vise. I made some wooden jaws that overlap the top out of cherry scrap. I used a dado blade to hog out most of the waste, leaving a ridge on both sides. Here's a look at them with the vise clamped in place.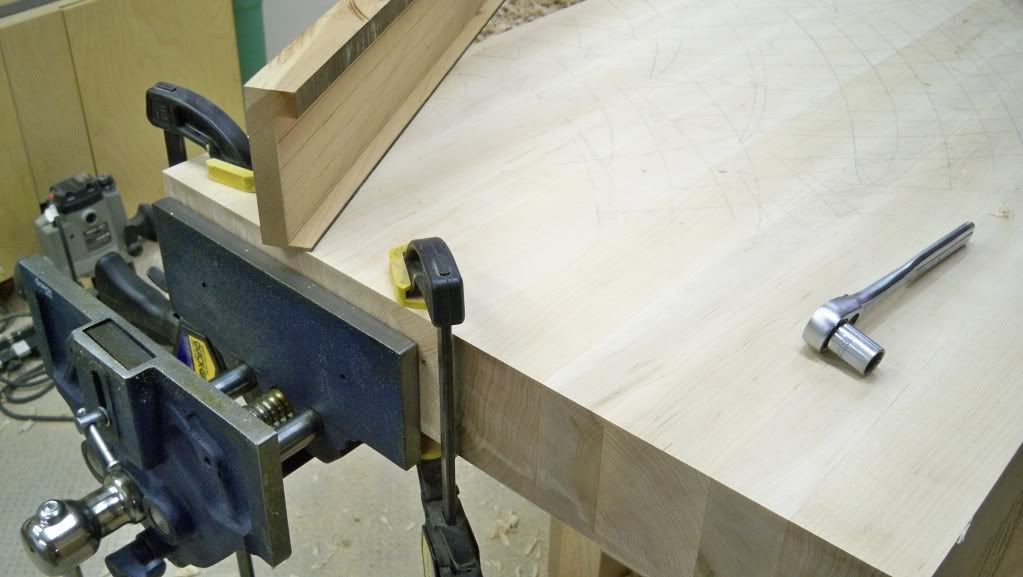 I clamped the jaws in place and marked them for length.


Here's my son tightening up the bolts to hold the vise in place. He's anxious for me to get this done because the first project to come off this bench is supposed to be for him.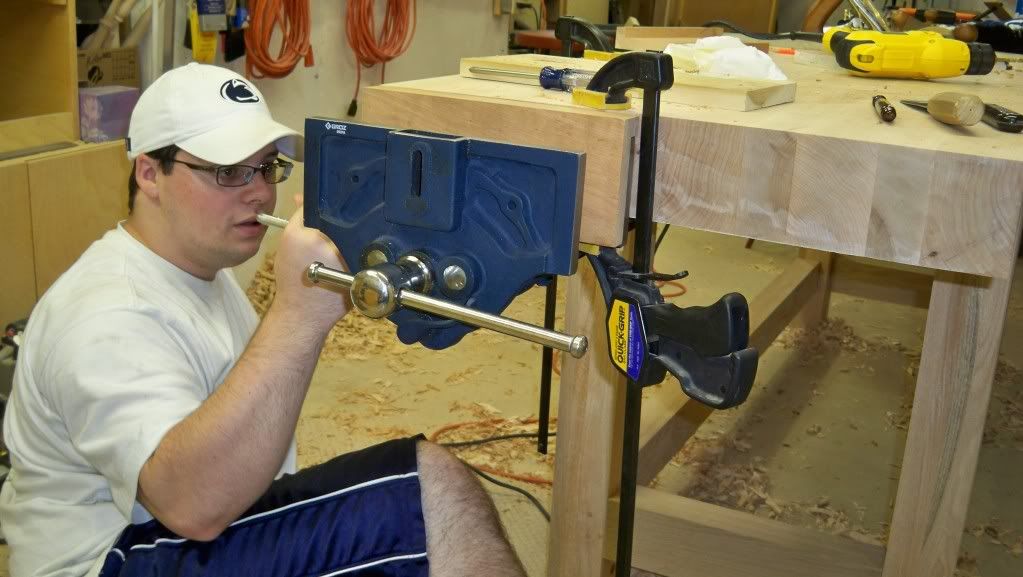 Now I've got a working vise installed, yeah!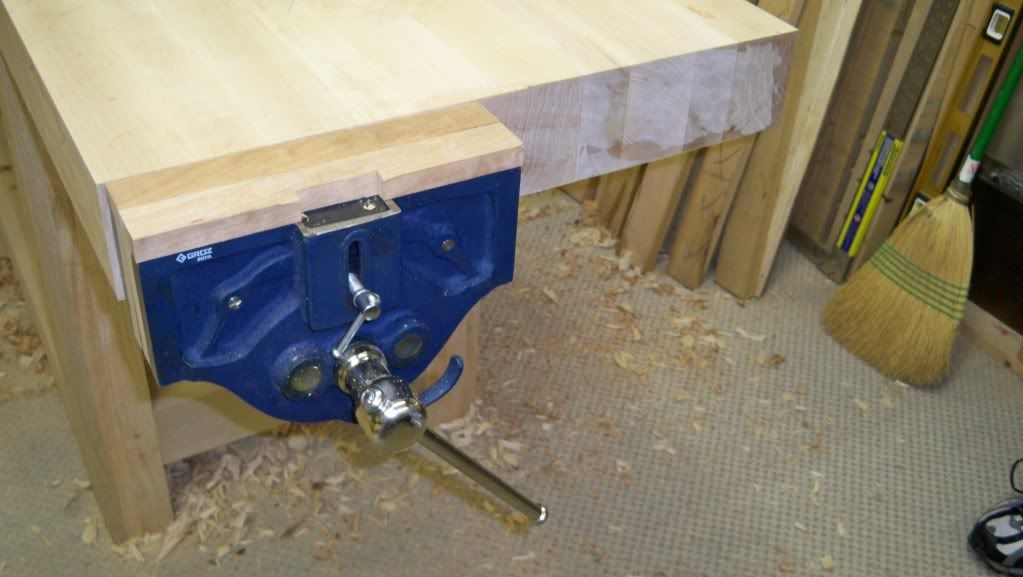 One more time over the top with the big boy, a #7, going cross grain to get to flat.


I wanted to put my dog holes in next so that when I did the final smoothing I wouldn't have any problems with them needing further smoothing. Here's my router doing its thing.


Since the top is nearly 4" thick, I couldn't go all the way through the top and had to finish the job with a drill. I choose to go with the hand brace and auger bit. The result was a arm that could not move for 2 days. Finishing 40 holes in hard maple was too big of a job for me but luckily my family members took pity and each did a few holes to get them finished.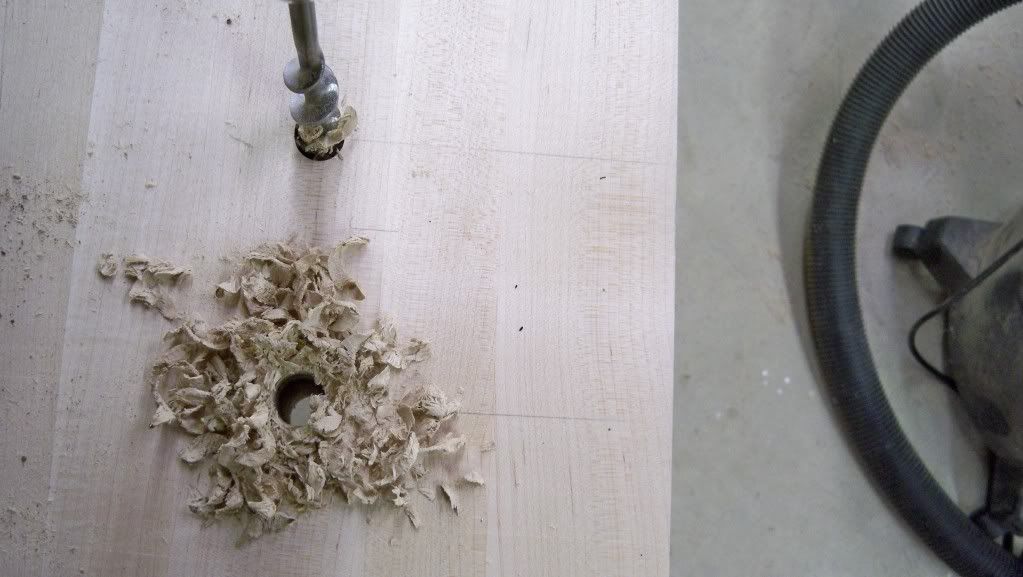 Funny digression…when my wife first saw the holes she was shocked that I would put holes into this bench top that I had been busting my butt to get flat..she really thought I'd messed up this thing.
Next I went work on the leg vise. I forgot to take a picture of what I started with but you'll get to see the offcut in a minute. Here I am using a taper jig to make a cut on the table saw. I took the offcut from here and glued them onto the top so that I would have more width at the top of the vise jaws.


Then I cut a mortise in the bottom of the jaws for the parrallel guide that I had previously made.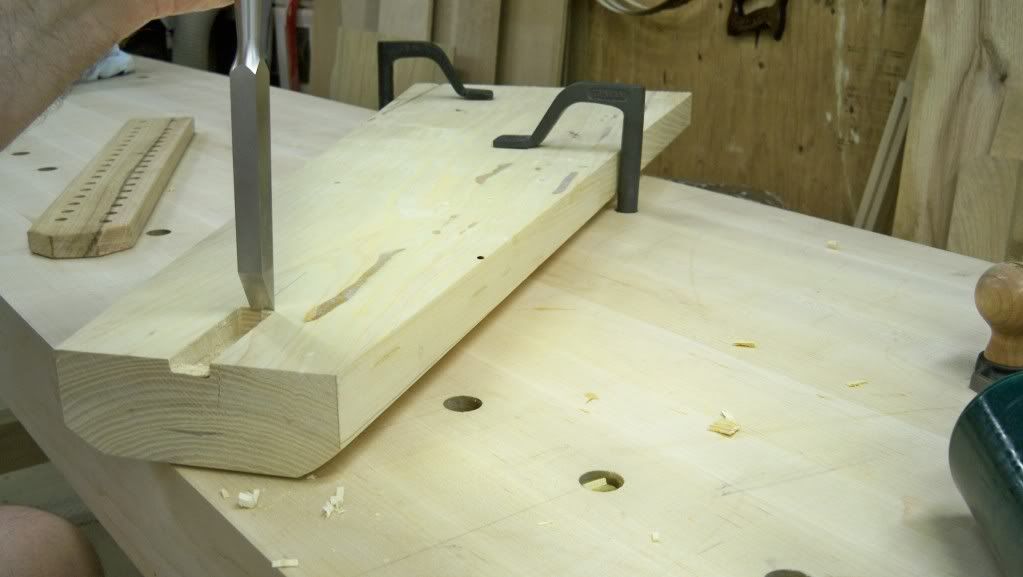 Here's what it took to get this job done. This is my first hand chopped mortise with these chisels and I was very pleased with how easy they made the task.


I wanted to glue and pin this is place and my daughter loved making the dowels for it, or more accurately banging a piece of wood through the dowel plate was a blast for her.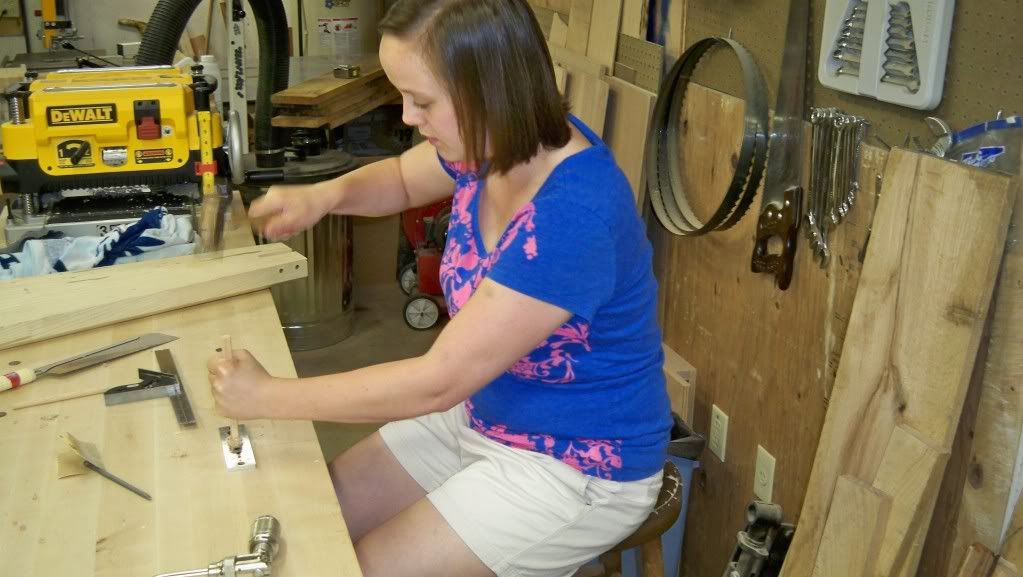 A little trimming of the pins and I think this might be ready.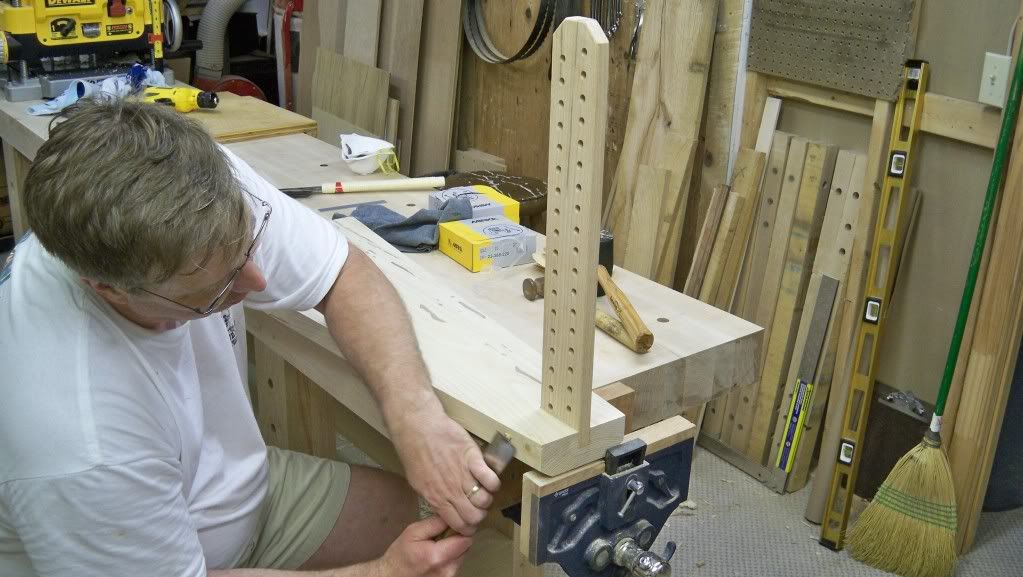 Yep, it's ready.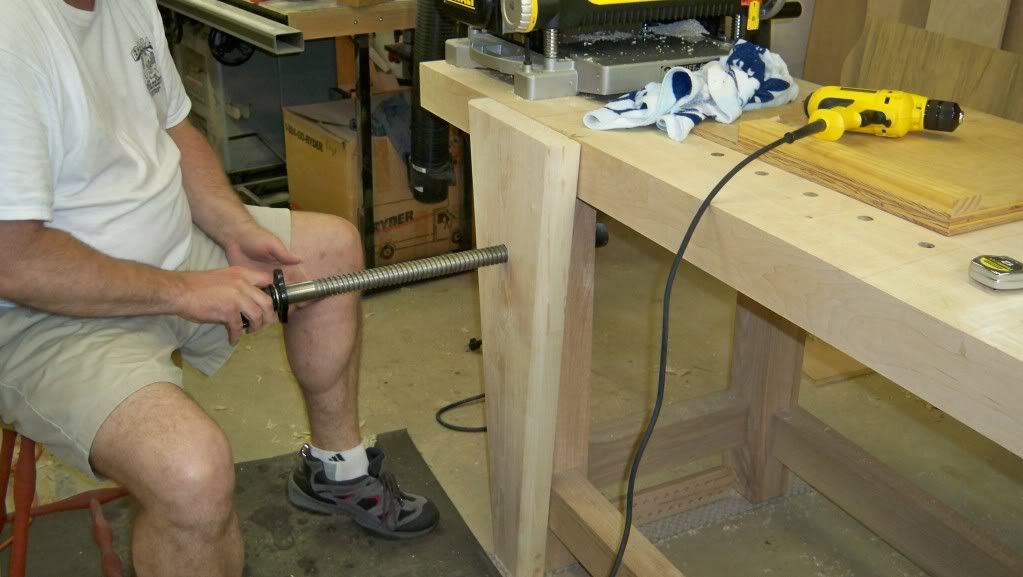 Here's the offcut of the 6' ash log that I started with standing next to the leg vise. I scrub planed it, then used a #5 to flaten one side, then ran it throught he planer. I am going to use the offcut to make my sliding deadman. This is from a tree my Dad cut down for me and we've air dried for 2 years. The original plan was to use it to make a shaving horse but I ended up deciding that this would be more useful for the type of work I do.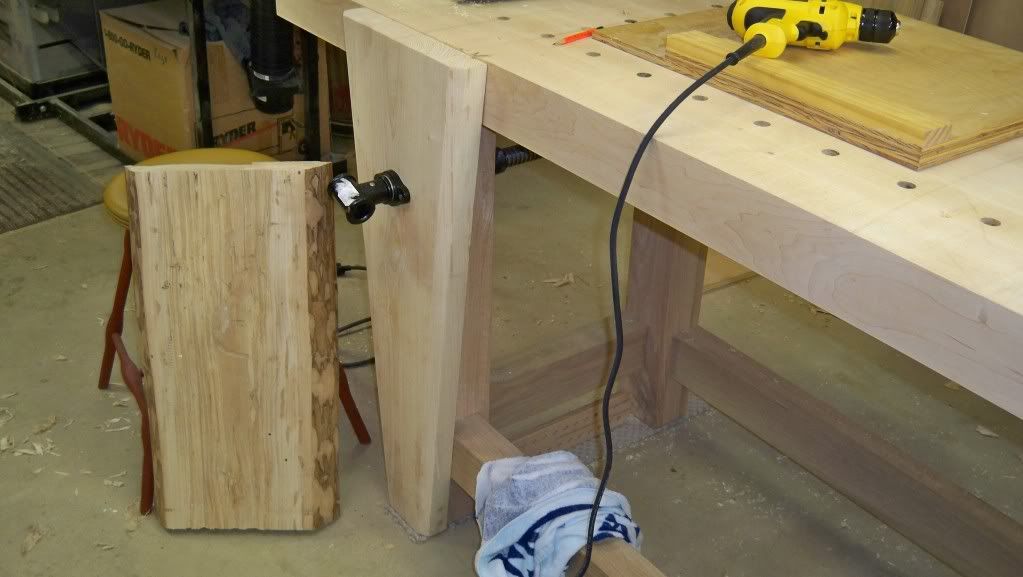 A couple of comments about the leg vise. If I was doing it all over, I'd have the bottom of the vise be a full inch above the floor. It tends to get hung up on my mat but I'll change that situation soon to correct this problem. I also went with a tight fit of the screw in the jaw face thinking that this would provide more support and be better. I had to go back and rasp out the hole some because the screw was too hard to turn. I thought it would work its way looser and be ok, but I couldn't wait for that and just opened it up a smidge. I made three handles from some ash scrap from the same tree the jaws came from…and am still not happy with any of them. So I put one of them on and decided that I'll rive a piece of oak from a windsor chair making log that I'm going to buy in a few months. Just a planned improvement and a minor thing to do later.


I bought a piece if leather to line the leg vise with and decided on contact cement and the best way to attach the leather. Here we are ready to put them together. You can see some holes the bugs ate into the log, it's a workbench is my attitude. I want to use it to make high quality pieces, not make a muesum quality workbench. All of the bench below the top is from free wood my Dad gave me…too bad he didn't have some hard maple I could have used for the top, huh?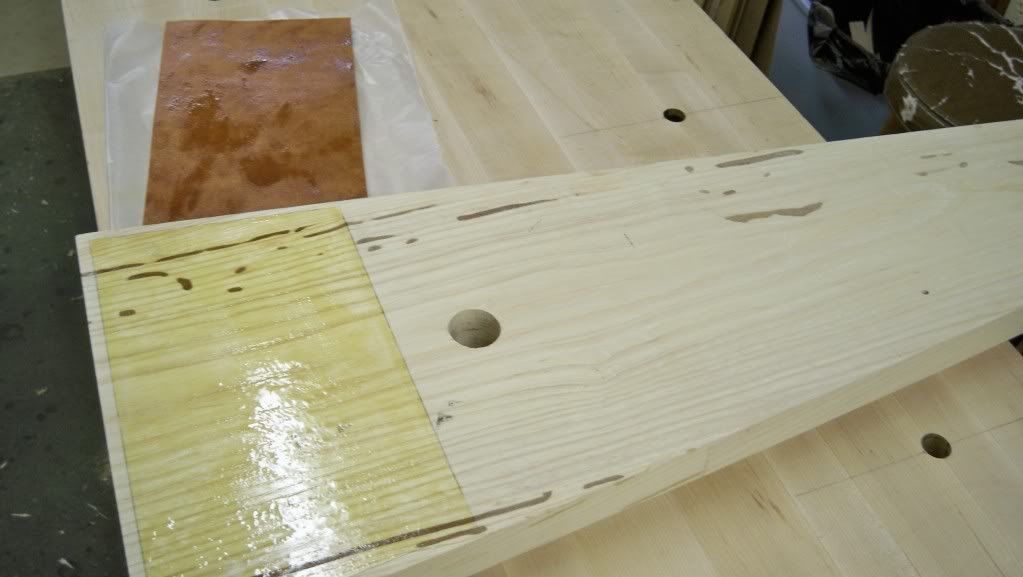 No better way to clamp the leather in place then to use the vise itself. I think this picture also shows the struggle I'm having closing the screw, hence loosening the hole some was required.


I had 2 "made in tiawan" hodfasts that really didn't hold anything very fast. I looked on the internet, what an amazing thing, and found a blacksmith about a hour away from me. He had some old reference books from the blacksmith end of things and agreed to make 4 holdfasts for me. Here I am glueing leather pads onto them.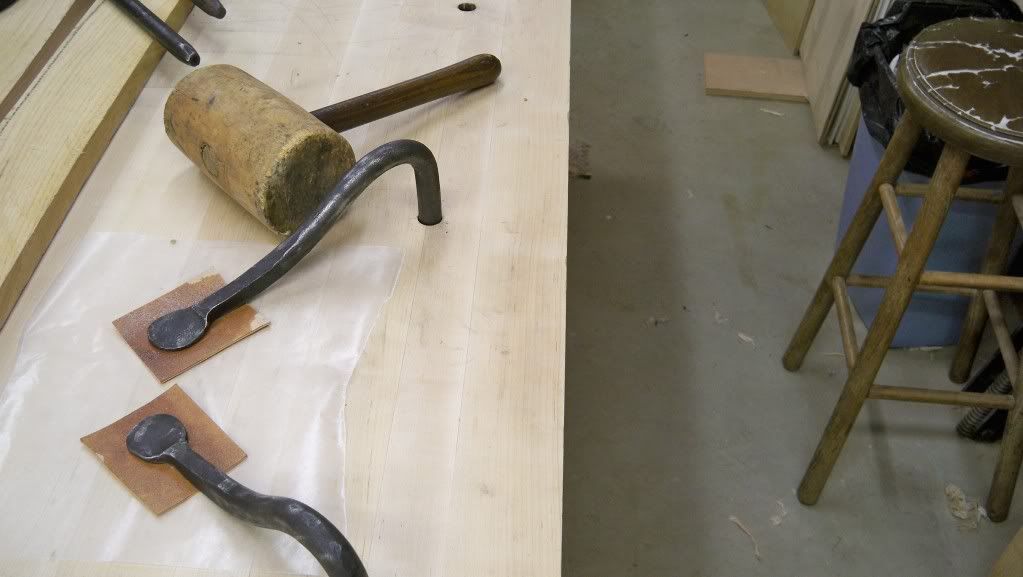 Here's the four holdfasts lined up. Let me tell you, he did a great job. One wack and these babies hold! I used them to hold something I was crosscutting, the wood didn't move. It was like a light bulb went on above my head…"So this is how this is supposed to work!"

I think that's it for now. This is almost done. My to-do list only includes making the sliding deadman and its guide, adding cleats and a shelf on the strechers, and maybe adding a planning stop. That will be the next and final blog before this becomes a completed project.
-- Every cloud has a silver lining
---