I finally got some time back in the shop.
I calculated the size of the outfeed table, had a friend with a cold press laminate both sides of a sheet of MDF for me, I cut it roughly to size and set it aside to finish up the base cabinet.
I lost some photos somewhere for the middle of this process, but once my blade storage shelves were sanded out, I turned some purpleheart center dowels on the lathe for the blades to sit on. I made two sizes, one for the 10" blades, and one for the 12" and Festool sized blades.
I also cut 1/4" plywood spacers to fit between the blades.
Then I cut the fronts from purpleheart, installed them and gave them a coat of shellac.
I put on a "spit coat" of shellac to protect the baltic birch cabinet from getting dirty or greasy fingerprints on it, then installed the sliding plywood "shelves" and waxed them to ensure easy movement.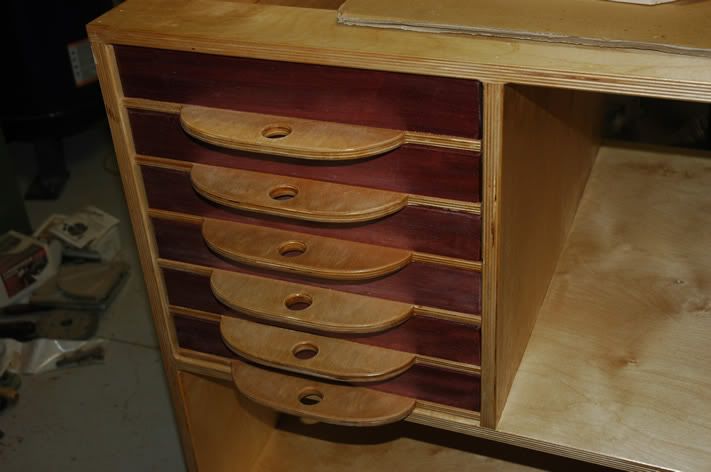 Then built a new finger-joint jig and ripped 1/2" pieces of plywood to make the drawer boxes.
While looking for a thin strip of plywood, I mistakenly picked up one of the sides, and ripped a nice 1 1/2" piece off of it. After realizing what I had done, I had to cut that drawer down, but left the other full height.
While assembling the drawer boxes, I had an alignment issue with the larger box, ended up pulling it apart and breaking loose some of the plywood veneer…now I am not so anxious to finish but have to keep going.
Second mistake of that night was to cut one of the drawer bottoms almost 1/4" too small, and now starting to think it would look good in the fireplace.
Finally got the drawers patched up, glue blocks on the underside of the "almost too small bottom" and they received two coats of shellac.
Amazing how many of the simple steps you really have to really think about when you are away from the process for a few years.
I had planed and glued up the purpleheart pieces for my drawer fronts, and when I checked to see how they looked, noticed both had cupped a bit. So out came the plane and after I flattened them, I then ran them back through the Performax, and lost all that nice purple color again…
My cousin came over for a visit, and I talked him into helping me set the top in place, make a few adjustments and fasten it to the saw supports and screw it to the cabinet.
As we were doing this, I realized I had made an error in measuring, and that my cabinet was going to sit about a foot closer to the saw than I planned…
I need access on the right side, so trimmed an angle off, then taped another angle to see if I liked it better. I think I will just round those edges off and leave it the way I originally cut it.
Next was to install the drawers, and I had posted the problem I had with the Accuride slides (I had two sets of 18" slides in one box, turned out they were different model numbers and once assembled, would not come apart), but that's another chapter…
Now that they are installed, finish up sizing the drawer fronts, and set up to install them.
I have used this Blum system in the past with attached fronts, it involved drilling a 20mm hole in the hardwood front, inserting a "marker" (my cousin turned these aluminum ones on a metal lathe for me), pressing them up against the drawer and then drilling a hole in the drawer where the mark was made.
AFTER that is done, insert the Blum adjuster and install the front by fastening the screw through the drawer into the metal part of the adjuster. Photos will be better at explaining it.
Once installed, they have 1/8" movement in all directions, so it makes for easy and quick adjustment to ensure the drawer fronts have the same reveal all around.
After they are adjusted to fit the opening, I secure the drawers with 1" screws to ensure they are not going anywhere (size is roughly 22" x 11")
Now I will design a handle (maybe baltic birch to match?), and let the drawer fronts "turn purple" again before putting a clear coat of shellac on them.
I hope you have enjoyed the tour of this project, and I am sure you will be able to benefit by my mistakes… :)
If you have any questions, let me know and I will illustrate with photos if necessary.
-- Randy "You are judged as much by the questions you ask as the answers you give..."
---