Well, this really isn't a "project", but my wife kept asking when I was finishing the storage project and moving on to building something, so…
My shop is built in half of the loft of our old barn, and since we don't feed our horses the small square bales of hay anymore, I am now able to use the other side of the loft for storage.
I built simple uprights of 2×4's screwed together, spaced them out on 32" OC, tied the base of the short one together with strips of 3/4" ply at the bottom, then sheathed each level with 1/2"
plywood.
The short one didn't need too much for bracing as the uprights are only about 50" high, and it only has two levels, the taller one (8') I fastened a 2×4 at the bottom for the base, then a diagonal strip of ply on each side which really helped steady it.
Dusting off the hardwood that was stored in a small garage and bringing it up on the elevator and loading them into the racks was lots of fun…
There is just over 280 board feet of purpleheart (5/4 and mostly 6 1/2" wide, some is 8 1/2"), some myrtle, cherry, and hickory on the small rack.

I bought the purpleheart in Portland while showing and delivering some colts I had raised, and who would come back with an empty trailer? They made me a deal on the "shorts", about 7' long, so I couldn't refuse.
The second rack has walnut, paduak, maple, ash, oak, teak, beech, mansonia, rosewood, lacewood and some others I can't remember.

One bracket left over (on the floor of the elevator), so I will be modifying it and putting together another small rack for the exotic short pieces still in the shop.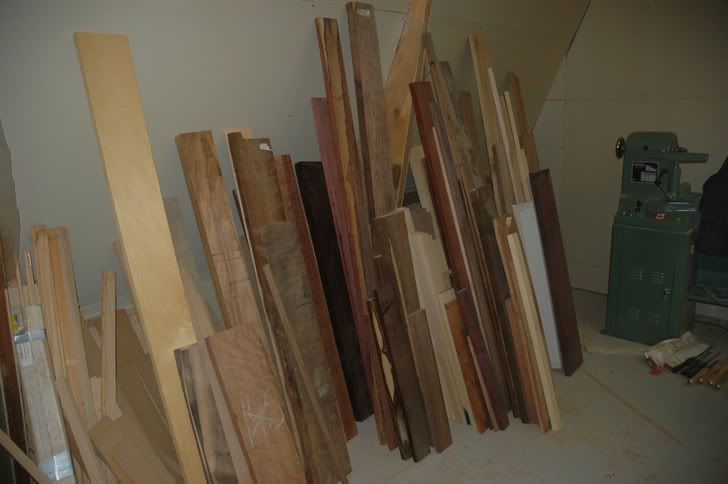 But before I can do that, I need to make a plywood rack for all the scraps…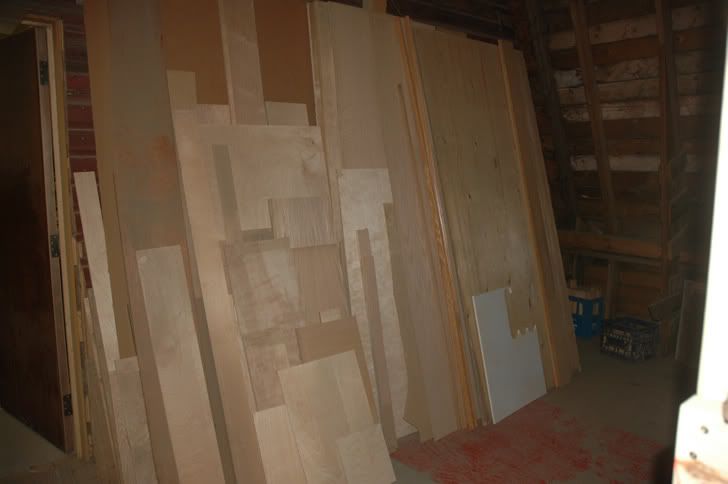 Hope one day I can get into the shop to enjoy my tools again, but when I do, it will be cleaner and more organized… :) Thanks for looking!
-- Randy "You are judged as much by the questions you ask as the answers you give..."
---