So to pick up from last time, I had essentially broke the top down into 5 steps or "phases". Phase 1 was 4 board glue ups. Ph 2 was 2 of the 8 "blocks" glued together with a thicker board in between that will extend to the surface. Additionally there were the 4 boards laid flat on the top, with the one board in between. This was the most complex of the phases and taxed the clamp rack pretty hard. The 3rd phase was assembling the larger (4) blocks with a 3/8" strip of walnut that also extends to the top. This is what I just finished and was by far the most rushed as even extend glue sets too fast. I did tempt fate and misted it with water to make the glue have to work harder to set and since the weather was cold, I started the project at 58 degrees and then bumped it up to 65 ish for the night.
I pulled the clamps and cleaned the glue. Flipped it over (heavy) and flattened the bottom. The bottom isn't dead flat, its close but still had a bit of a valley in it. I figured since it was the bottom and it was only about a 1/16th off, I wouldn't worry about it. I also haven't checked for twist other than sighting across it. I will worry about that when its done and on its base.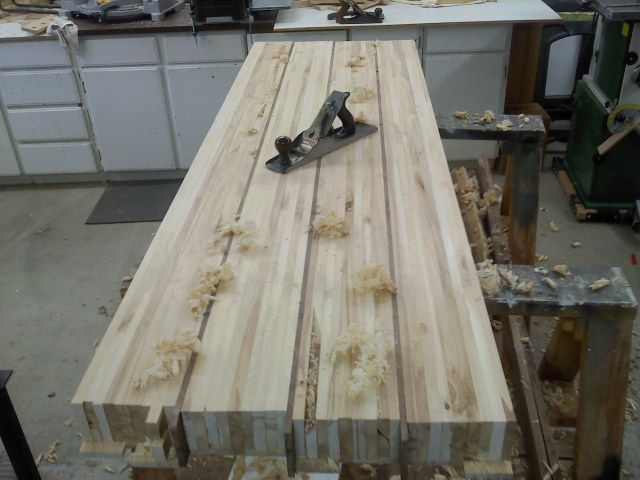 Dont worry about that that chasm. Its the bottom
Ended up with a few shavings too.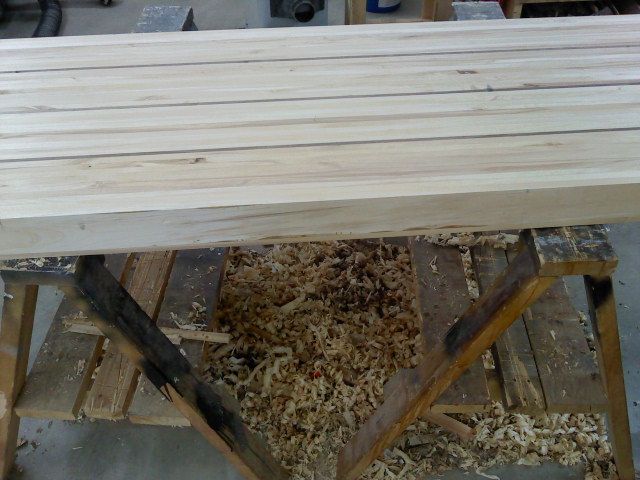 I did make a couple mistakes though. The first was that there were 2 of the 4 larger blocks from phase 2 that I didn't get totally square, leaving a bit of a gap on the ends. Luckily the ends oppose each other and are next to the walnut so filling it will be easy. The other issue you can see in the picture on the end. I was madly trying to get glue and clamps on and when I started cranking, didn't notice that I was off a bit so the end are at an angle. That will make my 80" bench a 79" bench. I guess there are worse things in life, but just not what I was hoping for. I had originally cut everything a bit on the long side. Oh well!
I am excited to have the top done, but now back to roughing out boards for legs and stretchers. As far as what the top actually looks like, well its kinda like the bottom, only better looking. Saving that for a surprise. And Phase 4 will be chopping some through mortices but ph 5 is also a secret. For now.
-- In theory there is no difference between theory and practice. In practice there is.
---