For those of you bored enough to actually read this, I ask that you bear in mind that this is my first blog of any nature and so it may be choppy and boring. My plan is that the bench is not.
Last year (2012), I decided that I had enough of working off of saw horses. I had made them when we bought this place 9 years ago, and they have served me well. They are sturdy. I built them out of 2×6 with a shelf down bottom to hold whatever tool I am using. You will see them in a lot of the pics supporting materials as I will be building on them until the bench is done. I had tried a 2×4 glued and screwed bench before which I still use for mechanical and sharpening purposes. I covered it with 16ga metal and put a mechanics vise on it. I do some metal work and it works well. It sucks for wood though. Especially now that I put the 16ga steel on the top. Point is, I needed a solid wood working space.
For Christmas last year, I asked my wife for Schwarz's blue book, which she got for me. Meanwhile I was constantly surfing the net for ideas. There are a lot of good ones out there. My requirements were few. I needed something versatile, heavy, and more efficient than the saw horses (easy to do). I constantly came back to the Roubo style. I wasn't sure I would use the crochet, but I figured that was an easy add later. I wanted some storage underneath as well (against Schwarz' advice). I could see the Roubo fitting my needs quite easily. Combine that with the fact that I was getting the hand plane bug and wanting to do more, the Roubo became my choice.
As far as the plans go, they are like anything else I have ever done. I just draw it out and go. I don't know how to put my drawings on here like some do. I guess a pic could do. Basically just some drawings on graph paper. Ironically (like all my projects) fine tuned on scrap paper.
As for material. I live in Montana. I am surrounded by trees. I can get wood anywhere. Soft wood. Pine, fire, spruce. Its everywhere. If, however you want some 8/4 hardwood, you better have deep pockets. Well I don't and wouldn't spend it on bench wood if I did. I spent from March to Sept of 2013, surfing craiglist (there was a dude selling 1000 bf of Purpleheart for 3/bf), asking friends, checking with local mills and supply stores. I was even begging the neighbor for their dead birch tree that would reign branches when the wind blew. Yeah, he had it cut down and hauled off. I even offered to pay for some of that expense so long as they left me the wood in 8ft lengths. The day the cut it down, my wife called me and I begged with the tree removal service. Sure they would leave it (it was already cut in 4ft lengths). They would. FOR 5/BF! In log form! Wet. I was kinda pissed about that. So I decided to pull the trigger on LVL and do it like PW did in '09. The day I was going to call them, I found a large pile of birch on craigslist. From the pic, it was enough for a bench. Some was planed and some not. The rough stuff was basically just 4/4 rough slabs. He said they took the tree out 5 years ago and had used it for some projects but had to move. Well it wasn't 8/4 but he only wanted 100 delivered. Sold! And yes it is just paper birch, but plenty strong for a bench. Very straight and 6.5% moisture to boot. Hard to beat that.
So then I had some health issues that slowed down the project, but I had a lot of time to think about how I was goin to make it look like I had wider boards then I did. Basically a layer of 1 1/2 boards on top of the base glue up. I broke it down into smaller blocks so that it would withstand seasonal movement better. It will make a lot more work, but it will look cool and thats whats really important right? The way I am doing it, if it fails, I just take 1/2" off the top and its back to 3/4" glue up. That would also drop it from 3.75" to 3.25". (at least thats the plan)
So Here is what we started with. Only about 1/4 of the boards were planed.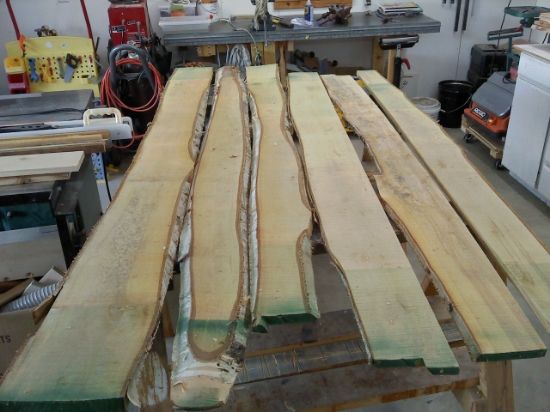 All Pieces milled and ready for assy. I am currently on my 3rd bag this size of saw dust. (I guess you don't get to see it. Having trouble resizing this one for some reason)
Here is everything for the top. (I decided to get some walnut for the chops and for the ends as well)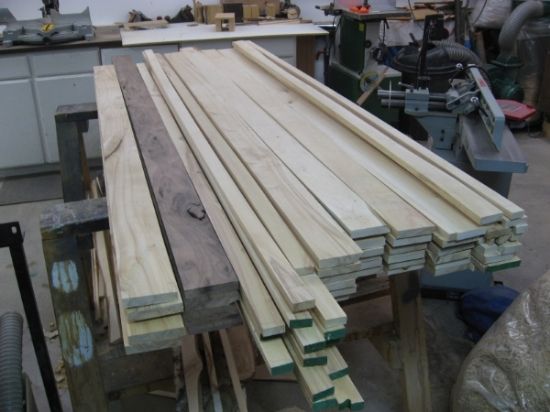 This is the basic idea that I am talking about. 3.25" layer on the bottom and 1/2" layer on the top. Every few boards one goes all the way through, alternating between walnut and birch.
Annnnnd of course, there is never enough clamps.
First two blocks glued together. There will be 4 of these separated by 3/8 walnut strips.
And thats the beginning. I still need to mill the wood for the base and figure out how I am going to cut the through mortises in the top. That part might get a little ugly. We'll see. Thank you for takin the time to look at my project. Feedback is appreciated.
-- In theory there is no difference between theory and practice. In practice there is.
---