Inspired by this fine huntboard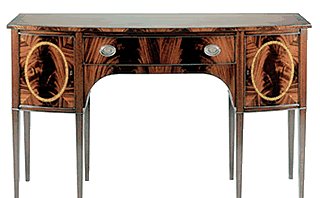 This bookcase has 3 sections, the 2 on the ends will handle most novel while the center section is for larger books that never seem to fit in a normal book case, there is 160 " of shelve space in the 70" piece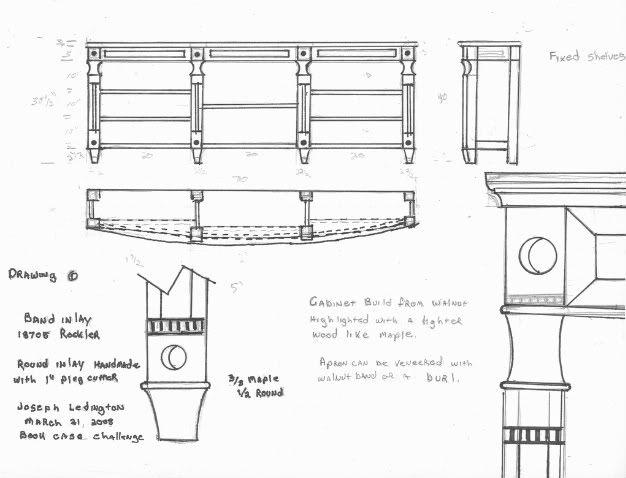 http://i241.photobucket.com/albums/ff175/jledington2002/Scan_2.jpg
This design I pulled from my design notebook. It is a design That worked up for a customer, but I never got to build. I think it would look good build out of walnut with a maple & ebony accent, it all solid wood construction with the exception of the back which would be a 1/2 inch walnut veneer plywood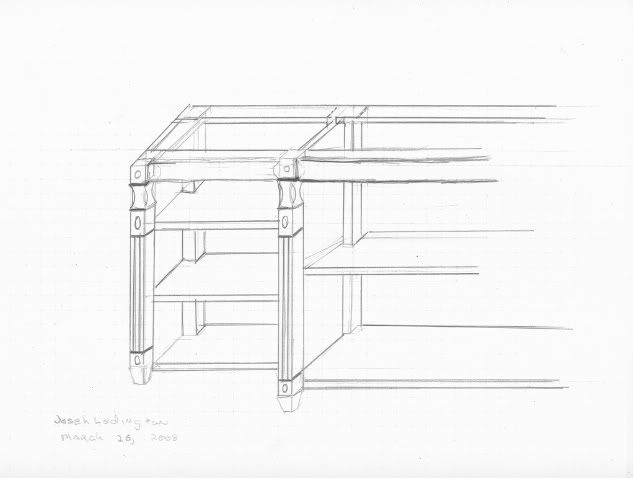 http://i241.photobucket.com/albums/ff175/jledington2002/bookcaseContest_1-2.jpg
the 3" apron would be veneer in a vertical 3/4 walnut banding with a 1 1/2 walnut burl in the center, or maybe a birdseye maple for contrast. the legs are 2 1/2 sq with a home made medallion made with a 1" plug cutter and contrasting woods there is a 3/8 halve round the accent the bottom of the apron and it carries though the legs and side, band inlay would wrap the legs to terminate vertical stringing and a taper would be cut the bottom portion, just above the taper another 3/8 halve round would wrap the piece.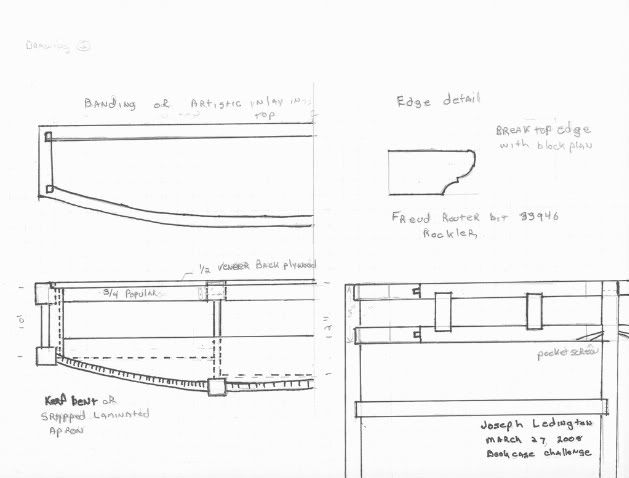 http://i241.photobucket.com/albums/ff175/jledington2002/Scan_1.jpg
The top would have a 1" overhang on three sides and a 3/4 overhang in the back so it can touch the wall so that baseboard would not hold out from the wall. The top would have an artistic inlay or be banded with banding or stringing, The piece would be finished with a sealer coat of shellac and then a wiping varnish with sanding in between coats.
The idea for a bookcase, came from research I was doing on hunt boards in the federal style for a client I really like all the inlays and banding so jotted down a few ideas in my notebook.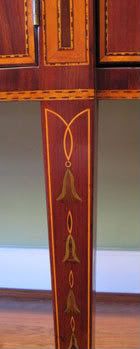 I have many in my notebook but I wanted something that stood out. I have a few more that stond out but this one I would really like to build. good luck to everyone
Best Wishes
Joey
-- Joey~~Sabina, Ohio http://sleepydogwoodworking.blogspot.com/
---