Barely a week past the misadventures and tragedy of hurricane Sandy and ole New Jeyyyyessssy has a new storm to deal with. Although much lighter than Sandy's roar this experience provides snow mixed with freezing rain.
The hell with it I say and time to get back out to the log and craft something from some of this large quantity of newly handsawn black cherry wood….(you know I was not going to let that sit too long…lol) A few hours here and there each afternoon and the end result was my very first kuksa!
Kuksa?, you ask shocked…well Kuksa to you too then buddy!!....haaaa, no worries friends…heres the breakdown:
Guksi (or Finnish: kuksa; Swedish: kåsa) is a type of drinking cup traditionally duodji crafted by the Sami people of northern Scandinavia from carved birch burl.
Well I do not have any of that lovely birch wood so we will fashion something up with some black cherry!
I have seen many variations on the theme of creating this kind of cup and I knew I could definitely prosper in my hatchet skills by trying to make one.
The shop is a bit of an extra mess so the joinery of my galoot library needs to get resurrected and will next week so we can have fun looking at that one soon.
Currently I think just to release the vast stress of the past weeks of all of this storm business. I found the bush craft work helpful to tame the worried brain so forward my ideas marched.
This afternoon was a real inspiration if you don't mind a cold shop and the snow making an early and proud arrival. Lot's of slush in this stuff and fearing that an evening ice may grow into the next morning. Fingers crossed….oh wait I can't carve if I do that….lol
Ironic I choose the craft work that hails from such cold climate but I must admit it fueled my energy to see the remainder of the work through allowing for a surprised completion.
First times are always sportful opportunities to criticize or encourage more learning for the next time. I always try for the road of encouragement.
I am really happy for this being my first attempt knowing there are a great amount of things to work on but the hatchet and knives danced in great unison. The trick for me was conducting the proper tempo while maintaining a focused eye at the stock that needs ridding of.
Well I made a spoon from the recent cherry haul as well, here are some random pics of some time spent in the woodshop…..take a look!
You may recall this picture from the last blog. I said I would most likely create my next spoon from this split…and sure enough I did. Made a longer stirring spoon from the top split section!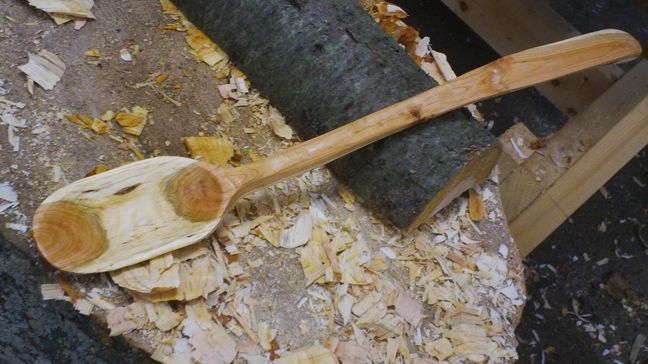 The view here was getting mighty white and cold although the hatchet and knife work kept my warmth to carry on.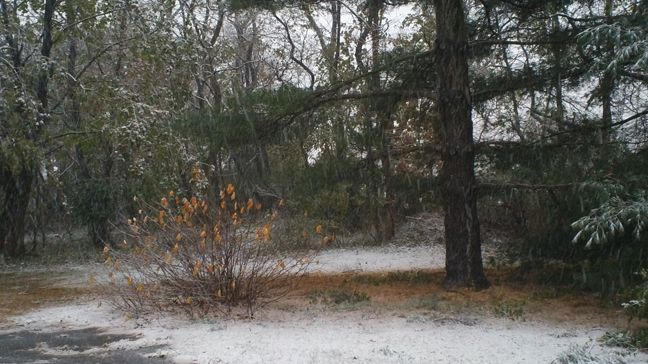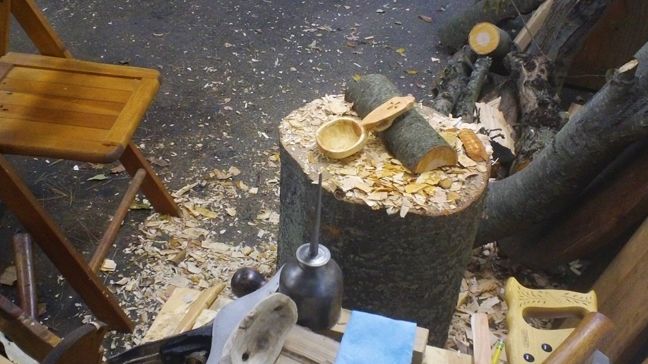 Now then…..of course all of this talk about the Kuksa and all I had was a small cameo appearance….lol.
Check out the project here…....
http://lumberjocks.com/projects/73847
Thanks for reading gang…and all the best!
Joe
-- "Always continue to learn, laugh and share!" JJW
---