There is so much enjoyment in the learning of different species of wood. Recently I was lucky enough to get some good advice from Peter Follansbee regarding spoon making and trying different woods. He said "Try anything (almost) – you get practice, you learn about timbers, and you get some good spoons, and some that might not hold up as well. Nothing to lose."
This is in fact a great opportunity to discover many new timbers and makes for an added education for the road of appreciating our environment and what we can make from it.
The new tote is a sure helpful companion for getting out to the woods and finding new trees to explore!

I was so excited a few months back finding what I thought to be a 4-6 diameter fallen Black Locust tree in our woods. I sawed four nice 2-3 foot pieces and hauled it up to the shop ready and willing to split, hew and have a go and learn about it's properties. I was totally amazed at the woods ease as I hewed the pieces faster than I could comprehend…and the knife work was….well it was like Basswood!
After a few weeks of ignorance I still was not totally satisfied that it was Black Locust so I showed Topper on our trip to upstate NY. I asked him "Is this locust, because it carves almost too easy?". I was aware from the stories of it being a great wood for fence posts and also read how tough it is to work with a knife. Topper cleared up my dilemma quickly as he held a hewed piece in his hand "This is Butternut" he exclaimed with great confidence.
Ahhh…Butternut is a wonderful wood to carve! I assumed while in the woods from having so much Locust in our yard that this fallen piece with a bark looking very similar was also Locust. The fallen piece was without leaves to identify unlike the Locust trees in our yard. So funny how sometimes our minds make the wrong turn on decision alley and this time it was just that….wrong!..lol. Butternut all the while was the fallen wood I brought back to the shop, not Black Locust.
The amount of spoons is beginning to add up…lol.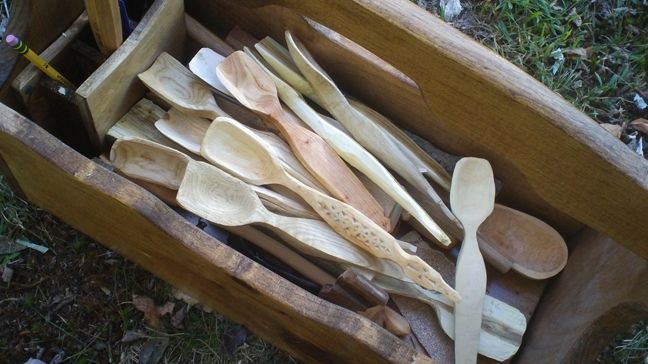 So now being back home and realizing my nice little haul of four 2 foot pieces is Butternut I am very grateful for it. It does in fact carve wonderful!
Now I was on a mission, I must get some real Black Locust and learn how it carves! I had read repeated stories and accounts exclaiming such submissions as….(cut's like iron, too stringy, good for fences only…etc., etc.)
Finally I found a good enough 2-3 inch diameter branch of real Black Locust (Leaves, thorns, the Real McCoy..lol) and I was on the path to finding out more about it.
At first in green, wet shape it does not carve too bad. Actually it feels more and more like Hickory as your knife works along to shape things. The wood seems to dry quickly and in no time the freshness begins to communicate to your tools…tough, stringy stuff…lol.
I had carved some spoons with Hickory and this was beginning to slowly transcend into that difficulty zone. It's a nice looking wood but in closing on the tales of Black Locust….make those fences gang instead of some carvings…lmao!
Now my newest allocation of species was some seasoned Smooth Sumac! This variety of Sumac after some study is not Poison! Smooth Sumac is a safe wood to carve with, and I am happy to add I felt it worked out almost as enjoyable as Butternut. The wood hews and carves easily and has a nice light grain.
I had some weekend pastime to take the knives to these three woods. I find a great way to learn their traits, aromas, and grain is to make some more spoons for the ever growing collection and strengthen carving skills.
I hope you may check out the 3 finished exercises in the Projects section!
http://lumberjocks.com/projects/72746
Well friends I would say that about does her for this blog.
Coming soon it will be back to the bench for some joinery with new ideas brewing in the old think tank. A woodworker can not just live on spoons alone!...lol. So some new exercises of artisanship blog work is to be done as the autumn leaves have there say and the sun starts to go home early.
Thank you all for enjoying these blogs and stay tuned for more learning and woodwork!
Be well,
Joe
Make your life a sculpture and see the lines as your road
every effort contemplated, every movement shown
Chisels cut the pine, the shavings whittled fancy
across the mind lies in disguise the work that keeps you happy
Hollow rounds the sounds of time that mouldings fit like friends
The shallow gears that click our years till means extend our ends
Cautious tinker tools in dovetails, sorted mess of rustic wonder
Wooden planes for grown up games like children run in summer
Go on without the sinking sun and avail the dark your blanket
Rise the morning, see blue skies, look towards the tree and thank it
Walk your road with memories, see your past with forward thoughts
Make your days the best of ways with stories, laughs and love.
-- "Always continue to learn, laugh and share!" JJW
---