Although I was glad to share my overall opinions and enjoyment of my journey north I thought it to be sort of empty of me if I forgot the man on the mountain.
In past blog work you may have recalled a short mention of a man named Topper. Topper is Jenns dad and always supplying Jenn after a Thanksgiving or Christmas visit with some great cuts of hunted Venison to bring back for us to enjoy.
I had never had the opportunity to actually go and meet him so this was a sure adventure to see just exactly where and how he lived. Topper can be as simple as meat and potatoes, smart as any high honors college grad and at times not going without some interesting complexities that make him a truly one of a kind person's person or man's man.
He is not someone who enjoys weekend warrior behavior enjoying nature, he is nature full time. It's in his bloodstream and instincts and I would say makes him who he is. He can easily spot a tree from a short distance and tell you the species, it's uses, describe the leaves, and make you feel like a student searching for a notebook.
You can read his eyes at times and see the intensity of a hunter as he becomes his thoughts with a great excitement for making another climb into his tree stand.
His face displays 65 years of good and bad days. His random baseball caps cover a healthy amount of shoulder length gray hair that balances out his matching mustache and beard. His smile is a lot like a jolly Santa Clause from an old coke a cola bottle and his opinions are too the point not without a nice helping of wit to ease any sharpness.
We drove up slowly on a mountain rode and the scene was just how I imagined it. The house that once was his parents was a humble home that fit perfectly for the story of the man. You are sure to make a phone call first before your arrival as we did or else Toppers large German Shepherd (Odi) is more than happy to scare off Satan himself with her trained guard dog approach in the driveway.
Once we were inside we had some time to sit at the kitchen table, have some breakfast and just enjoy the time hearing the many stories he has to share.
Every so often during a funny exchange his face would shriek in discomfort as Topper deals with some fairly intense shoulder arthritis making it very uneasy to get his arms up above his head. He is unable to do much work with his bow now he told me but can still manage a pistol or riffle for the task of a hunt.
His face would glow with pride over his large amount of timber he has stocked and ready to load into his fireplace awaiting a long cold winter. My inner thoughts were…..man, look at all this wood for spoon use….don't burn it!
I guess that exposes me to the fact that my home is oil heated only and without a fireplace….lol.
He also was proud in showing off his display of deer antlers tagged with the specific date he had hunted them.
The time spent with Topper was a good hearted break from the daily consumer over competitive culture we practically get shoved down our pie holes, from cable television to the newest cell phone application. Some well spent time with a real mountain person corrects your thoughts where there is some adjustments to be made…lol.
Once getting back to the basics of returning home here in NJ Topper told Jenn in a phone conversation, "I like Joe, he's a cool guy". Well Topper I surely feel the same way my friend. You see in that part of the country as nice as the trees, animals, and fresh crisp air can be…I take comfort in having a friend in Topper….or you might just say the man on the mountain.

Now I guess some wood work might be in good order to follow my story. Washing the dishes after Jenn's mom Mary cooked us a great dinner I took notice of a black plastic ladle…..(plastic?.....ughhh) So I thought it would be a great idea once returning home to fashion a new wooden ware version for her that I can send her way during the upcoming holidays.
I had a decent sized plank of seasoned maple. Now spoon friends what was wrong with my prior sentence in regards to hand tool spoon making? If you said the word (seasoned) you are correct!...lol.
Seasoned maple was all that I had at the specific size I wanted, so a rough session of hewing, spokeshaving, and carving was on the menu. In review please remember for using hand tools to make spoons that fresh green wood is the best way to go. Green wood is wet and your greatest friend in this application, it will cut easier with far less fight in the grain.
Here are some pics of the hand tool climb of mount maple…lol.
Pic 1-3: A decent chunk of seasoned Maple was going to be fitting in size and more of a challenge on my tools to go to work it into shape.
Pic 4: This was giving a ton of dry maple hewing shaves as my hatchet dug it's way through it. All the while let your mind see the shape, take your time without rush or haste and the hatchet will create your path.

Pic 5: Time to get on the ole shaving horsie and ride this spoon down with drawknfe and spokeshave! If you do not have a shaving horse…make it your next project! They are a real blast and nothing too fancy is needed but prepare for a decent workout and a floor full of shavings.

Pic 6: Of course my knives were going to have to take a back seat and allow me to tune up my hatchet skills. This maple was…..tough….lol, so choking up on my hatchet I made more short tapping moves with it's blade in small areas to aid me in getting those spots carved down. This requires patience and growing skill, there is no room for sloppy smashmouth work, if so you will have some tears or even blood in your shavings…lol. The message here is please take your time and use caution!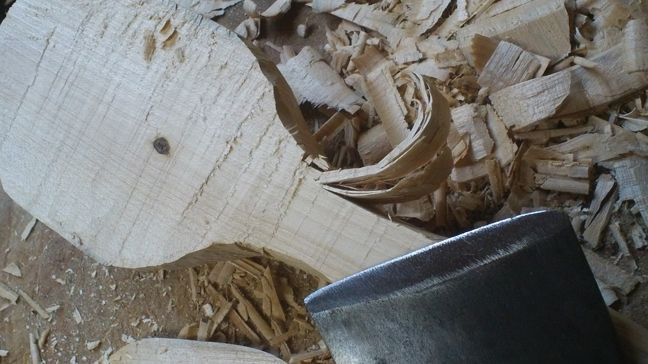 Pic 7-8: It may not be so easy to view here in this picture, but in the side of my cherry log top I have a notch cut inward. Not as graceful as it could be…lol but it's there to push the spoon into if I need to brace the work for hatcheting around hard to reach areas. It's also a key to note my log is stopped by fixed clamps on my bench since it is only a top and not a taller log to work on from the ground up.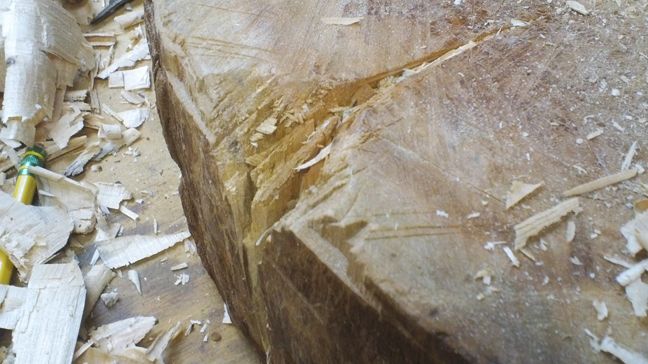 Pic 9-10: Here is another way I prefer to start such a deep bowl. I like to use my pfiel gouge to start the work and many times I will go in with a hook knife for cleaner cuts after. This move looks a bit scary to the new observer but as long as you have a good stop with your cutting hand and work through with slow detail and care all should be fine. My experience is that moves like shown here in pics 9 and 10 for the beginner are best to be rehearsed first. Like performing exercises in a gym for the first time a cold and safe rehearsal is great for feeling and seeing how the process can come together for your own personal style rewarding you with positive results on future projects.

Pic 11: Of course being that this bowl is really deep down I can clamp the spoon and gouge out the waste that way as well. This got things moving more effectively.

Pic 12-13: Some knife and cope saw touch ups carry on the work. My finely tuned machine is without any fancy jigs, requires only thoughtful hands, muscle, a good imagination, and runs on water, vennison and a few cold beers after the operation….lmao!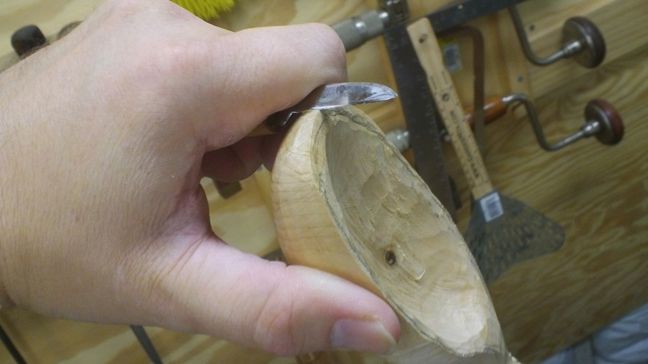 Pic 14: Some great amount of spokeshave work to the backside of this bowl and this maple ladle makes for a nice smoothe surface.

Well gang I have a new piece to add to the growing collection so please jog on over and check it out!
THE NEW PROJECT:
http://lumberjocks.com/projects/72505
Thanks so much for enjoying these installments.
Remember to take a few minutes after a build and reward yourself with enjoying your work. Every new step is one that brings us closer to our true improvments!
Take care and thanks for stopping in the Old time woodshop!
Joe
-- "Always continue to learn, laugh and share!" JJW
---