After the piles of shavings, sawdust and sweat has been had the broom sweeps in a satisfied rhythm. While my inner happy finality of the spoon makers tote still brings me good feelings of inspiration to hew and chop once more, I ponder over at some fresh cherry and the task takes a hold of my crazed passion.
The urge is in my spirit for the creative kind of dance only a happy fool with his old hand tools knows how to do. Oh well could be worse….I could be an old fool with new cheap tools….lmao!
The greatest part of autumn is when she shows off her colors and humble temperatures. We here in good old New Jeyyyssssey…lol, have been lucky to enjoy some really fine days, cooler temps, sunshine, and city folks heading back to the metropolis. It's the last season of Jersey Shore….I think hope is still alive for us all…lmao!
I like the quiet and embrace a stormy day, I enjoy when the animals play and the loudmouths go away…lol.
Sometimes I swear if you are still enough the trees sing in the fall breeze and I get a calm from there strength, longevity and stature.
Perhaps the great Roger Miller said it best "Funny I don't fit, where have all the average people gone"….Amen brother.
Such a small time we all have so I always try and take the time and see it all, as all that I can see and be.
So the hatchet made some marks and the small cherry limb unfolded some secrets and lesson plans for the next spoon to take shape!
This might be just a rewind for some, but your still invited to take a look and enjoy!
Pic 1: Really happy with this tote, I had the feeling to celebrate by making a new spoon!

Pic 2: This is what you need friends, a good piece of Cherry….ahhhh nothing better to work with. I will go and split it down and see what we get!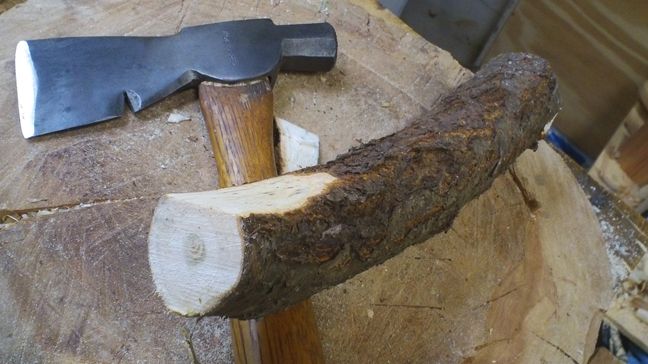 Pic 3: An 8 dollar Stanley hammer with a hatchet and we have a good split for a curved spoon….nice!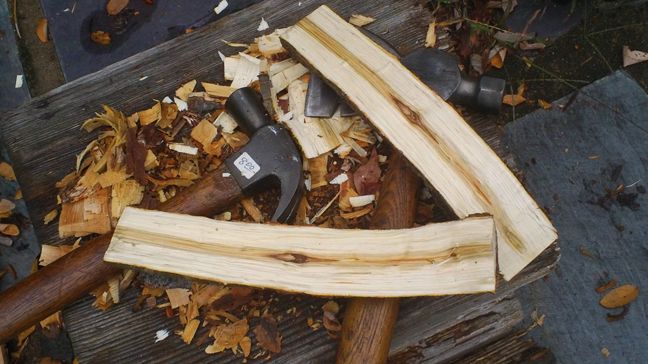 Pic 4: Now we are getting some shaping, this one will have more of an arc to it.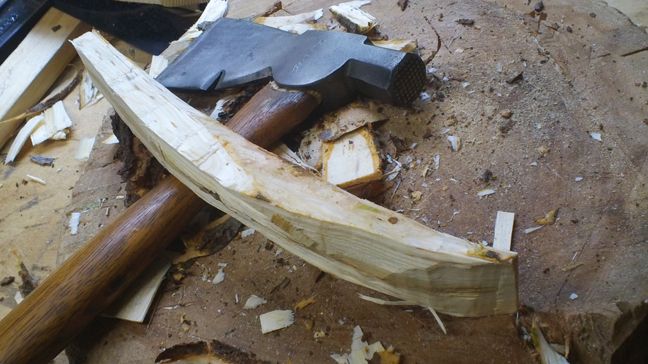 Pic 5-7: I will try a different method today. I will saw cut in the sides and work my hatchet down to the cuts!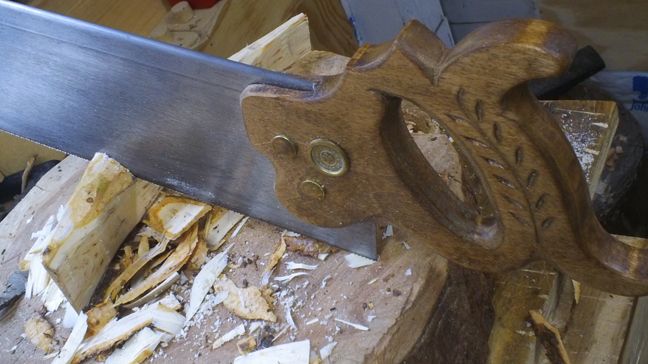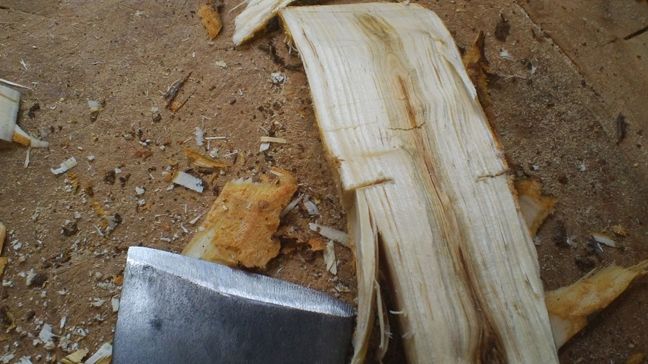 Pic 8: Here's a sneek peek of the project!

Ok gang that about does her, thanks for all of your comments and appreciation of my works.
Head on over to the projects page and look at my two latest projects!
http://lumberjocks.com/projects/72222
http://lumberjocks.com/projects/72218
Thanks for stopping by the Old time woodshop, work in great spirit and have a lot of fun with it all!
All the best grain ahead friends!
Joe
-- "Always continue to learn, laugh and share!" JJW
---