Hey friends, thanks for looking in again on what really is my final installment for this spoon makers tote!
This piece went a little faster than I had originally thought it would go, but I had some time and inspiration so I went ahead with the flow of the tools. This is going to be much more of a practical piece to enjoy using, packaging some small tools, woods and spoons around. I left some tool marks with a fun and spirited opinion of wanting this work to look used and lived in. For me it's a sense of pride to see the tool marks intentionally at times on more rustic pieces…these are my little prints of history I may look back on years from now.
As usual I let my creative spur of the moment indulgence of lines and mixed themes give forth what I see as gothic elements meeting country craft work. My goal was to have a carrier that had a little renaissance to it's appearance while maintaining a warmth and humble simplicity. Lucky for me the results are also workable as well as comfortable in its carrying weight.
All of the criteria for me personally has been met to my preferred standards and I hope others may enjoy this tote as well.
Here are some final workouts of ideas as we reach the finish line for getting back into those wonderful woods looking for some nice green wood to create more spoons!
Pic 1: A few added ideas as I approached the finish line. I had some scrap Maple and began to set up a mortise for my hatchet blade to fall into all the while coming up with some additional ways to mount it to the inside of the tote!

Pic 2: Now to come up with some fun and off the cuff turn latch work to help support the hatchets want to move from side to side why walking around with the tote!

Pic 3-4: The help here of the ever so simple and very effective little bench hook and wonderful pfiel chisels to shape my latch idea from rough to ready.

Pic 5: Well it's my own fault for having such small scrap to work with….but when in doubt just carve and whittle away with the sloyd knife. How fitting since this tote will be used for this kind of craftwork when finished.

Pic 6: A sneak peek at the rough idea, seems to wedge in fine and the latch does a fair job of holding the hatchet in case of any side to side wobble. You can just turn the screwed in latch upward and it hits the hickory handle to help hold the hatchet to the side.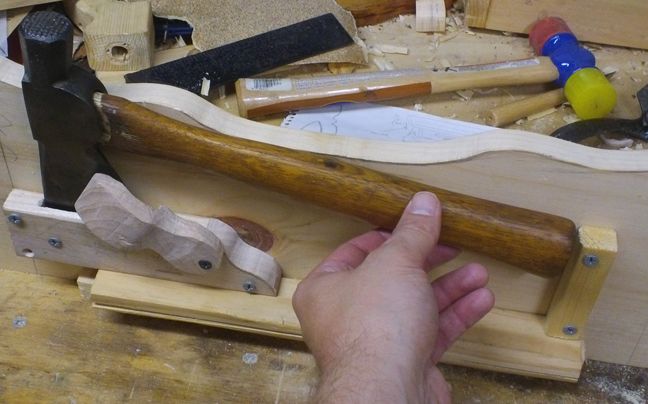 Pic 7-9: As I got to the final stages of the mortise and latch set up I realized it would be nice to have some little side dividers to drop in my carving knives…..I guess you all get the point I really improvised a lot of this and just let the pieces cut and join as they may….lol. I had a lot of fun just in the doing and letting the instincts have their way with my sometimes all too fearful over analyisis. Ripped down a piece pf pine for a more thin stock and got to work on it.

Pic 10: I created a back plate to screw in to the inside of the tote and on top of this a front cover to secure the knives. Next I will cut the actual dividers and glue them in between to form 3 little homes to just drop in your knives so you can tote along!

Pic 11: One day I found some ancient old 1×2 stock laying outside from an old house. There it has sat since the spring in my shop…..hell no time like the present to make use of these for four dividers! Rip these old pine pieces down and make some use of them. Then I lay them out, glue them up, and clamp this deal!

Pic 12: A little handtool show and tell never hurts when serving up a blog. This wonderful Stanley eggbeater drill provided fast and furious drill action through a lot of my trip on this job. Thanks again Ralph!...lol.

Pic 13-14: More handtool historic eye candy with this very old german cabinet chisel I toyed with while getting out all the dried glue in my dividers. Bought this for a dollar…....I just love to sit it on the shelf and use gently for little things and enjoy it!

Now…..and very important if you are following this spoon makers tote…...this project is done…..but not posted yet!.......lmao. I hope you all will have some enthusiasum saved for the next day or so and keep your posted projects eyes out for this tote! I ran out of good lighting as I was hoping to switch gears and bring our photo shoot outdoors…....but mother nature had other ideas as it rained….lol.
It's funny but perhaps true, it was once said that deep in the mountain ranges of the upstate NY trails somewhere nestled deep in the pines was a legendary character known as the Adirondack kid. The kid was known to be a young excited country explorer soaring through the hills of the Adirondacks and makeing one very clear statetment that any woods lover should always remember "Ya never know with ma nature!" I suppose as it rained on my project photo parade those words from the kid rang surely true…..Oh well I shall do a sun dance!....lol.
STAY TUNED FOR THE PROJECT COMING UP THIS WEEK!
The silly charming marks in grain, that rise above the sweat and stain
grumble as the nail splits, the wooded mess my hammer hits
pine o' problems my mind hinders, shave the marks and hew the timbers
Let the sash shake through the thunders, work the plane with wit in wonders
rain on my hands and troubles to jest, clamp the wood and glue the rest
The dark wet skies sound out the cries, my lessons learned from rulers size
Oak how strong, maple too long, glory in words of the carpenter's song
poets read riddles, mortise the middles, holes sink with seconds, braces in swivels
Work onward and challenge more….....
-- "Always continue to learn, laugh and share!" JJW
---