Well I could say that my blog of this tote project would be fairly bogus if I was not up for sharing my trials and tribulations as well as the nice stuff…lol. My dovetailing experience on this job went very rhythmic. With my accuracy and approach I could see the improvements. My work needed some additional paring and cleanup as well as a few gaps always for inspiring more practice, but the entire program was highly enjoyable and really encouraging.
Then…....lol (you just know this means nothing good)...........then my artisan joy was riddled with rational mechanical realities…..lol.
A new and very needed lesson of elementary dovetail strength was awarded to me with a harsh revelation. Never have contrasting grains meet up to interlock for joints….it's been done before…but further research has given me the answer being …....sooner or later this is a weak joint and it will break.
Now of course I made some rather robust tails and pins which did not help the equation, but no matter what, contrasting grains in cheap pine of all things…please don't do it…lol. Just say NO!
The frustrating facet of this whole deal is….I really do know better….I just got swept up in the visuals of the build and forgot the dynamics of the joint.
In denial, a little glue was not going to heal this mistake…lol.

How funny this is to me since the first blogs comments me and Andy were joking about my rough sketch and my tails looking reversed! Well it looks like a hex was in for my dovetail extravaganza. I can laugh now. When I was in the shop and having one of these pins simply click off like a piece of rock candy mocking my misadventure let's say it was a nice chance to walk away…...for a good 20 minutes and breath a little….lol!!!!.
Well after some rest was had….I said…hell, this tote is gonna be just fine…I can cut the pins and tails off. Sad to have to do so since I did a nice snug job on them, the work was done with a positive improvement for fit as well. But the only thing I saw left to do was….(with grains meeting up properly…lol) make more tails on a regular box on another project and get up off the mat and make this tote look even better with what I have!
Now I thought it over….. producing new top pieces mortised into the tops of cross grained proper pins and fastening them?, but I had a groove by now….I felt a flow…..I simply clamped the tote together as it would be in width with tails and pins out of the picture….and honestly….I love it more now. Less width. This piece just had too broad of shoulders creating a very boxey look. Subtracting the pins and tails gave this piece a nice drop in being so wide creating a more inviting tote in my opinion. So…sometimes mistakes can surely be turned into nice fortunes. When they do not turn out so at least the education of experience can be had by learning what not to do in the future.
I have made a lot of progress on this job so perhaps not so many blogs for this particular journey. This was one of those projects that I took a relaxed pace on but realized some confidence had grown also providing me with a faster output from less second guessing.
So let's take a look at where I am at now on this project!
Pic 1-2: Tracing out the design idea for the handle!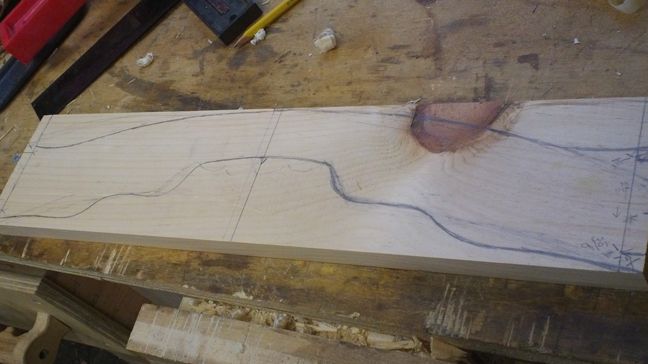 Pic 3: I found that some simple screws to the side of the top of your bench make for great little dogs to use for planing or needing to bump projects up against. I saw Roy doing this on his old bench….it's simple and handy…...just remember they are there!....lol. My bench is a workhorse like Lynyrd Skynyrd…....Nothin' Fancy!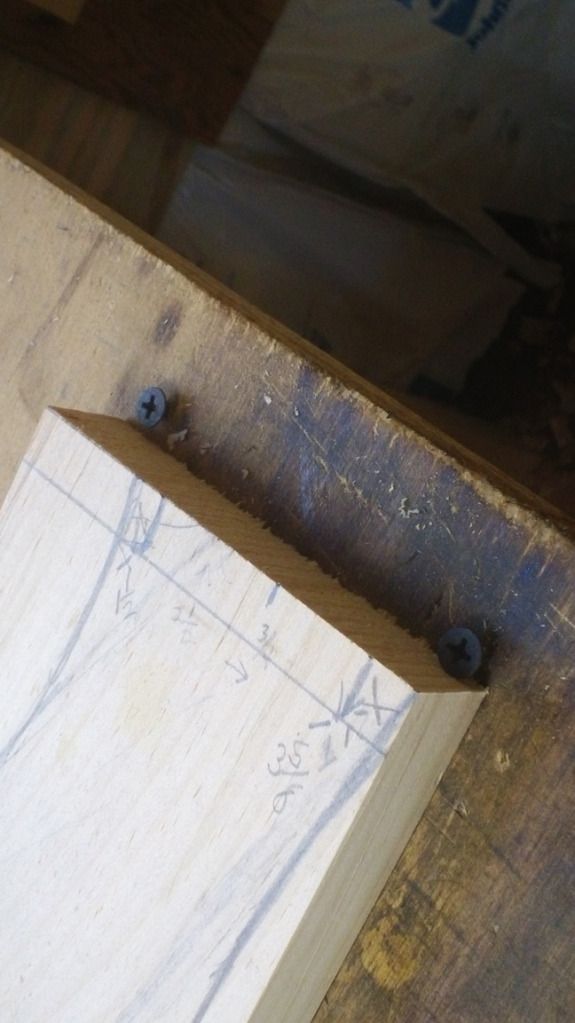 Pic 4-5: Sawing out my ideas and enjoying that sweet aroma of cutting through a pine knot….this is what it's all about! I took a nice chunk and left it to the side maybe for a necklace or something later on down the path.

Pic 6: We have got a handle for toteing some spoon works….that's a big 10-4!

Pic 7: Well as it was….the tails roughed in but the grain shaking its finger at me…..silly boy…..lmao.

Pic 8: Now as it will be…..I love the more slender look, for the viewer it might not have the same impact…..I was really relieved personally. I think it improves the totes symmetry.

Much more to do. Getting the srcews in, smoothing, finishing, and a possible inside mounting area for carrying along the hatchet.
Great learning on this exercise and glad for the chances to remedy possible problems, because after all said and done it makes us all better woodworkers.
I actually mortised out each side of the tote for the handles and I got enjoying it so much I forgot to takes pics as I went….although I am assured most of the gang gets the point…lol.
I hope some of you may have enjoyed this blog and make something of your own that inspires your wonder.
The dust falls in the aroma of pine and the puzzle unwinds inside the curious mind
May I ever be of something more than the hardwork I pour out to the humble bench with sweat and hammer in sore hands?,
Tossing the mistakes aside and feeling the working glide of planes and blades that will amaze my hunger to learn more of what this is or can ever be,
Pick your fortunes from the floor, dust them off and shut the door behind the tempted notions to hang your troubled heart in shame
Walk instead with courage and tread the miles of victory soaring mystery, tokens you go wthout and never in jest you shall pout away your fears….smile at the chance to try it again….........
JJW
Ok friends get out there and keep having fun and always try again!
Great shaves ahead!
Joe
-- "Always continue to learn, laugh and share!" JJW
---