The shop is filled with a wonderful strong scent of fresh Cherry wood and the mission is on to evolve a cut branch into a country spoon. Very interesting this country spoon making is, so many great "spoonists" with their different styles and approaches but I suppose my greatest influence so early on is Peter Follansbee. His episode this past season with Roy Underhill in The Woodrigh'ts Shop truely captured my creativity and fascination to have a go at this kind of work. If you have yet to see it I highly recommend it and be warned….you may just get the spoon makin' bug!...lol.
http://www.pbs.org/woodwrightsshop/video/3100/3108.html
I have found it very freeing to let go of predetermined styles and ideas in this exercise of spoonery and instead inject my own personal expression for my particular mood. Carving away at a hunk of split green wood and just letting the shavings fall where they may unleashing lessons, praises, splits, mistakes…and challenging my current skills to adapt to the grain. Knowing the unknown is inevitable as I maneuver through and yet continue forward until there is something left that resembles my version of artistry through a tree.
Some of my latest works nearing their completion: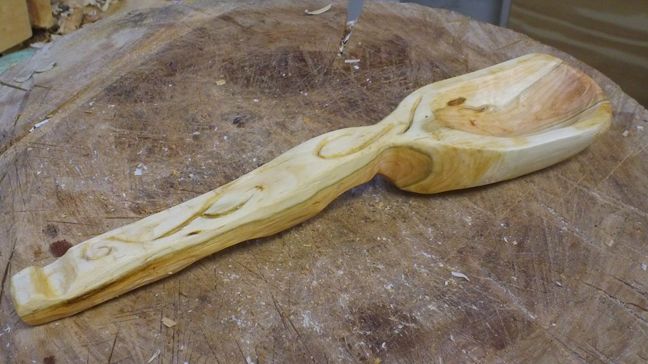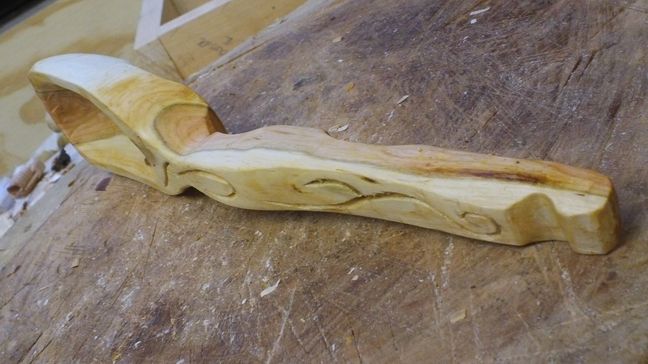 Something is dam nice about a sort of "have at it" approach and in many ways it is also like a childs surprise when it's finished and I see what my hours, blisters, and sweat has produced. I think this kind of work is healthy therapy and I would say with great satisfaction of this work that underlying the blades, chisels and wood chips there is a hell of a lot more woodworking and joinery being constructed underneath the surface of the creative mind than I stop to realize. It's all a sort of training for other things down the road involving grains and planes.
Of course (why spoons?) has been a question I myself ask at times. Why the time and spirit put into this craft? I think I borrow some of Peter Follansbee's philosophy on this when I say that it's one of the first things we see and use as an infant and you use this instrument all through your life. There is something rather nice and warm about that thought, it does in fact give me a feeling of creating something useful, fun and a reminder of simple pleasures. Making them for friends and family is one of the other wonderful avenues that gives oneself a really nice feeling of sharing your art.
So on the knives will sharpen and the wood felled strong and green will be split for more expression as the late summer prepares to welcome in the fall. The holidays are soon approaching and some special people in my lives will each be enjoying their own spoons so I need to get at it. The carving creates the blisters and the muscles need to have breaks but as I take small hatchet chops and hew my basic shapes I would be a lying man if I said the work felt like an aggravating vocation. I look over at the maple pieces and love how I am surrounded by their cousins oak, pine, and cherry. My insecurities with an ever changing world are once more secure feeling the strength and wisdom of my tools like old historians guiding me along an aged but true path of crafting ideas.
IMPORTANT EMERGNECY WOODWORKING MESSAGE!!!!:
Shipping package please…carving knife please…..ok…cut,....tear,.....rip,....open…......ahhhhhh, Woodrights Shop Season 4 on dvd…..yesssss! Well, I sure better get my Carolina tool tote and pack a few cold ones on in there…time for me to get outta here friends and get on over to the mill to the Woodrights Shop!.....lol.
Thanks for walking a bit on my path,
Keep creating!
Joe
-- "Always continue to learn, laugh and share!" JJW
---