I always try to be as open as possible to anything that can jut a feeling of inspiration for my impulses of creativity. Recently I was lucky to catch a wonderful episode of Rick Steves. This particular trip he was in Germany and I caught the portion of the show where he was in Rothenburg at the St. James Church. Contained within this massive glorious structure was something that definitely made my jaw drop….the fantastic woodcarving held as the center piece of the church by Tilman Riemenschneider. This amazing work is entitled Holy Blood altarpiece.
If I or anyone of us were to ever get too proud of anything we might achieve in the fine arts of woodcraft I am not sure it could ever begin to be on the same avenue as this structure. Just seeing it for mere seconds was truly something to behold. The beauty of the church in and of itself also is an inspiring vision to any artisan.
Tilman Riemenschneider (c. 1460 – 7 July 1531) was a German sculptor and woodcarver active in Würzburg from 1483. He was one of the most prolific and versatile sculptors of the transition period between late Gothic and Renaissance, a master in stone and limewood. (for more on this please see wikipedia)
http://en.wikipedia.org/wiki/Tilman_Riemenschneider
Yes things like that have a way of making you go….wow…lol.
My brief studies on ancestry.com amazed me to see how of much of my roots are in fact from Germany (Maybe this explains my stubborn nature and love of beer…lol). This seems so ironic that recently I was also lucky to get my first chance to purchase what else?......my first German wood plane!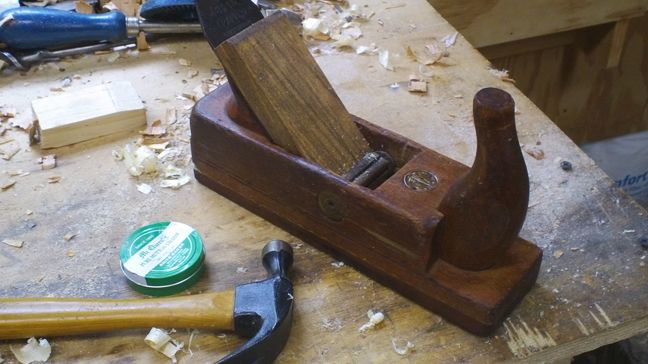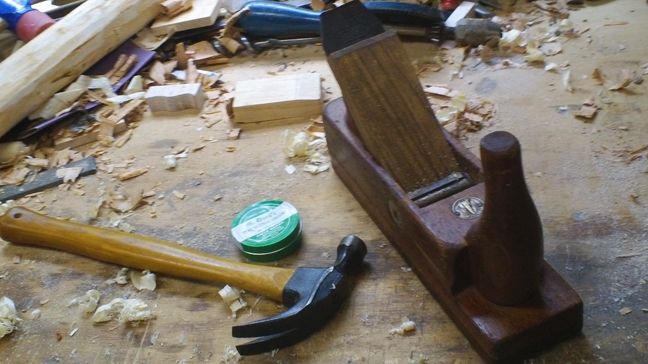 Of course some trials and errors with these wonderful old instruments of handcrafted wood. I praised it, I cursed it, and finally we got shavings after quickly making a new wedge for the one that was missing. I think this is a wonderful feeling and working plane for its age. I definitely am a fan of the style now as the ergonomics of the outfit are a natural fit for doing some handwork.
I found it sort of comical in retrospect working things out with this old plane. It was funny because I pose the question ….do any of you almost get insulted when a blade is as dull as butter? Well I seem to now, since I have learned what a finely sharp blade is….lol. Silly I know….this piece is old and needs treatment and yet that quick trigger was there like a smack to the face….what?......dull!!!!!???.....lol.
Although the dullness gets repaired with honing the rewards and satisfaction of a freshly sharpened blade are something only a lover of woodcraft can truely appreciate I would say. To test run this relic of German built craftsmanship was a nice moment to see, feel, and get more of an understanding of how much pride was put into it's production. I respect the age and find myself enjoying the instruments wonderful workings by treating it much like an old classic car, clean it up, tune it up, take it for a few shaves, show it off to some buddies and then put her away with a smile.
With all of this newly found inspiration I also glady add to this blog Roy Underhills episode of
German Woodcraft in Amercia. Great show with lot's of interesting history on this theme.
http://www.pbs.org/woodwrightsshop/video/2700/2710.html
I hope this small trip into the world of German woodcraft might inspire your ideas and spark your own search into the various cultures around the world of styles and ideas.
Till then, I think I shall get into thy truck…and purchase a fine bottle of German Hefeweizen!
Great shavings my friends, Auf Wiedersehen!
Joe
-- "Always continue to learn, laugh and share!" JJW
---