I decided to turn the shop inside out recently moving some things about and bringing out my shavehorse with a maple branch in hand. I have been yearning to get back on this horse needing to get some draw knife work in and let the shaves cover me with a wisdom that only nature hides inside itself. Handtool woodworking has some mysterious outlet of stress and satisfaction I gather only us newave hobbiest's need to feed our efforts of taming its addicting applications.
The drawing of the sharpened blade felt good ripping up into the maple branch rescued from a last years storm. I would have enjoyed the exercise more if the wood was greener but I have to be thankful for what I have and use what I've got!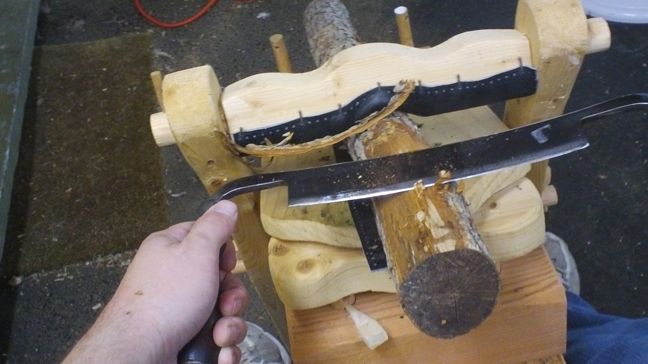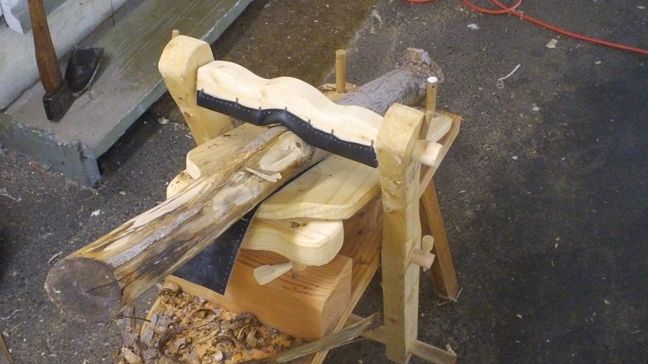 Soon my lap and shop floor gave forth a pile of maple bark shavings and my mind was gladly made up it was a beautiful mess to look at. All these tools scattered, cut tree bark, shavings and some dirt made for the perfect recipe for a new creation. I had just purchased a froe online and needed a small but usable Maul so I can easliy split down some additonal pieces for future spoon making.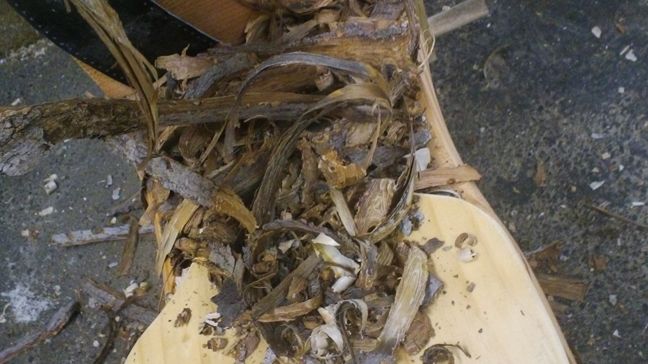 My thoughts were since I do not have a blacksmithing set up…yet..lol. I figure at least I could make the maul portion of the splitting arrangement as my wallet and UPS will pay and haul the froe soon enough to my doorstep…lol.
As the shaves contined to zip and unleash the light smell of maple I was rested on the idea of nothing more than keeping it pretty caveman at first in its design. I think it was the shavehorse somehow seducing me in some way like a whispering idea over my shoulder telling me "Look over at my friend the lathe, we work in great concert together….... perhaps a turn versues the crude simple measures of handcarving with your knife?" That old pine shavehorse has a way of saying a lot to me doesn't it?

So off from one old self powered machine to another. I surely have nothing against a nice session of knife work carving down ideas into shapes, but the shavehorse sold me on the possiblities of turning a smoothed handle.
I could see the actions of future turning in my mind as I still draw the maple shaves back. I look at my lathe as it stands proud worked by my hands, humble, simple, but so dam usable.
The process of involving myself in the challenge of creating from a branch into something useful using little more than my muscles and instincts is a puzzle I have a hard time explaining. I get this drive and strength I wish I could bottle into some other arenas in my life. Somehow during portions of all of the hewing, shaving, and turning I get lost in an unrealized exercise of honest hard work. The dronish clacking of tattering keyboards, business phonecalls and power lunch bravado slips away into an inviting country lifestyle that unleashes a happy welcome to my heart while my knife cuts shaves falling to my feet.
Once I reached the lathe it became certain that I would have to get refreshed on the art of setting things up and guide the rough timber with great patience. Sometimes as much as we think we shape a piece correctly it
becomes apparent when held in different directions that additional work is needed, and that was the case here for me…lol. This was a slanted piece and I had to keep in mind to make this as evened out as possible in order to get a fairly balanced turn for using my cutting gouge. Without that necessary cleaving to even out the wood it would be the equivalent of an off blanced old wooden wheel constanly bopping my turning tools and eventually sailing off to the floor. Finally the lines seemed to meet up and the gouge work rough and ragged began its job.

Turning in this 1500's style has a few basic requirments, patience, testing, and more patience…lol. You may adventure through a few bumps or more with your work tossed to the floor but it's the turner who stays strong to their vision that eventually gains the satisfaction of gorgeous shaves through a rhythmic wonderment.
This pine lathe is an incredibly simple piece that holds complications, trials and tribulations, enjoyment, work, and high expectations. Usally the end result is an extremely accomplishing process seeing letter A reach Letter Z.

Finally with enough fortitude and visuals I realize to pretty this instrument up too much would not be true to the work I will ask it to do. Soon enough the top portion will be more than bruised from hammering my new froe into some freshly cut wood to make something far prettier. I really have enjoyed the reunion of shavehorse and lathe. I still managed to do some light chamfering with my knife as well.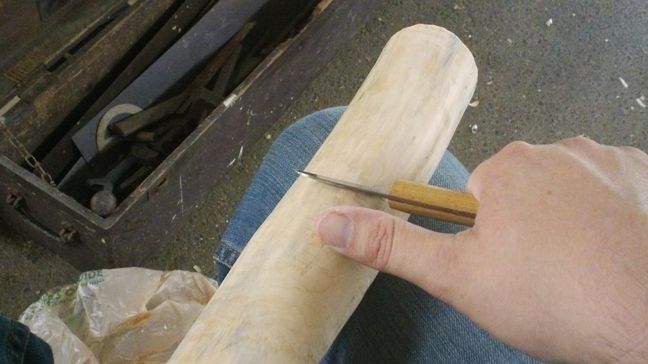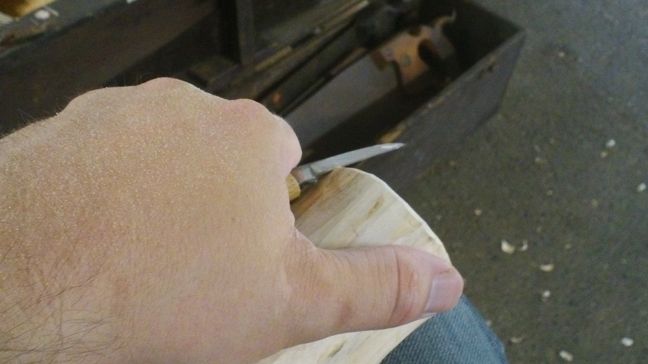 Some of these tales of hammers and nails sound like they were mere childish games,
from the axe to the froe the work can be slow and the hands swell with blisters of pain.
You can use and abuse the tools like a fool or you may own the shiniest plane, but to transcend
the mend of tools and fools makes your efforts worthwhile without shame.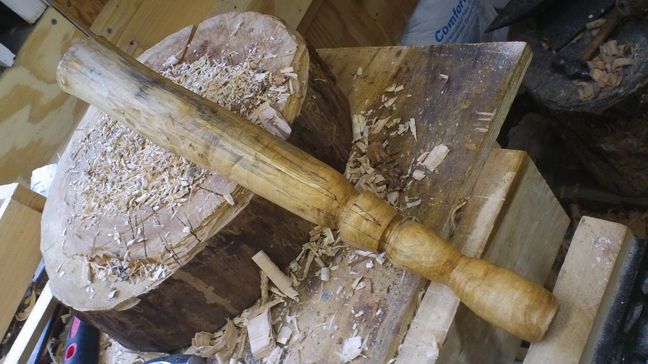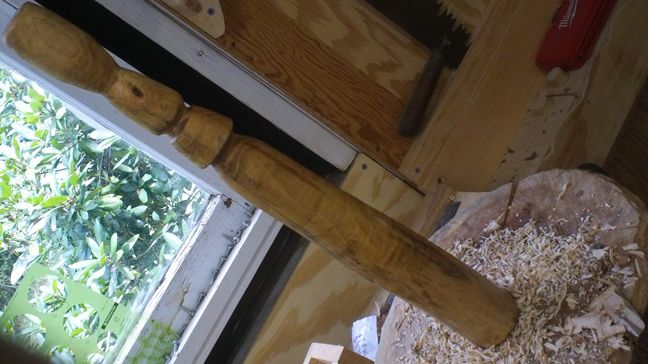 A touch of some medium walnut watco danish oil to give it some charachter and now I have a maul ready for my froe work. It was nice to get back to some country woodwork that inspired this writting.
I thank all of you out there for sharing some time and looking in the Old time woodshop journals.
Be well and thanks for your inspirations,
Joe
-- "Always continue to learn, laugh and share!" JJW
---