This was a cooler sunday morning, the sun took some time to hide away and let the clouds make for a mood that told me….it's time to visit Ralph at the auction!
I enjoy when the sun sleeps in on a sunday morning, and somehow for me every sunday has that certain aspect of relaxed and lazy with a touch of depression as well mixed in it. Not sure why or how that happens in my mind, but it seems to find a way of doing it. I guess that's why when the penned Kriss Krosstofferson classic sung by The Man in Black "Sunday morning coming down" plays…since I was 10 years old I always said…."Wow….that is sunday isn't it?"
Of course Johnny Cash's voice makes that song happen doesn't he? His voice is somehow larger than the clouds and deeper than most canyons, classic music wether your preferred listening stlye is hard rock to jazz. I think Cash spoke for everyone from all walks of life.
Getting out of the truck in the parking lot I was excited to meet my firend and glad to have my Dad along to share the journey.
There was a time in my life when I was 32 and making good money, I thought I was something more than special and having fun without much care for a girlfriend or much of anything at all. I was all about me. Losing that job a few years after and getting more time to spend with my Dad and make new friends taught me a great lesson…....money really does not mean much at all.
I was now happier with less and more fulfilled with a simplicity of unrealized treasure. My Dad is a pretty dam healthy 75 year old man. Here I walk now from my pick-up truck toward the auction tables with him and we are having a good time. I have the absolute love of my life (Jenn) waiting for me when I get home to share all of this simplicity with and share in her talents. I guess as I continue to write these sentences down I have just awarded myself the captain obvious award…....I finally realize my treasures.
There was Ralph under his umbrella giving a friendly wave saying "Hi Joe and Joe!" we took a look at some of his new finds and talked about the weather also joked about some of the tools he had on his table. A very nice looking vintage SsS Siegley Plane 24" transitional. The totes all there…looked like a great one to resto so the price was $25 but….. my Ralph V.I.P. pass got me to $20…..lol.
Saw some really nice crafstmen snips, just love how Ralph takes great pride in his cleaning of these tools. Well I bundled these with a cool 1/4 inch German chisel, and ….....finally…......finally….....an awesome phillips head ratchet screwdriver with…..wooden handles…....man….....I was alllllllll over that.
$35 total and we had some nice tools to haul back to the shop and that's a big ten-four!
Heres the pics!: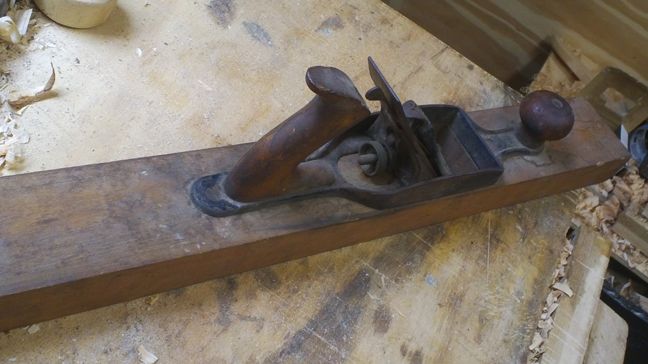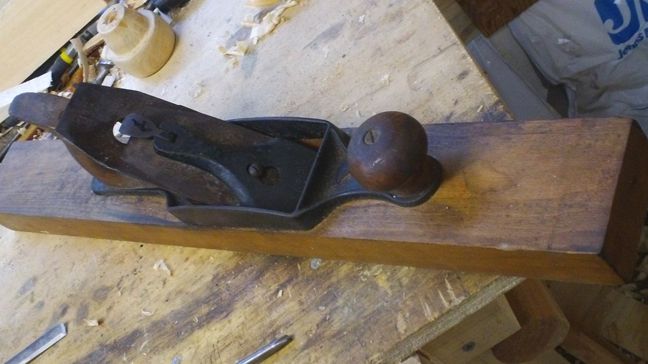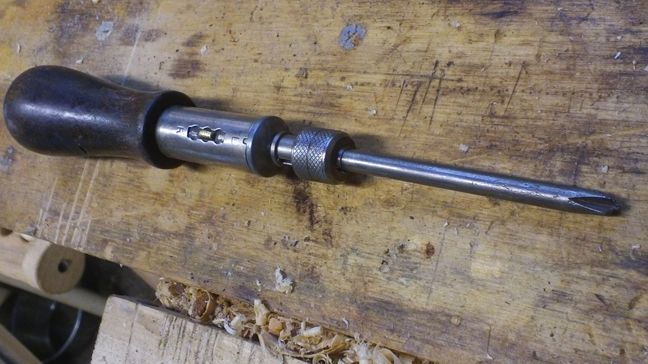 Ralph and I shook hands and as I walked away..I was still thinking…."He's 86?" never seems it, what a great friendly guy who is sure much more important and rare than any of his best cleaned tools.
So here it is with the tools out of the bag and that big ole Siegly sitting there as I compose this blog from keyboard to your eyes and minds. The evening is just setting in and you know what? The sun is coming out…lol. Isn't that something?, maybe this is Sundays way of saying "The clouds don't stick around forever Joe" and I think that is a great way to possibly look at it.
Once more I love the link that these old handtools lead us to, good people, great stories and old ways that we can learn from for better days ahead.
To hold that planes handle..and work that old plane across a new workpiece made of pine…wonderful. Your getting great shaves and shaking hands with history. Not much better than that.
But then again I got to shake hands with Hubert Sumlin the guitar great that was Howling Wolfs lead guitarist throughout his legendary career. Hubert has sadly passed not too long back, but meeting him, seeing the joy in his eyes extending from his heart while saying hello to me and signing an autograph…...now that's history.
I wish everyone was as kind, strong, and talented as Hubert Sumlin was, just like an old oak…...steady. He is greatly missed and a blues guitar legend.
The suns starting to slowly shift out now, maybe I will put on a little smokestack lighting…..do this one for Hubert.
Well all of this is rather simple isn't it?......Wooden handled phillips head screwdrivers (say that ten times fast), favorite musicians, auctions, and handplane shavings?....but hey…I love it that way now.
Simplicity…..it's worth a lot more than we give it credit for.
Stay simple and free
Great shaves ahead friends,
Joe
-- "Always continue to learn, laugh and share!" JJW
---