I always find it amazing that no matter what we plan on any given road in our lifetime there are no guarantees of where you will be or how it will work out…. only that you are here right now and alive.
Finding the old angled key dowel the other day from that old trestle table (to help work on my table) woke up some thoughts and visions of many years gone by.
I decided to get into my truck soon after that feeling with camera in pocket and take a few snapshots of the cabin where I recall so many fond memories of my younger life. This was a very special place only a mere 10-15 minutes away from my current home.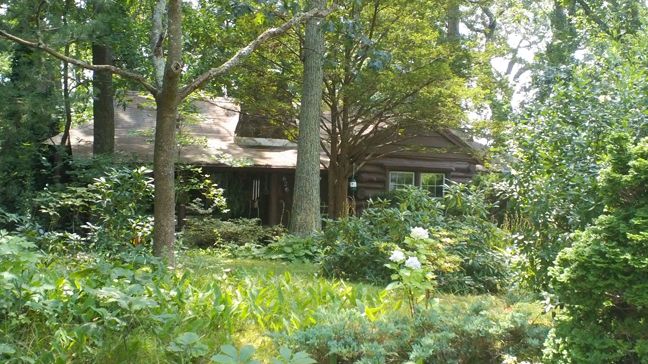 The cabin is made of red oak from Washington DC delivered by train some 80 plus years ago. Between the logs was a white painted cement and I can still see in my memory a chunck here or there cracking out of the logs onto the rug….lol.
The surrounding neighborhood is neatly packed snug with regular looking houses, but at one time there was only a few dirt roads and this cabin…..that was all.
It was said that it was a hunting lodge people would stay in and my father still recalls riding his bike as a 12 year old on the dusty dirt road and enjoying seeing it as he raced through the path.
As time went on the section of large wooded land began to have more houses put up and my father (at this point in his early thirties) became friendly with the real estate agent who was in full charge of the areas development.
Well…my Dad met my Mom and that old cabin was up for sale…..the rest was history and as of 1969-70 my parents began their life together in this very cabin!
The cabin at that time was bought from some old hippies that ran a surfboard company. My Dad recalled seeing some of the old t-shirts with the companies logo on it packed away left in the cellar as they began to move their things in…lol.
Soon after in 1971 I was born and it's so ironic to me now (Thinking my only woodworking experience is just the last 2 years!..lol)....but I literally grew up surrounded with wood, we even had a large half acre of woods that led down a long hilled path and onto a river.
When I was old enough, about 8 I had my first real pocket knife and like any kid of that time I could not wait to go running down into the woods and start breaking branches to make myself a spear or some sort or arrow..haaaa…...so sad that many kids do not even know what branches are now…lmao.
I remember things like collecting acorns by the bucket and having friends over playing tackle football in those wonderful piles of rusty oak leaves. The scent of fall was always comforting and somehow back then I swear the air always seemed so crisp and healthy.
Even in these pictures here I still remember so many favorite trees I used to hang around, play with toy guns, knives and tonka trucks, dig in the dirt until my fingers looked like coal. I can still feel the jubilation of a hot summers night and being able to know that even though its dark out there is no school the next day so just a few more stolen moments with just enough light left I could still see enough to keep playing in the dirt instead of doing homework.
I remember being about 11 and we had an old pool table in the garage. We used to have a great time in there, me, my Dad and a friend or two…haa…. shooting solids and stripes on an old crooked table and eating peanuts from the shell. I still hear my sneakers crackling the shells on the floor trying to sink a ball into the corner pocket and pretend to be Minnesota Fats…lol.
Christmas was celebrated back then too….lol. People were allowed to say it even…lol. Those holidays at the cabin…when you were 4 years old in a cabins yard filled with snow you never had a doubt there was a santa clause. You just waited to hear the sleigh bells in your dreams and let the stars do the rest.
We used to get the biggest pine tree and decorate it to those oak rafters! The wonderful shiny colors and again the rustic backdrop of the cabin was a sight directly out of a christmas story book.
My Mom, Dad, Grandparents, Sisters and good friends all had one hell of a great time in this old place. Records would play, beer, soda and ice tea was drank, a deck of cards or some horseshoes until the bbq was ready and a good many laughs made for an easy weekend around that combination of earth, oak and cement.
How interesting the mind can be….I held this wooden dowel key in my hand and all of this was available in my thoughts again to sift through and share in this blog with my woodworking friends.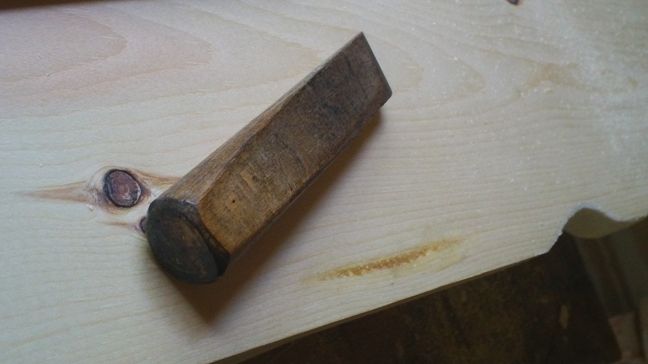 As I was saying in my other blog, there was a Mr. Ludwig who made this old trestle table by hand. My Dad said he had a great little shop some miles from our area and he used to hand make all of his woodwork. The place is long gone many years now. Even though I just found out the mans name I really feel honored to learn about him being that this old table was such a huge part of my life. I ate many meals on this as a kid in the cabin.
The table top was solid round but later on my Mom wanted to dog ear the ends so they could collapse with hinges and then make a whole round table again by having sliding keys support it underneath. My Mom loved to work on projects as did my Dad.
So you know what?, in the middle of all this writing…..I took a break and I got it out of my bedroom and into the shop! It needs some tlc….but I can sure do it. Got to thinking what a great little table to display some old planes on! For now… the ole tool tote fits just fine wth some fun handtool treasures hiding out inside..a Stanley plane here a brace and bit there…..oh you know what we like friends….lol.

I am glad I took it out and plan to restore it, it sure served my family and I very well for all those years….thanks Mr. Ludwig what a fine piece that I will bring back to use.
Well….. the truck headed back towards home with some snapshots of the cabin collected for the effort, but in many ways deep in my heart as the truck cruises away I leave my real home behind me.
We lived there until 1987 and the same folks that bought it still live there. Good people and I am glad they enjoy it.
I suppose a life has not been lived much unless with the fruitful gains you have some harsh losses, my Grandparents and Mother are no longer with us and a few friends have lost touch as well.
To anyone out there that deals with the heavy holiday or daily sorrows of lost loved ones I can only offer this…..if you had some great times with loved ones…like the ones I wrote about in this blog and you have had some harsh losses, I always keep in mind the many people that never had any great times at all and still had the harsh losses, those are the ones I keep close in my good thoughts.
I still…... find it amazing that no matter what we plan on any given road in our lifetime there are no guarantees of where you will be or how it will work out…. only that you are here right now and …........you just might find yourself your own special key.
I will keep the shop doors open and save one for ya in the sawtill my friends,
Be well and have fun,
Joe
-- "Always continue to learn, laugh and share!" JJW
---