Sawdust, shavings, and a lot of water in these heat wave shop exercises has brought me to my newest updates on this Rustic Renaissance Trestle Table. This project has been a lot of fun and also filled with challenges along the way…..the biggest is the heat we have been enduring these past weeks….YIIIKES 100 degrees??......bring back the fall!....lol.
So when I have been able to sneak out and get some more decent temperatures to work with I set about my task at adding side pieces for increased stability on my set of table legs. I also got the chance to get my dowel keys setup for keeping the tenons tight and snug.
The table top has also been worked on trying to get everything to smoothe up as the finish line approaches.
So if you are interested let's take a look at some of the ideas I had for the additions to the table!
Pic 1-2: What's a woodworker without the simple but extremely important tools…..the pencil and the square! Layouts began on this 1×3 stock for coming up with side attachments for underneath the table. I usually always go with feel and basic instincts. If I like an idea I simply trace it with tracing paper and make the other side to complete the pattern. I enjoy the energy and tempo of builds like this. It's great being in the middle of the game and seeing the lines and avenues to take and feeling confident of how they can fall into place with each pencil line, saw cut and shave. I feel if you can get this out of your own work you should go for it rather then spending hours fussing into oblivion over matters that make the entirety of the process stressful and unsatisfying. I aways see my mistakes more than my accomplishments….so I remind myself that every mistake is more knowledge of how to improve for future projects. I also forget that all of this is done by hand which take years of skill building. So I forge on to improve but have some fun along the path!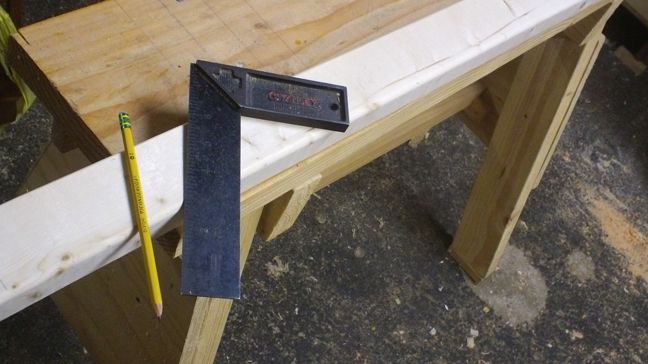 Pic 3-5: What's more fun than building your own small bow saw and then using it to help build your own table! This little poplar bow saw is dam handy and fun to use….I am so pleased with it and makes for some good skill building on this curved track of a design.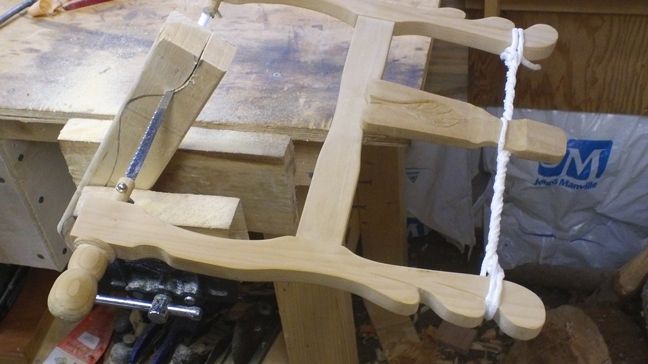 Pic 6: Love these pfiel chisels…I know it's a broken record on praising these…lol, but hell if you want a great carving chisel….these are the ones to save for!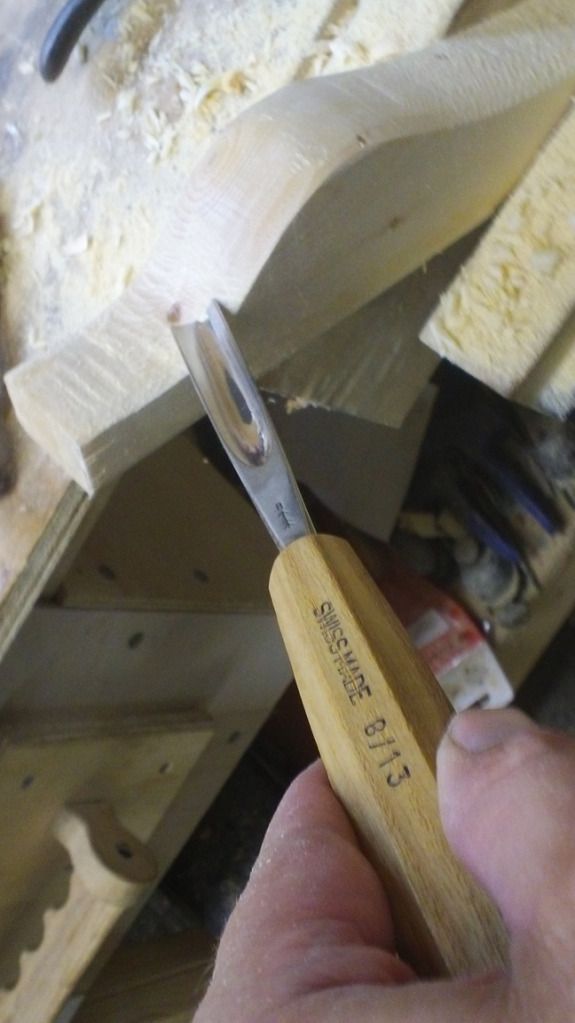 Pic 7-9: Ok…so after shaping these pieces a bit I mock them up to the side of the legs to see a layout. I could have made a morticed section and just tenoned these into the pieces…..but…lol, this idea was a later addition to my game plan…and it actually works better making a nice wider bottom support to hold on the thick pine top. Later I set them to the side of each pair of legs with srcews and these are solid and strong!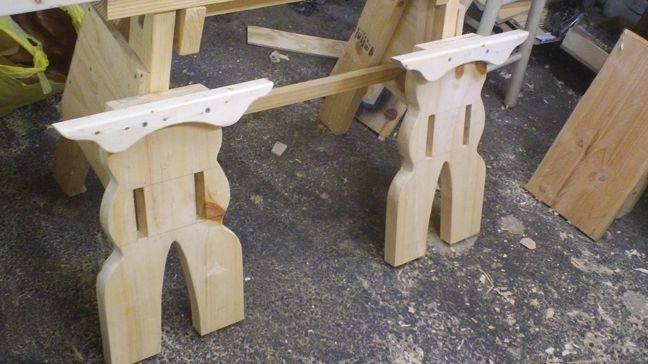 Pic 10: After those pieces were tended to I began the layout for some angled dowel keys to be set into these tenons.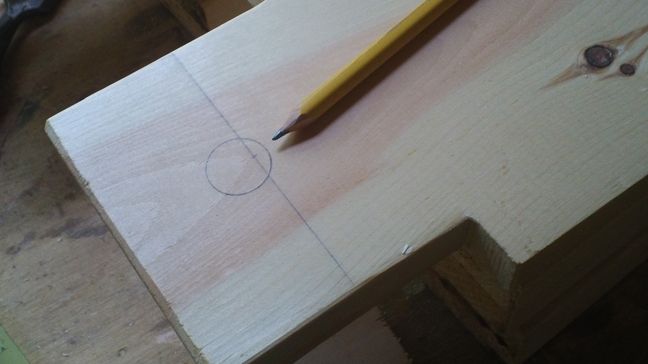 Pic 11-12: I use a spade bit with my mighty millers falls resto I got for $1 and the process was into action! For anyone new to doing this by hand please keep in mind that I start the turn very slowly begin the boring application to let the blades of the spade bit score the wood. You want to lightly score it before putting weight into your turns or else you are going to tear the wood out and make a mess. Then once your spade blade tip just goes through to the other side….flip it and repeat the scoring so you will not tear the other sides wood out.
Pic 13-15: Now for the dowel keys. Lucky for me we have an old trestle table…goes way back in my lifetime and I got one of the keys. I was told there was a Mr. Ludwig who handbuilt furniture around our area about forty years ago…the place is long gone but he made the old table I still own. As a kid I used to play with these keys…..always fascinated with slipping them out and amazed that they could hold the table together. How funny is life? Never thought that thirty some years later I would be using this same key to help build my very own table…...wow. More on this key history business later (There will be another blog on this topic). But for now I used some store 3/4 poplar dowel and gave these a go in my vice with my old sears shoulder plane and they seemed to work up nicely for the job!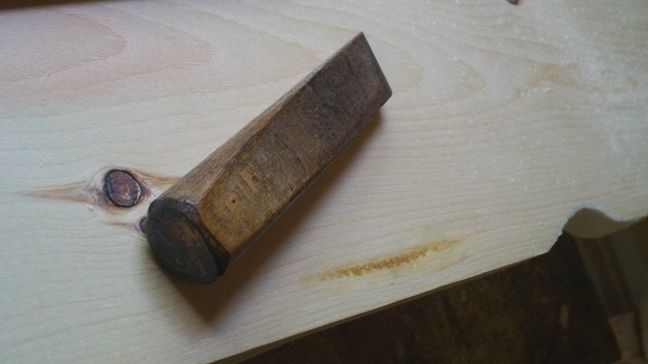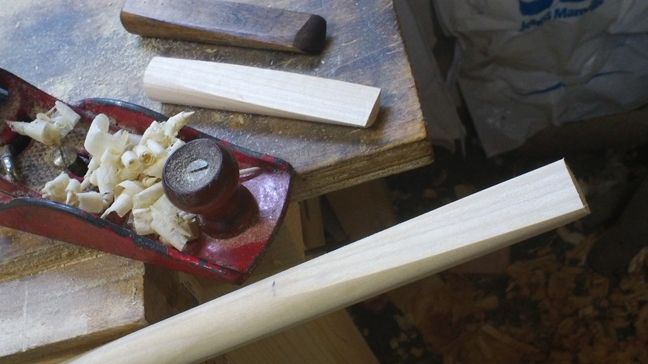 Pic 16-18: Ok friends…bare with me I know these mock up pics look similar from past blogs…lol….but the progress is on its way. I have been soaking in some finishing theory as well…taking time learning about the endless measures for staining pine. I will be doing some pine scrap tests this week, so there is a lot of sanding and finishing still on the to-do list.

I thank all of you for your interest and fine work you do.
Always great to hear from you and may you have great shavings ahead!
Have fun and be well,
Joe
-- "Always continue to learn, laugh and share!" JJW
---