On any given sunday, you just never know what lies in the back of an old van or pick up truck when it comes to digging out old hand tools at a flea market.
I usuallly try to visit my friend Ralph once a month to see what tools he has come across in his picks. Ralph gets around here and there during the weeks….and I am very sure more than a few old New Jersey barns as well as other interesting places are where he acquires things like he was about to showcase for me today.
Yes….. today was nothing short of a very enthusing moment, Ralph said "Take look at these two I just picked up this morning" I was drooling…just a little…lol. A wonderful 1895 A.J. Wilkinson folding drawknife and a gorgeous 12 inch beech spokeshave. Haaaa I felt like I was in trouble…...I knew I was in trouble…....friends…..I WAS IN TROUBLE…..LMAO!
"I haven't cleaned them yet but I will have them ready next week" he said. I know these bundled together and in the shape they were in…...which is pretty dam good was going to require some bills.
We finally made a deal…uncleaned and as is….$75 for the pair. I knew for $37.50 each….you might find these on ebay for the same price….maybe…but not likely with shipping etc. and the wood on the spokeshave was all there, the drawknife was sharp and worked…..I went for it and sealed this deal!
After I returned to the shop…..I was really glad I decided to hang in there and haggle a little with him…then I tried the spokeshave…..AHHHHH…....joyous to use this …...worked like it was waiting for hands to make things again! Love the feel and grip…does not compare to the iron shaves for me at all….totally feels right as I rounded some scrap poplar in my vise. The drawknife just the same….great edges on both, but can use some additional sharpening and light tlc, but I was happy these can be users once more.
Take a look at the find!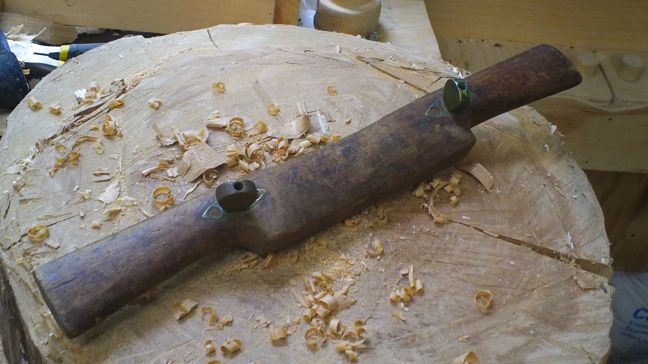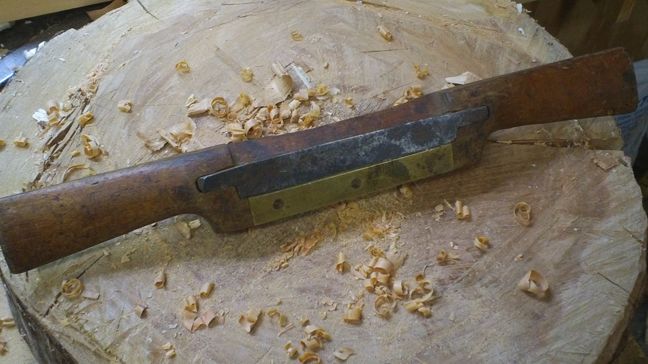 As me and my Dad were ready to make our exit Ralph said "I just celebrated a birthday, how old do you think I am?" I was just about to say 65-70?....before the words came out he said "86!" I said "No way". With a kid like grin shaking his right arm in victory he excalimed "I knew you were gonna say that!"
Ralph is an old pro…..haaaa, he knew taking these two great time pieces out was gonna get me like a cat ready to pounce…lol.
I shook hands wishing him a happy birthday and we walked on…..My dad said "Wow he really does not look it,..... he's eleven years older than me?"
Amazing times, amazing tools.
I love these pieces…..they have a lot of soul in them. Their scrapes, dents and aged fingerprints stand for something with solidity, struggle, and unleash a worthy reminder not to get above your raising.
That in and of itself is a healthy ego reducer I think.
Well friends…I can't say I advise any beginners to go out and find these kind of handtools….you really don't need them for what you can still find for a much cheaper price in other areas. With that said I have totally no regrets I treated myself to these….these are rare and fun finds!
May all of your finds and projects be fun and safe!
More next time, be well!
Joe
-- "Always continue to learn, laugh and share!" JJW
---