Hey friends, back here in the Old Time Wood Shop with some more exercises…..or,.... trouble to get into…..lol. This time it was setting up a top for my Rustic Renaissance Trestle Table.
After some mock ups of various boards to view thickness, width, etc. I finally decided to just give a go at working up a top with a thick piece of laminated construction pine. This would be all new territory for me….never did a table, never laminated together boards to make a top. Might as well get some shavings going and some new things learned for better or worse…..lol.
Back in my shop…..I live off a dirt road where you can see a deer, hear the birds, or watch a groundhog scurry about. I feel very lucky to have this small part of the world.
Handtool woodwork is a very Zen activity. I tune onto nature more these days….I used to blast Buddy Guy, SRV, or another one of my favs Doc Watson ( Bless his heart and may he rest in peace, Doc passed very recently) and although I still blast them…just in the truck now…lol, I find that tuning into nature I connect more with the process of constructing, creating and learning.
There is an inner peace that sort of grows within your spirit as you move through each task and take on each challenge. Of course with anything, sometimes peace goes all to hell…..lmao!
Of course it is also important to have motivation, those guru's of the woodshop that make us all go….wow….did I just start doing this woodshop stuff last week?…..lol. So many of my LJ'S buddies, you guys and gals always amaze me with your talents, knowledge, and projects…I thank you so much for sharing them with me.
But more times than not our inspiration and motivation can also come from friends and family outside of the woodshop.
My girlfriend Jenn is an amazing person, she has the kindest soul I have ever known. She is a teacher of emotionally challenged kids from grades 1-12. Some of the children are in need of medication for mood swings and erratic behavior patterns, and many others have had a terrible upbringing and are involved in crime as early as 7 years old with little to no decent parenting at all.
With her talents, patience and skill Jenn has taken a fifth grade child that could barely read first grade material and in one years time managed to get that same student to be up to 5th grade level or better.
Jenn gets up everyday to make it a better day for one child out of hundreds that might have never had a chance to survive. That motivates me….and makes me as proud as the tallest pine trees. Amen.
Well hell, I guess it's time to look at the mischief I am into now with this table deal…lol.
Come on in and let's take a look friends!
Pic 1-2: Welll here is some big store pine to make for a good solid top….and some good sawing. As the great Jackie Gleason said…..and awayyyyy we go!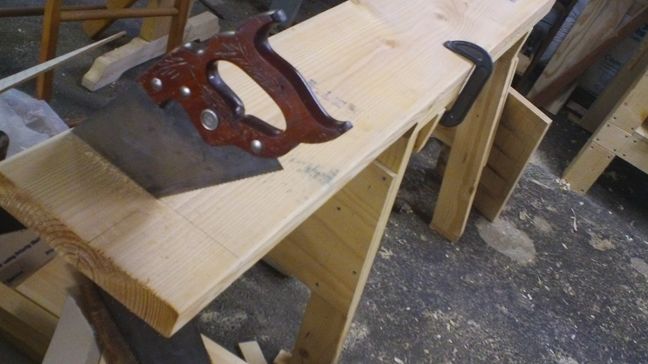 Pic 3-6: After cutting my boards to desired size I used a few various planes for evening out, smoothing and jointing the planks. Restored Jack plane, #3, and the always fun big dog # 4 1/2!

Pic 7: The jointing was not of superb quality but an honest first time effort…...I worked this down with testing and more planing until I finally said…..on with it!....stop fussing and let's learn if this was good or not good….lol. Yelling at yourself sort of helps at certain times…..lol.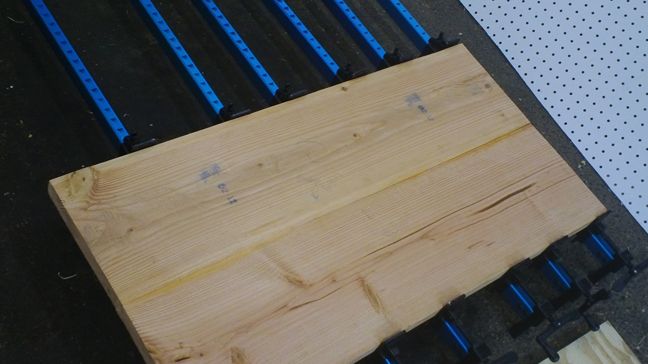 Pic 8-11: I felt fashioning 2 pieces of 1×2 across the glued bottom for extra support was in need, maybe more….but I went with this outfit for the current part of the build. You will see my Millers falls brace….first actual task using it…...works terrific. A fun story regarding that, if you are new to my work you can find that tale here http://lumberjocks.com/projects/59638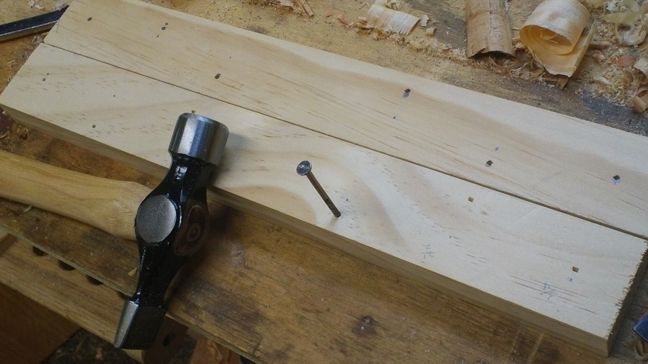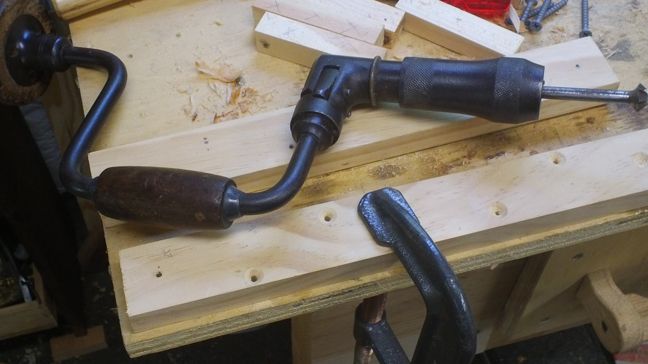 Pic 12-16: Ha….I feel like I am getting into some Japanese woodworking….where's my buddy Mads?...lol. I got to the floor and then went on with getting these pieces attached. I set these up with a super accurate jig…..I call it the eyeball….lmao. No worries….I got my super duty Irish Spring Soap….the luck of the irish on meee side!

Pic 17: Back to shaving down the top…boy these planes are such hams….always calling for a pic…..lol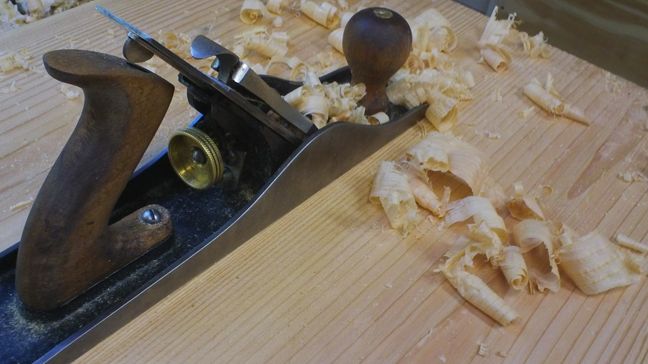 Pic 18: Ok now for setting the stylings to the edges of my table top. Simply some tracing paper and a dream.

Pic 19: Working the lines down with the pinebeast bowsaw, yeeeeeeehaw!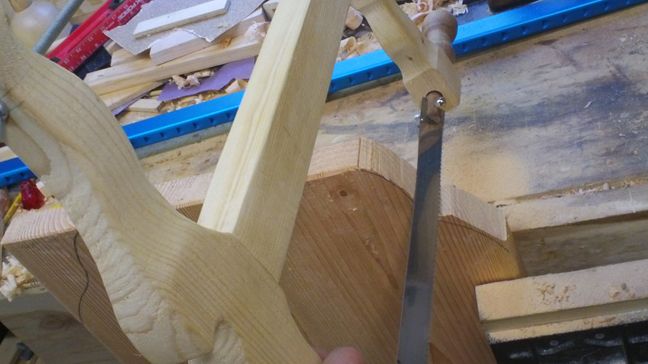 Pic 20: The wonderful rewards working with pine….as the blade cut through this piece…..a heavenly aroma of deep scented pine escaped to momentarily fill the workspace…..nothing better!

Pic 21: This monster needed some more high tech jigs for holding her down…an old cherry cut top and scrap.

Pic 22-24: Ok..the cuts are still rough, but for this session it ended with a few mock -up pics once more to see where I am at. I wanted the entire piece to move from the feet up on through and back….a good amount more to do on this one…..but feels good seeing it and learning more too!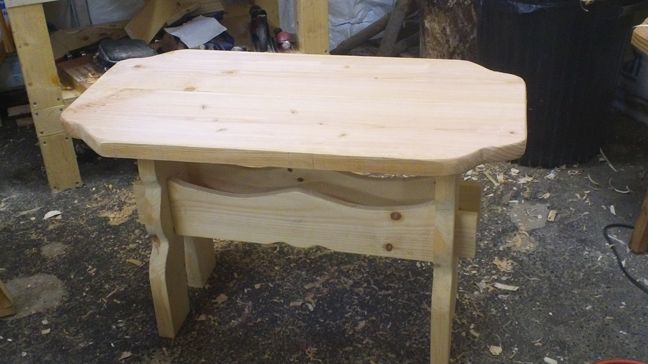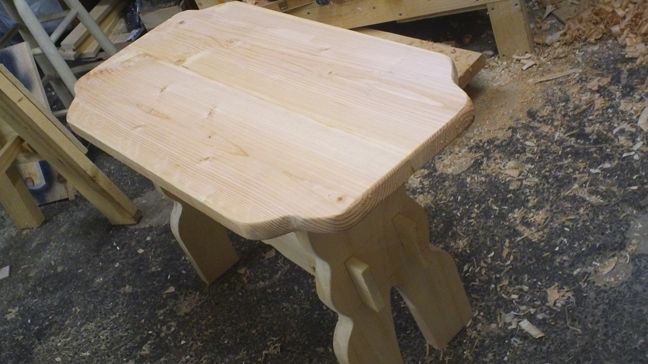 Well friends thats wraps this session up…as I said….. more to do and learn from!
Great grain ahead and remember to be good to one another!
Best regards,
Joe
-- "Always continue to learn, laugh and share!" JJW
---