Well it sure has been a heat wave over here on our side of the farm…..man oh man the daily temps in the high 90's with a good dose of humidity to boot.
I sure hope all of you are taking your woodwork slow and carefully if you are working outdoors or like me in a non air conditioned shop with fans only.
I took a bit of a break for a few days to keep things cool…....literally…lol.
My Rustic Renaissance Trestle Table is still ongoing with the top being worked on so more on that very soon.
To break myself back into the swing of things….and test the temps…lol. I began having a go at some black cherry wood for trying a new spoon. I just recently recieved my Mora hook knife so I thought it was a good occassion to try it out..and also give my hatchet skills some laps of oldschool country woodworking.
I hope you might step into the shop for a view and check it out!
Pic 1-2: I exclusively used this camp hatchet to give myself some needed learning on just how to operate around a piece like this and make it work without sawing down lines to break up the bowl of the spoon to the handle.
Pic 3-4: I took off all the bark and then began to hew down the handle sides just like you would do making a log cabin. An important note to possibly consider. I think it is a great technique to adapt your mind to various tasks that might be done on one scale and size..and remember to bring over that same method to a very different scaled project or job. I do this often as with the example of the hewing….I simply pretended I was in the process of hewing a large timber…and shrunk down the same approach which aided me in doing this portion of prepping the handles! Keep a childs mind….seriously…it helps greatly.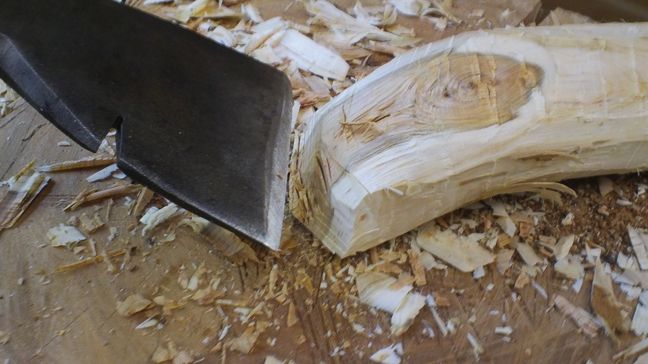 Pic 5-6: Keeping the hatchet moving with great respect for it and planned moves the piece continues to take shape.

Pic 7: The mighty spoke shave was a great help in contouring the bottom of the spoons bowl shape…a little testy with all of the grain directions…but for the most part a great help.

Pic 8: Here is where I am at….looking like something now…lol

Pic 9: Ahhhh the wonderful Sloyd knife for the widdleing. I did a lot of this knife work after the hatchet had it's say. Wonderful knife, a real nice piece for enjoyable carving.

Pic 10: Now for using the new Mora hook knife. This new package will require honing without question. Get yourself some good emery cloth maybe 150-220…..I think mine was a 220…make a rounded dowl with the paper taped for the inside and a flat piece for the top to sharpen this knife. Then make a strop in the same manner with some green compound. Otherwise this is a little frustrating…and dangerous to use. I sharpened mine this route…and started to get nice shavings and enjoy the process.

Pic 11-16: OK…THROUGH THE MAGIC OF TELEVISION…..OR..WELL….PHOTOBUCKET….LOL…....IT'S A SPOON!....LOL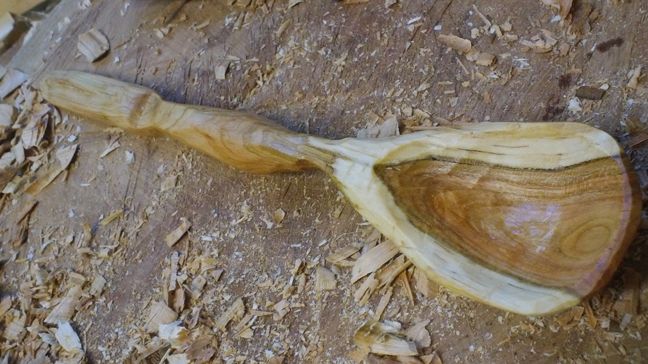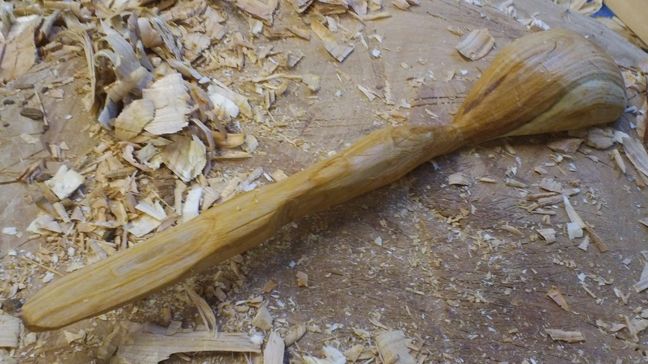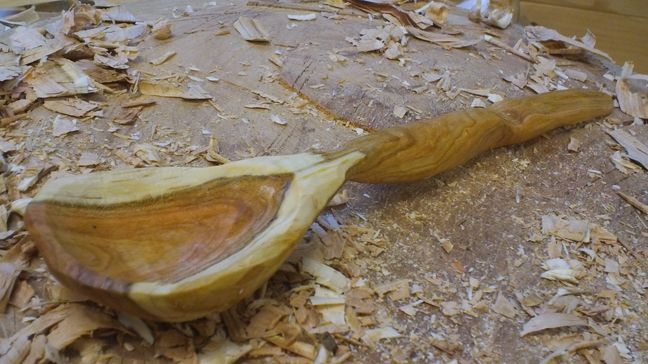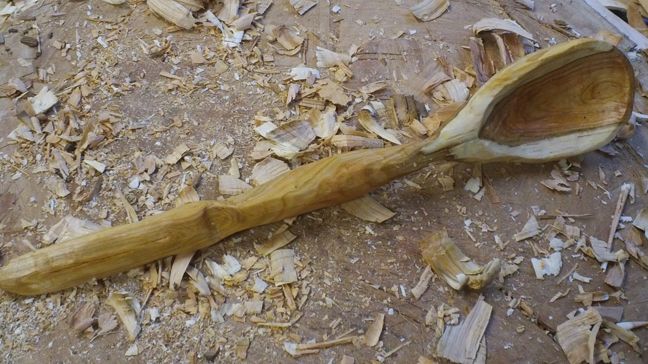 Well that about does her I guess. In closing this was a very fun project and exercise. The hatchet sharpening was done very well,,,,,,finally..lol…..(Practice!), which made me happy….and safe! I strongly advise anyone who is new to these tools….especially the hatchet…..RESPECT THE TOOLS! My moves were very thought out…and I took time with the process. Many of us….guys…lol….sometimes like to hammer and hack away at things…..please don't do this. It's not cool to end up with a bad injury trying to be Paul Bunyan….lol
Also a sharp hatchet….is a safer hatchet…I used way less swing or grit having to hew and chop the various pieces. At times I was simply able to just glide the blade down with a little safe nudge to split some of the fat off.
This piece was all done by hand and by doing so (mostly with the hatchet) I really learned more about grips, choking up on the handle, as well as backing the grip off for the various chops and splits.
I thank all of you out there for your inspiring works….always keeps the creativity moving..wonderful stuff friends!
So be well and be safe…..also stay cool! (Cold beer…..cold beer….......cold beer…...cold beer….lmao!)
CHEERS!
Joe
-- "Always continue to learn, laugh and share!" JJW
---