Wire wheel, wd-40, sandpaper and my hands filled with dirt, grease and hard work…...I truely get a chance to see and feel the contours of these wonderful crafted pieces…...I can't help but to ask myself more than once…what happened to such well made and designed tools?
The curves…the artwork, iron and wood highlighted sometimes with brass…...the time and quality these instruments were made with….I can only hope to give back half of the hardwork in getting them to look a little renewed and pass them on to the future woodworkers so they can have the same respect for crafting with their hands with fantastic looking tools that task a given job with impressive results.
These planes….routers, etc….had a beauty all of there own unmatched by even some of the highest calibur handtool makers of this modern day. Enjoying their cleaning and caring for in some way makes it almost insulting to see what some of the big box stores hold on the shelves offering a young or new woodworker that may not be able to afford a $200 handrouter or handplane.
It is my real passion to motivate anyone young or old that is new to this craft of working wood to please get out to a local Flea Market, purchase a few cleaning supplies and try not to get too intimidated at learning how to get these tools riddled with grime and rust back up to working order in your very hands again. My fear is that a new woodworker may run the other direction feeling that encountering handtools is too expensive and much too difficult to learn the techniques and handskills to have decent results…..but I feel using handtools is a very basic and vital part of human nature to build things with our hands. Since the beginning of our brief history in time humans have always had the very inner instinct to find paths and methods of overcoming the obstacles to survive their environments and hone skills. Those same challenges are provided to us on a wooden bench to find the proper angles, vision and combination of sharp instruments to conduct our methods to create from nature and tap into a deeper portion of the soul.
Here are these two pieces I hope you may enjoy looking over.
Here we have the before pics….not the worst of shape, but I think I can improve upon these some more.

Here are the revived pair of Stanleys!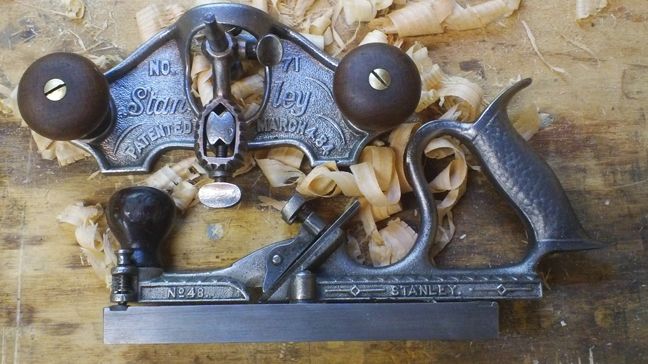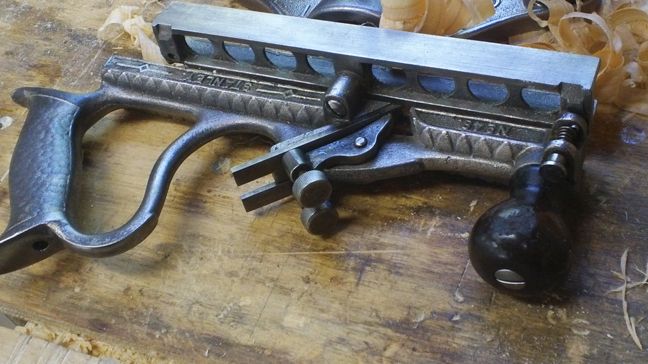 I often laugh to myself..thinking….I have learned many useful things in traditional handtool woodowork…..but the greatest lessons have never seemed to be "what angle are my dovetails?.....or how to get a sharper blade on my chisels?".
I can say the greatest lessons in my 2 years of hammering some 2×4's together…..up to making dovetails was finding out…... what I was made of??......what and how far could I push my self discipline, creativity and overcome the heartbreaks of projects that do not turn out correctly after hours of hard work.
There have been those moments where you are really pushing the plane…..working the treadle lathe during a turn on a summers afternoon…...the sweat and vision….the inner voice saying…..I can…..I can get this….I am seeing it through.
Those are the best lessons you can learn…..there are no high amount of table jigs or too many templates to act as our high wire net…..it's up to you and your learning as you go…having that confidence and willing to take the steps.
Now I take those lessons….and try very hard to apply them in my life…..I value all of these tools …..because they have given me far more understanding of what I am made of, the shavings are just a wonderful bonus.
When I look back after the sawdust has settled and the floor may be piled high with shavings, the exercises of mental strength as well as physical have all been worked out far more than I may realize when approached with matters that have nothing to do with time spent in my workshop. That alone adds a greater value to these tools and a far more greater value to life.
May your days have great value always, and a very happy 4th to all!
All the best,
Joe
-- "Always continue to learn, laugh and share!" JJW
---