It's something about the color of the aged wood mixed with black iron that gives it a feel of a time far gone and yet of great interest to the modern day handtool enthusiast.
I think simply put…my love of traditional handtools and their uses are because in todays high tech modern society it has no business being conducted at all…lol. I love that fact…it's a dinosaur and caveman pastime…and the masses of hurried gadget grabbers and stressed out overachievers almost look at these relics in a sort of joking manner…..your not really going to use that rusty old piece of junk?.....we will be here all day trying to do woodwork that way!….lol
Exactly where the passion for handtools comes together for me….yes…..we might actually be here another hour or two more than the powered and more precise modern machine…..so, smell the pine…..see the sun or hear the rain…...feel your muscles work again and love the feeling of your heart pumping…your alive!. Last time I looked the pale blue dot we strut around on…...is not a rehearsal….lol
I had been looking on ebay for a transitional Bailey plane #26 and they are fairly easy to come by…...but not always with totes complete or the base wthout hard wear or cracks.
So I was really surprised and very happy to see my buddy Ralph this Sunday morning at the local flea market with one on his back table not touched yet. "I haven't had a chance to get to this one yet so it's kind dirty still…I was gonna do $25…..your a good customer….say $20" he said. SOLD.......Joe said…lol. Ahhhh… a nice looker of a plane…..and no crazy shipping fees…..lmao!.
I reallly felt good about this one…..I just liked it…like an old car that you know in some way…your going to have to tool box it a little here and there….but that car is going to be a keeper.
I think this plane is a keeper for sure. I took to doing a small restoration on it..a little new paint, some wax, oil, and a ton of good spirit I recieved for the sweated efforts.
The sole is in pretty square shape too…I was very pleased.
I wanted to keep the patina and old looks…..and yet still give it a boost with some shiney new paint as well. I am so glad I did it this way….I love the old rustic wood with age and history all over it.
The blade was sharpened on my diamond stones and the shaves are sheering with joy.
Here are some pics to scroll through, take a look!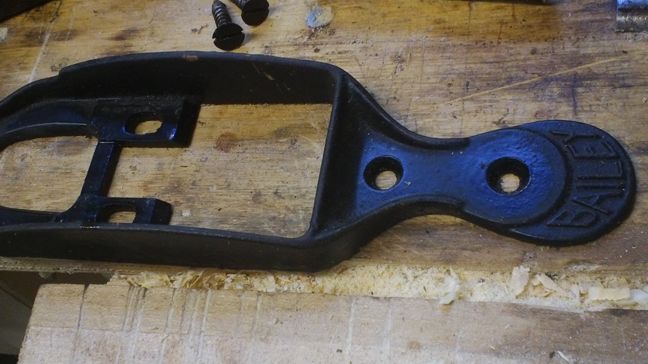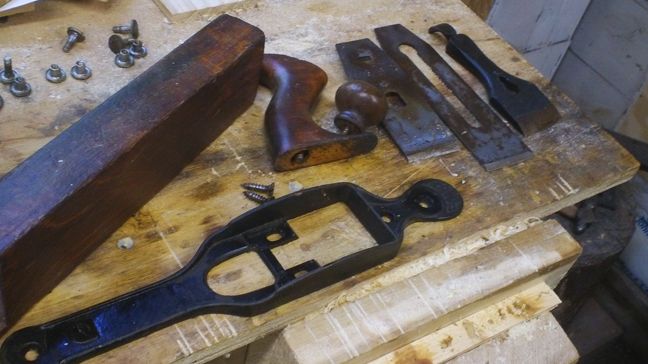 NOW TO THE UPGRADES AND SHAVINGS!!!!! FORWARD ON!....LOL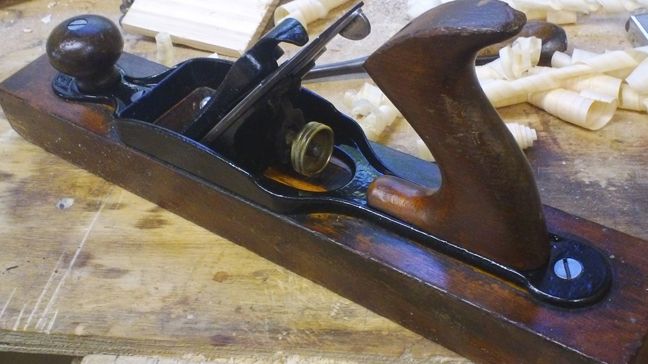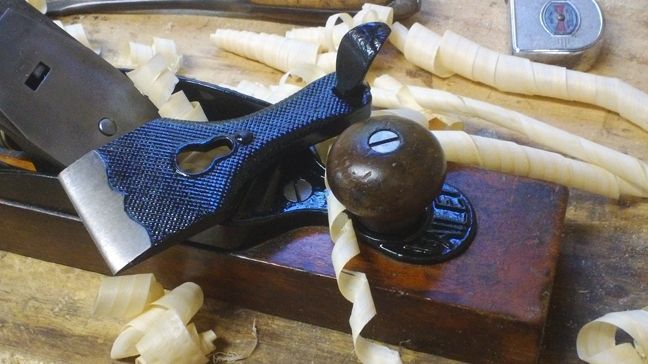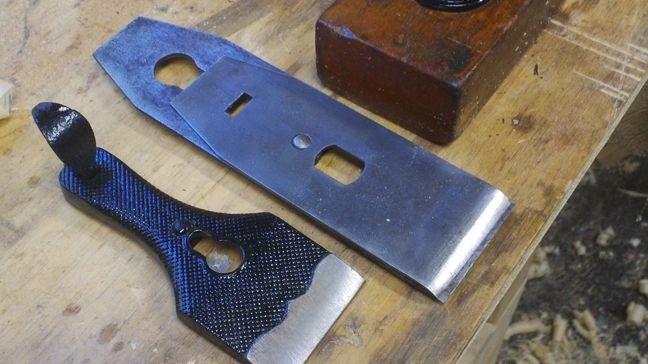 So as with any nice handtool revived and ready for use once more….in the galoots tool tote I had to put it….well at least for this blog…lol.
As I was saying….......
It's something about the color of the aged wood mixed with black iron that gives it a feel of a time far gone …..but, no matter what friends it is wonderful to be here…...right now.
Enjoy now, be well and laugh hard.
Great transitional bailey shavings to all!
Joe
-- "Always continue to learn, laugh and share!" JJW
---