Shavings, sawdust, chisels scattered about…and the joyful noise of the mallet sending the message from hands to tenon to mortice….this round of the build contained much learning and honest work. Looking back through these last 2 blogs…..I feel encouraged and seeing my skills grow, sure there are some mistakes but I really see the value my time has bought me with my with study and self challenge.
I would say in review of the last two years playing with all of this woodshop stuff…..I have learned so much, and yet realize the path is incredibly far wide and years ahead of me. I hold these pieces as I craft them all…..and I am sure friends you have the same feeling as you are in the middle of a build, those pieces are like a part of you as you move them about through vise and travel them table to floor to bench…lol
I feel this experience creating this trestle table is like that moment when a trained athlete knows….you are making gains…your sweat, your passion has you at times frustrated but still all of these variables let you see your accomplishments almost teasing you into wanting more hard work to once again achieve the highs of hard earned success.
So…..as most of us love this game of crafting….we go back..we always want to have more knowledge.
At times my experiences are as humbling as feeling like I have been at this wood working game for about a week…lmao! I find that's the best time to shift gears and get back to other important things in life. Breaks can fuel future rewards you have no idea you are in store for as the brain enjoys stimulation of new things!
Let's take a look and see this portion of the journey…..I hope you might get a kick out of it.
Pic 1-4: Back to the task of getting all of these relief cuts roughed down on this second set of legs. I group/jog both of them in the vise to expose where they need to meet up better. I start with my chisel and follow up with the spokeshave where I feel it works best…...I share this all with a rasp and file as well. Right now I want to achieve a second stage of getting these pair of legs in form with one another…these will all get additional care down the road.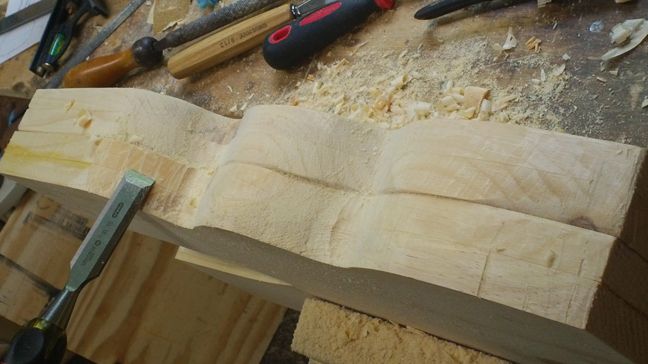 Pic 5-6: Now for working inside the legs cutout area. I used my copesaw to cut away the fat and get as close in form as possible to the other leg…..This wonderful Disston Keyhole saw helped to make some additional relief cuts to ease the copesaws cuts….worked fine, although a bit difficult at times.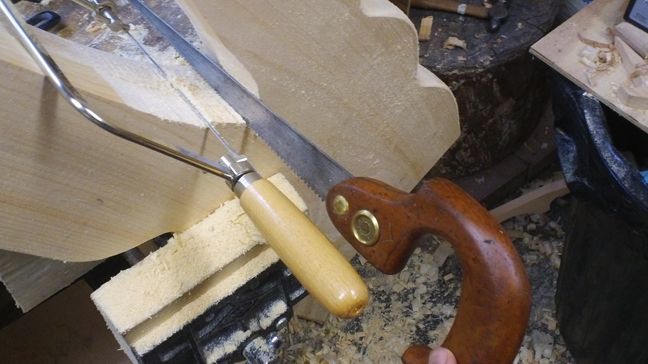 Pic 7: Ok….we have them grouped and getting into form with one another. I usually find that grouping them in the vise and working them together works the best. This is all about your personal touch and instincts…..you really have to work and check….work again…and check again, this is a very discipline exercise but I really feel it's a fantastic method of learning about working wood without a net…lol. As far as the mortices for this top shown piece went…..I traced from the first piece with mortices…then gathered up the measures from there and made them.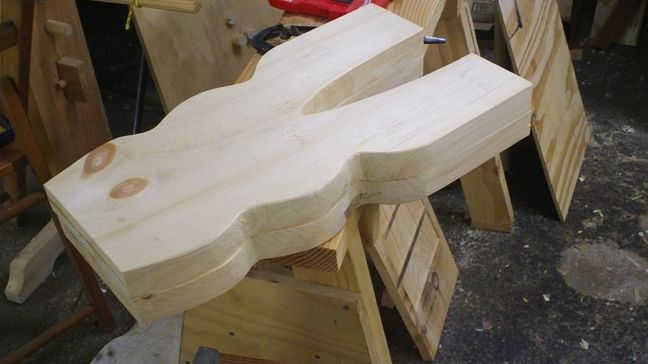 Pic 8: With the first cross piece already styled….I used that for traceing to make the pair! NOTE: This step will happen after I rip and crosscut the board to size…I got out of order here…whoooops…lol.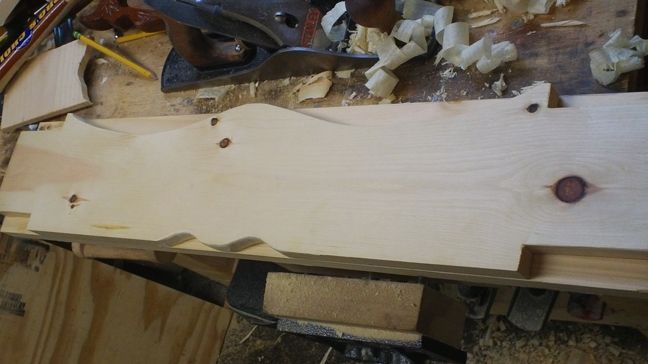 Pic 9-11: Now I lay out my cuts to cross and rip this cross piece down.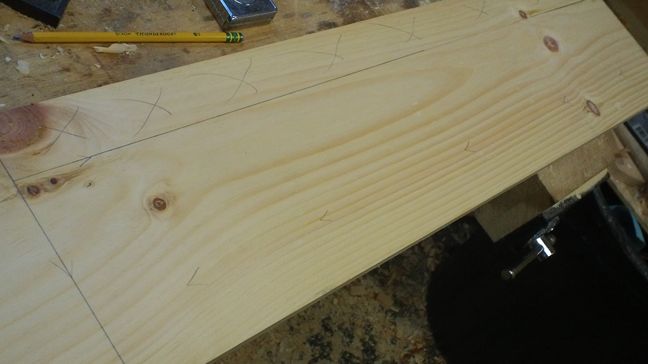 Pic 12: I prefer and recomend making a saw trench for cutting the shoulders here….it really makes the saw have a more sturdy reference for cutting.

Pic 13: I rip down the sides….and I am not over concerned here with pretty cuts. I feel there is far too much over analysis being conducted at times and it can begin to turn every handtool user OCD!.....LMAO. I myself get too far obsessed thinking I am not a worthy person for having gone off saw line…..oh the havoc,....what have I done!!!!!….....lmao. My feelings are….this is handtool work…it's like any trade you improve as you learn and work at it. I think this mental training allows the worker to get back to the fun of learning versus the grief of self abuse. Although I sure have had some upset moments as well….lol. This whole exercise will become more efifcient as well as accurate with additional practice.

Pic 14: It's the little things in life…also in the shop! I will use my little cut off tenon shoulders for possible keys, or nice for some smaller widdleing! I always love to keep the scraps if I can use them for something!

Pic 15-16: I always like to chamfer the tenon around the top as well as on it's sides. Makes it nice for easing things for a fit. A little soap never hurts either but don't disguise it for a hard fitting mortice and tenon…because you will have a cracked project!

Pic 17-20: I have raved about this mallet before by Vaughn…..I rave on because this has an incredible feel for cabinet work, especially making mortices meet tenons! My rhythm here for me is vital…...I contact the piece about 5 taps….I start from the top, to the middle, to the bottom, going for an even distribution of push.
I also have found for me…choking up on the handle makes for good control which is exactly what I am looking for as I constantly listen, look and feel tapping the tenon forward.

Pic 21: As you test fit…I presonally take a good amount of time and always go so far until my hammer sounds blunt…. then I take this tenon out and check for the bruising on the tenon. The bruises tell the story here….this is the mortices way of saying take this wood down from the reference bruise on.

Pic 22: Sometimes this fitting can be very trial and error….patience is a high requirement for this task or else when you hear a…..craaaaaaack….the party is over…..lmao. These are the early testing grounds involving handtools….and if you decide to enjoy this style of woodwork you will surely have these moments. For me this time around doing this mortice routine I feel a decent payoff is in my future so I continue to enjoy the time spent…and carry on with a gentle wisdom.

Pic 23: Homeward bound! It took some good old sweat and hardwork…...oh and lots of poland spring water…..lol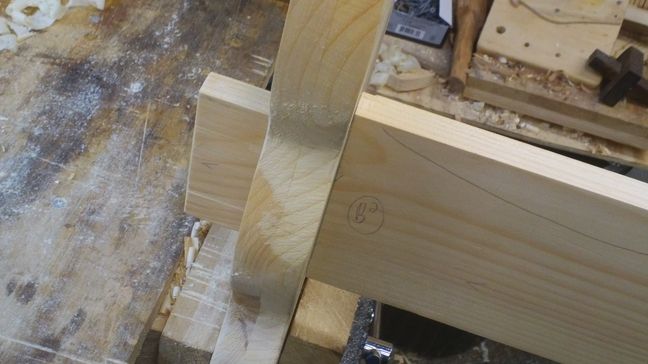 Pic 24-25: Now we can copy our styles alla copesaw and get a rough mock up of the four joined up!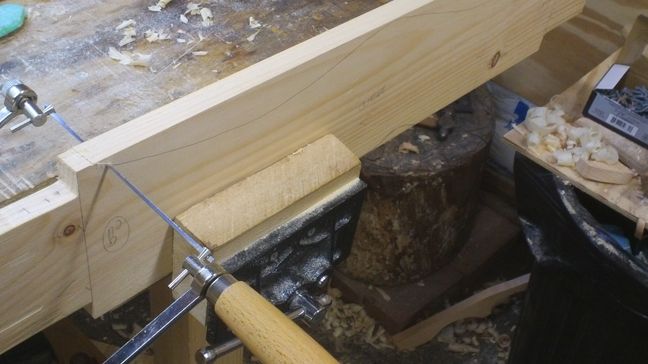 Pic 26-29: Ok another "mock up only" photo shoot…..I take these pictures to come back to later at my computer….I have been very lucky….I do this to make sure after hours or more without seeing it…..if I am still pleased…so far so good! No worries…this is a slab for the top just to see dimensions etc…lol

Pic: 30: Wow…a real favorite has come to my beerstores shelves. A german classic for a german woodworker…now that's a great fit!....lol…..Ahhhhh I look forward to enjoying some this evening…..send me a cheers!

So I have continued to learn more which is wonderful thing. I know there are more challenges ahead but I feel very excited to see what my version of a Renaissance Trestle Table will be!
I thank you for looking in and taking the time. Have fun with your projects and take the time to enjoy all of it!
Great days ahead…......CHEEEERS!
Joe
-- "Always continue to learn, laugh and share!" JJW
---