It was a humid mid morning…...I mean so humid that most of the outside auction tables were packing things up to head back home from all the uncomforable temperatures and lack of sales. As soon as we exited the truck my Father and I felt as if we were going into a suana, the small breezes were even warm….not the best weather for an energy filled pick…lol
A few tables up on the left there were two very beat down and rusty braces on a table of assorted junk, I picked them up, gave them a look…."the braces are a dollar!" said the man braking away from his conversation while packing crates back into his van. Since I have been getting these cleaned up and getting nice results I thought to myself…well…...the chucks worked….hey I was game…..sold!
I did not even get ten steps after the sale when a guy on the right side of the isle asked…"you want another one?" I said…well..looks pretty nice.."How much did you get those two for?" he asked me. I said…."a dollar a brace" He said "cool…..same here, one dollar" This one looked to be in better shape as well…..nice!
The remainder of the humid walk was a total no show as far as more hand tool treasues to be found…..but I surely was not complaining….great scores…..3 dollars, 3 braces….I saw potential and set about my path homeward bound!
Now I have a poor habit of sometimes not completely looking over a piece such as a brace, saw….whatever it may be…..and not reading and looking for all that I can see. The positive side of that is..I always seem to look for the bottom line basics…is the saw straight?...the chuck clench?.....etc. But I always forget in the excitement of it all to look for any pat. no's, medallions or badges….although I realize many times you are not going to even see that especially when these grabs are so filled with rust and grime. This was one of those cases…..where my cleanup would produce some very rewarding results!
As I fired up the wire wheel these pieces were really singing in appreciation…...like a snake sheds his skin these braces began to almost timewarp back into a revived look again.
I was very excited to see these were all Millers Falls braces…..and two of them had pat no. of 1911 both a #32 and #33…....I was thrilled to get these and have the proper tools to clean them up!
The thrid was a #1710 although the pat no. was not to be found on here. I beleive it could be anywhere from 1935 to 1981, even though it looks to be pretty old.
Here are some of the pictures or more of a slideshow to view my finds and our revivals.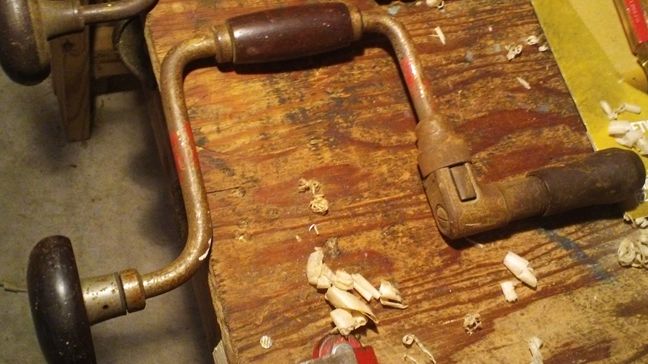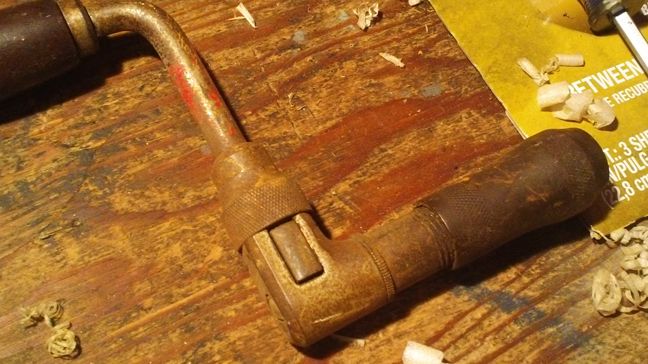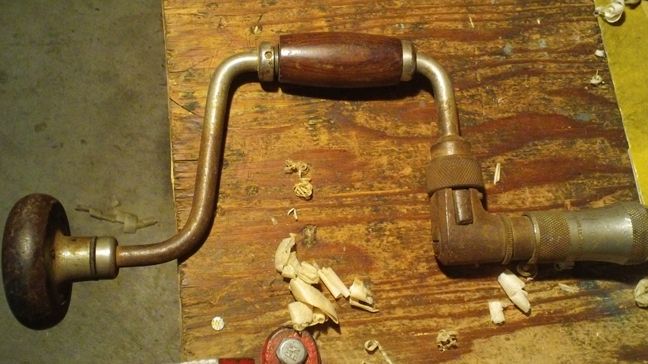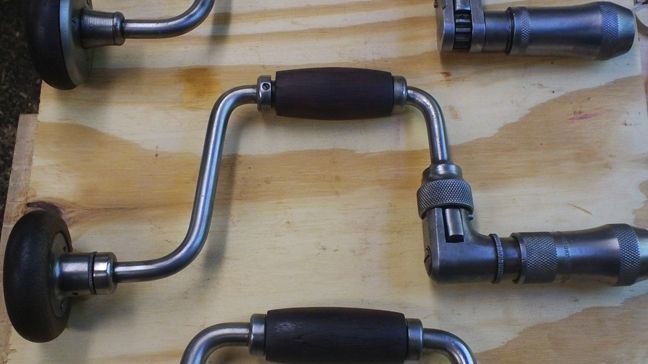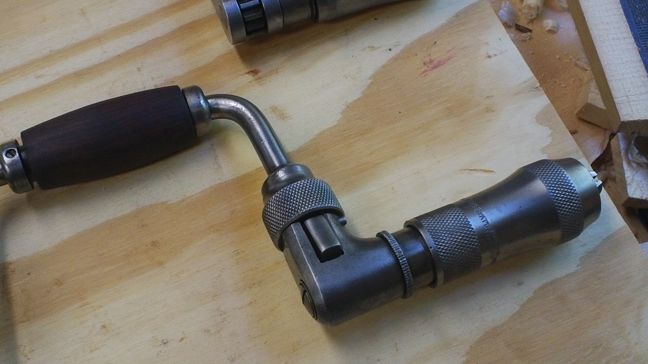 Really glad to have saved these, they all work very well and will look great hanging in my shop. I look forward to using them on various projects!
I always get this silly thrill when cleaning these old tools up….when you almost see a part no. or medallion…but not just yet…you have to clean a little more…..do you get that feeling or anticipation of a scratch off ticket scenario…..what will this be?......how old??.....haaaa, well I suppose it's an innocent pastime although found by many to be a bit whacky…..lmao.
Now….. I am thankful for that horrid humid weather forcing sellers to just practically give these away so they don't have to haul them back and forth anymore…..3 dollars, 3 classic braces!!
Hope you get yourself some fine finds as well friends, give them a spin and a new life!
Great shavings ahead,
Joe
-- "Always continue to learn, laugh and share!" JJW
---