A wonderful day for a handplane…....no? Ok, maybe more than one…they are like a favorite junkfood snack…one is never enough!....lol.
I thought I would just mill around a bit in the old time woodshop….sometimes after a project I find it nice to take time and clean some past bought auction finds…..or clean up some messes here or there. Just more of my new approach to not rushing unmindfully straight on into the next idea.
I find doing that confusing and a inner battle of wanting so badly to play in the arena of creativity…all the while being totally unsettled with the actual piece that I want to create. The results in that for me always seem rushed and without fullfillment.
Having a great time horsing around with the tool tote (My last project).....I continue to look at it…and go….hey, I like that….lol http://lumberjocks.com/projects/67345
Fits the shop, which is also in a state of needing more finishing….have to get on that…lol
So onto some of the additional cleanups and finds. I was very lucky to purchase a Millers Falls #14 jack handplane! Very happy with it. I also just got finished cleaning up an old handsaw I purchased a few weeks back from a picker who said he found it in an old barn….very cool. Let's take a look at some pics to explain what is what!
Pic: 1: Nice view from outside of my shop, I like to stop for a moment and look around if I can to set my mind straight and give thanks for what I have.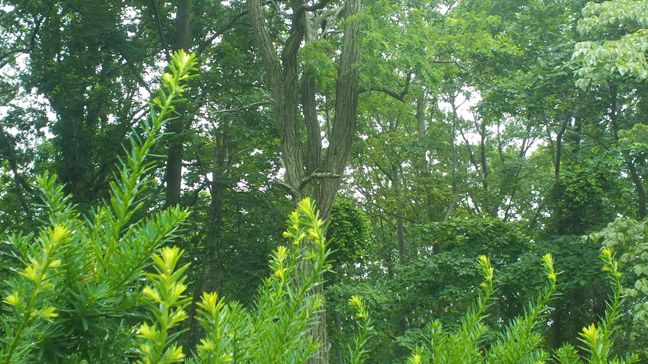 Pic: 2-3: Ahh…..theres that old beat up saw. Much rust on this one for sure…...I really liked the handle and for 2 bucks I had to get it. I call it my hockey player saw…...it's got a few missing teeth but it's tough as hell…..lmao!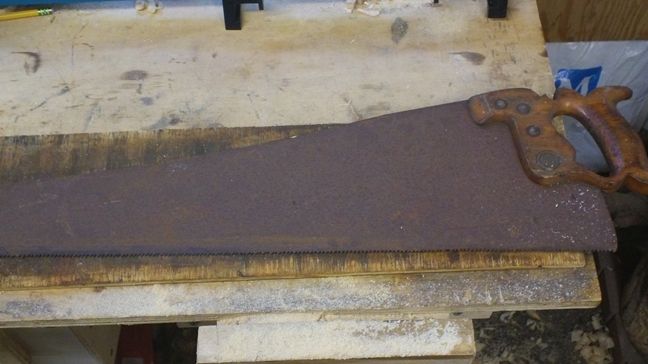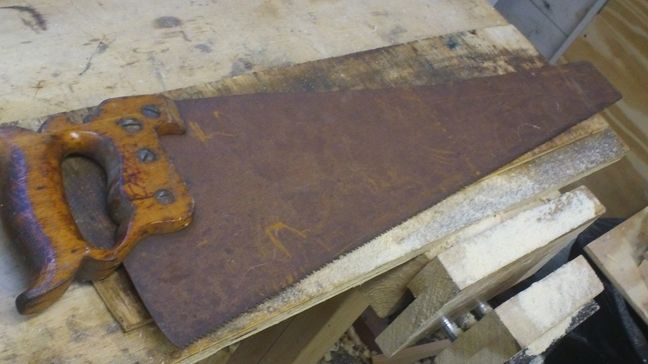 Pic 4-5: This is looking better now….a lot of hand work here for sure….about as clean as I think is needed….and I love the handle with the oiled finish and once more lively brass!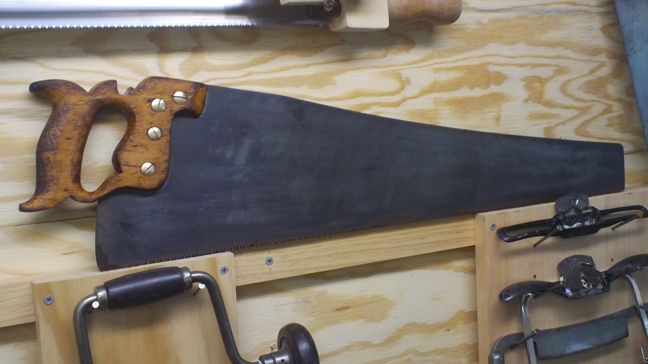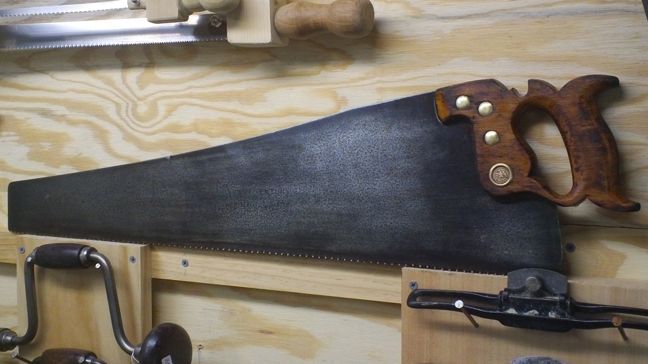 Pic 6: Thought it was a nice pair up with this Richardson and Bros. cleanup I did a few weeks past. http://lumberjocks.com/jjw5858/blog/30323
Pic 7-8: The tool tote awaits my seek and find session for either adding in a auction newbie or taking one and freeing up some more room…....this stuff as you all know….can get addicting…lol. The tote carries well although I really have no need to carry it…..and I don't mind…haaaaaa it weighs in with a full load of around 35-40 lbs….lol. I will save my walk with Roy for my Carolina styled tote…..thanks anyway…lol.
http://lumberjocks.com/projects/52514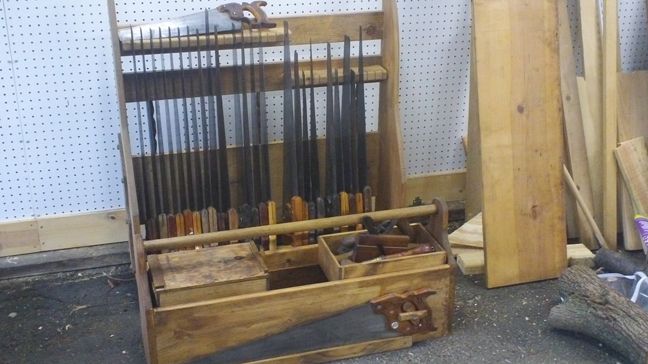 Pic 9-11: Heres the planes…...the resto I just did on the Stanley Jack…and this new already cleaned up Millers Falls #14 Jack. I really wanted one of these…and being with my Dad..he kept saying…that's a nice one…and we got it!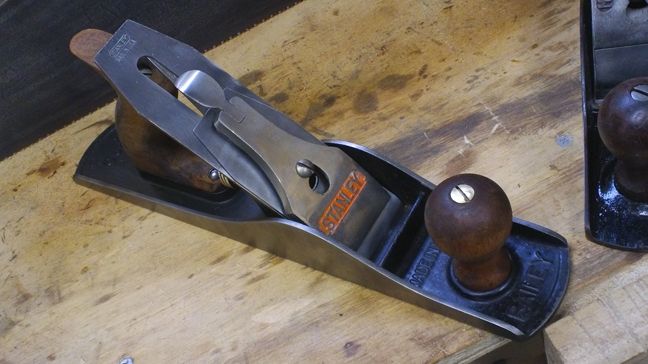 Pic 12: What the hell I brought out the whole fleet and took a shot…..as I said….one is never enough….haaaa. Well now…with all of these I estimate I could probably buy 1 1/2 Lie Nielson Jackplanes….lmao.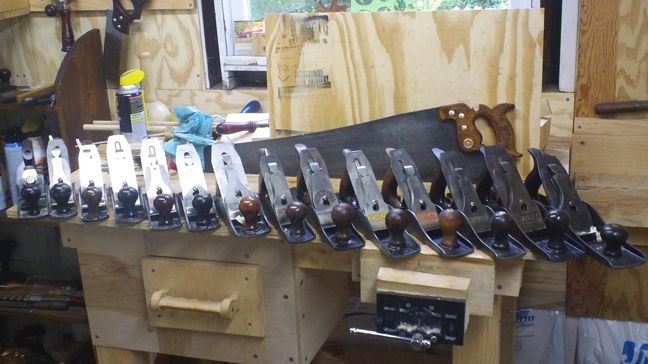 These simple machines are only powered by sweat and strength, standing the test of time as long as the craftsmen has the will to power it ahead with pride and vision for the task to be done with the highest of standards.
Yes these tools challenge the student with the lessons they teach, just as the grain in planks of wood remind us that nature knows best for our greatest fortunes.

The trees and our blades wage into a tug of war of wit and might but it is the wiser artisan that opens his soul in humility to the wisdom of the branch and the magic of the leaf.

Journies of our woodworking past gives forth the opportunity of the present to rediscover the paths of skill and conduct ourselves with patience, instinct and creativity.
As my long walk carries on I endure and embrace the grains, shavings and joinery of each step and wish my colleagues the best roads ahead.
Best roads to all friends…..be well!
Joe
-- "Always continue to learn, laugh and share!" JJW
---