Hey gang hope your weekend was enjoyable. It was a rather humid and….crowded day in these parts of NJ…LOL.
But I was happy to get back home from the traffic way back in the woods and on route to my shop to fire up the wire wheel, WD-40 and spirit of better times and clean some nice auction finds for the tool tote!
Let's take a look at some of the pics!
Pic 1-2:
Found this very cool Disston keyhole saw in an old tool box at the auction this weekend….it was old and needed some tlc…..but for a dollar and a Phili medallion no less…...oh boy… I was more than happy to pick this one up and bring it home!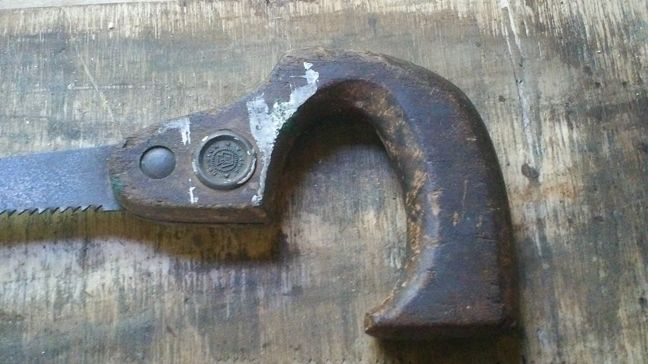 Pic 3-4: Got some elbow grease working in combination with sandpaper for the blade. A little trick I personally prefer for a rustic look to an old handle….I use 60 girt sandpaper and sand the handle.. Next I leave a few multiple darker spots in the areas I want. Then I use dark walnut danish oil to bring a nice dark color adding life back to the old handle and the areas left darker make a nice swirl of colors/tones with the oil. Finally if you like you can do some poly coats to give it a little shine…as this final look is a more flat finish with little shine to it…..but it has great color to it.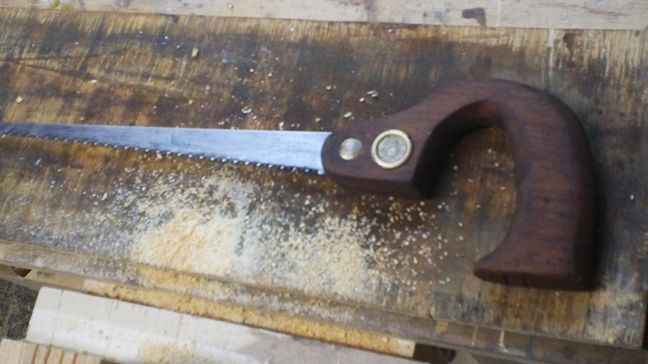 Pic 5-6: In my one great weekend pick….I got this in a tool box with a hell of a lot more….here is the blog this piece as well as some others on here tie in with…....http://lumberjocks.com/jjw5858/blog/29741
I used WD-40 with an electric wire brush to get this into shape, then the same scenario with the handle, a light sanding and some danish oil. Finally took a file to it….although it needs more attention when I get time…..but its actually sharp now….as it was dull as butter after many long years of hard work. I only can hope it is as noble and ready for task as George Cooks!....lol (See the Wheelrights Shop book for the George Cook reference if that's a question mark…lol)
Pic 7-8: Ahhhhh here is a recent find….once more an old rusty tool box…and found this classic old time brace…..I was really into this one….you will see the other one that we paired up with in later pics…5 bucks for the 2 braces….awesome….for $2.50 once more…...WD, wirebrush, handles were fine with a litte care…we have a fresh brace although a little negotiable on the threaded chuck area…ahh I still love it and it does work.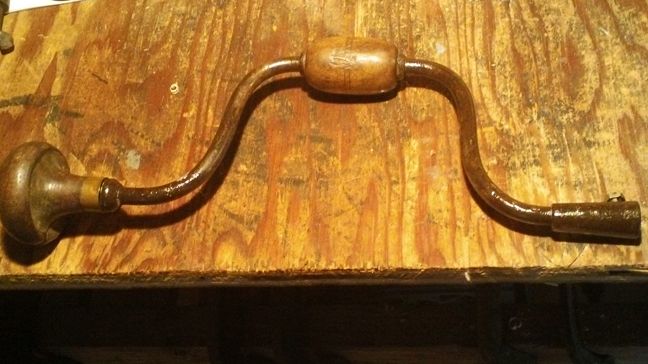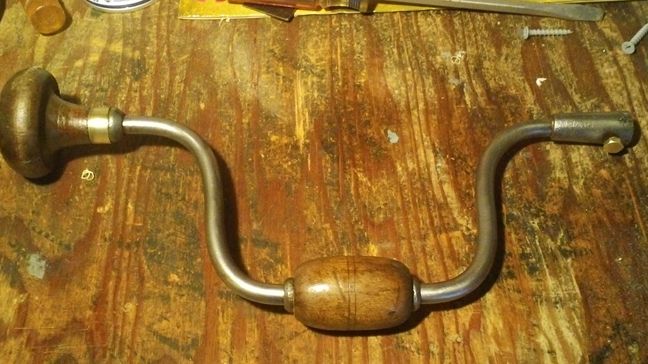 Pic 9-11: Heres an old beat down Stanley brace also from that tool box find…..looks here like its seen its best days and ready for an attic….lol.
Pic 12-13: Wow….I was loving getting this one together…I was eager as a kid on a snowy christmas morning looking on as the wheel of wire exposed in short machine bursts a slow glimmer of my excited expectations….real addicting fun this cleaning process can be. Look at what we have now…..and the chuck is ready to go right to work….nice!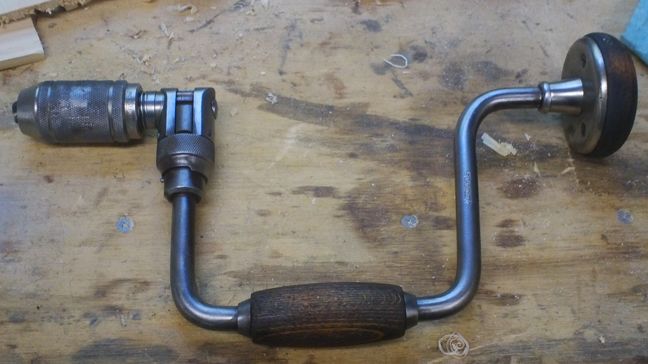 Pic 14: Here is the additional brace that was paired with the one next to it (third from left to right)...this was so small and unique and this works very well. All three braces barely cost 6 bucks combined.
Pic 15: More of the assembled portion of a large tool kit for my tool tote.

Pic 16: A friend from work was nice enough to let me know her brother was getting rid of tools he had from shop class in the early 70's…....I recieved this cope/fret saw in much worse for wear shape then I transformed it into now…..love using this!

The main and most important idea of the tool tote project…...I suppose it's really a celebration of handtools. I wanted a piece that was simply that…a handbuilt platform, user, and overall project to make anyone ask…what tool is this….or…oh…..what's that?. I think it is of upmost importance to keep this history not only alive just for history but making sure it is still an option in the present.
For anyone that may read this blog…and wants to enjoy a side of your hobby that is more handtool involved I will tell you….these wonderful old tools are out there. Not just on ebay…but auctions….flea markets…..even friends or family making more garage space and tossing thse things to the curb.
I hope someone may enjoy looking for an old brace, saw….etc….cleaning it up….and getting those arms going, working a project to your plan, getting exercise as well as great joy and pride of this wonderful craft.
There is noting like the feeling I get…when I look back at a piece…...I see the imperfections….I see the achieved improvements…...but for better of worse….the satisfaction of knowing I made all of this right or wrong with my hands and heart…there is nothing finer.
That same experience is also extremely humbling in keeping reality in check and realizing…this was all hobby….enjoyment and fun. Our forefathers did this fine crafstmanship 10-15 hours a day so there family could eat.
We really have come far all the while we have also lost some very valuable basics.
Hope you enjoyed seeing these time pieces, I always enjoy your creative energy, blogs and projects.
All the best,
Joe
-- "Always continue to learn, laugh and share!" JJW
---