Well friends the day has finally arrived….where I am going to have a decent spot to either carry or hold my stanely chisels….lol. I have had these chisels on one table or another realizing that they needed a proper home in the shop. I thought since I was putting together this traveling tool tote of carpentry instruments….chisels would be well in order for many a task…....so I took a creative chance on making a space for them!
Along with that I thought why not a handy smaller tray to join up inside of the chisel box for some nails, screws….etc. Plenty of room inside for a few boxes of fastners….but an extra space for quick access might make for a nice added touch.
Pic 1: I got together the four chisels I use all the time to get an approximate layout with the ripped stock.
Pic 2: After getting that together I dimensioned a piece that would have relief areas to slide the business side of the chisels onto. Small saw work here on soft pine…..easy…..slowly…..and you can get this. If you attack this portion of the job….it can snap with ease.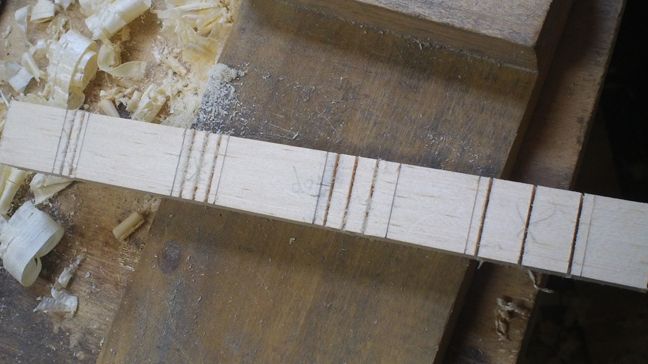 Pic 3: Ahhhh….. that fits nice for these users…worth the controlled effort with backsaw and chisel paring…..this is coming together now!

Pic 4: Although the chisel boxed was glued up then attached with small screws I decided to have some fun gluing this smaller inside tray followed by some brad nails. Ok….I admit it….I just wanted to play with this wonderful Stanley Cabinets hammer I got from my beautiful Jenn for christmas….love using it!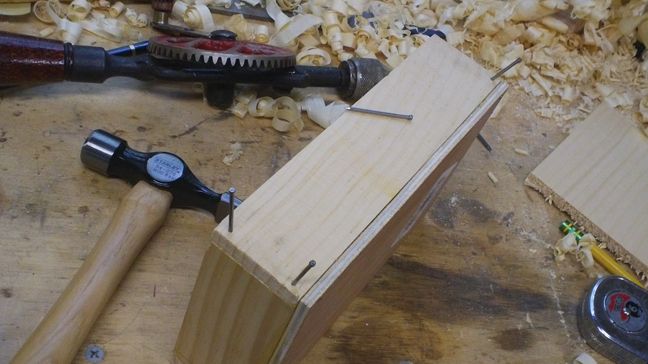 Pic 5: All set in on her tracks and ready for use although more in mock up mode now…before all the finishing touches!

Pic 6: Tray easily comes out for use just like a glove…..and…on the very first try….....haaaa yeah right…..nothing usually works like on TV!....LOL. A few plane shavings here and there…..and a little working in and out of the chisel box finally made everything get into order.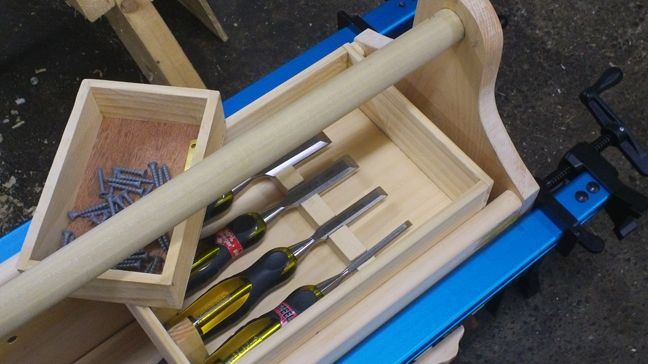 Pic 7:......Hey….. how did another handsaw get into Joe's tool tote??.......lol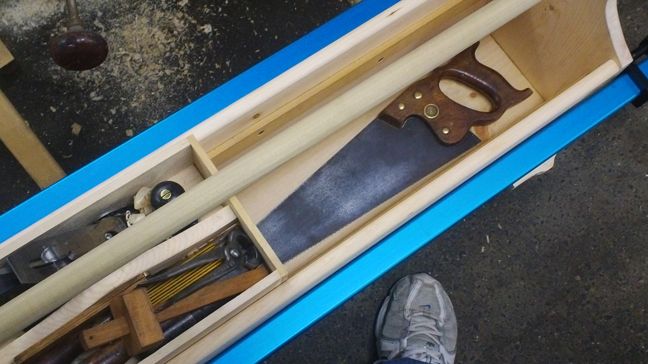 Pic 8: Love getting all the elements together…soon after the build portion…..I will recruit the specific favorites of various tools…that will make a home in this tool tote. First…some quality control including finishing up some rough areas…and getting my sanding workout going….lol

It was nice in retrospect to see this build…and reflect on favorite skill building moments….a hell of a lot of resawing….great practice for me.
l really loved getting that Stanley hammer fired up and going….hammering is such a craft…it really is. I think many of these simple looking..lol, manuevers fool us into a false confidence when we take a too casual and cockey approach to things. I know I sure had a couple of more than 3 letter word moments that sound like yuck….lmao!
Handtools and working wood with them always have a way of letting you know…..you have learned much….but have much to learn!
Woodworking is so immense in it's variety, styles and lessons. I love it for the exact fact that no single person will ever learn it all in one lifetime….I think that, in and of itself is something to treasure and not dam.
Just as looking into the night and seeing the stars we wonder and we ponder…as long as you get some joy from it in your heart you can do without the struggle of the realization of our minuscule and brief existence. We can then forge ahead mindful of our daily challenges and share a smile while being alive in the present moment!
Thanks for your great moments friends!
More work soon, Cheers!
Joe
-- "Always continue to learn, laugh and share!" JJW
---