Hey woodworking friends hope all is well. Took a small break from shop time and recharged the creative batteries this week. Good to be back and to revisit this tool tote project and thought a second blog installment was due to see what progress and ideas were in action.
It was nice to get away from things for a small time and allow ideas to regain energy and fascination. I find this can be very helpful in any hobby, profession, or relationship in life…..just let things breathe a little.
So…with some room allowed in my minds eye, I took to the task of something very clever I once saw someone do on their tool tote…I added a Disston sidecar…...lol. Looked fun as well as dam handy. I simply had little idea how to even do it….so I just let the kid out in my imagination and began to play!
Let's take a look at what I have been up to…...
Pic 1:
The best way to start in most cases…..let the ticondaroga map it out!

Pic 2-3: Once I cope sawed this middle piece out I used a great tip I got from Paul Sellers…..jig your clamp into your vise….and you have an extension to vise/clamp objects in new ways! Very handy tip…and for this exercise it served me well for spokeshave clearance.

Pic 4: If you go this route….add in a little leather or something that will protect the clamping from marring the work…..easy to forget…haaaa I soon used this after the first bit of shave work as the bruising was pretty good…..lol
Pic 5: Ok…..so the beginning of this fixture was up and going…now I saw some scrap stock to clean up to get a top latch made….I used my red old sears shoulder plane to work this a bit. She may be red….but ahhhhh….. nice shavings after a few goes of the blade on my diamond stones…....a cat's hiss of a cut whips thin pine shavings all over the place. Again using my newly found clamping method was a help…...thanks Paul!...lol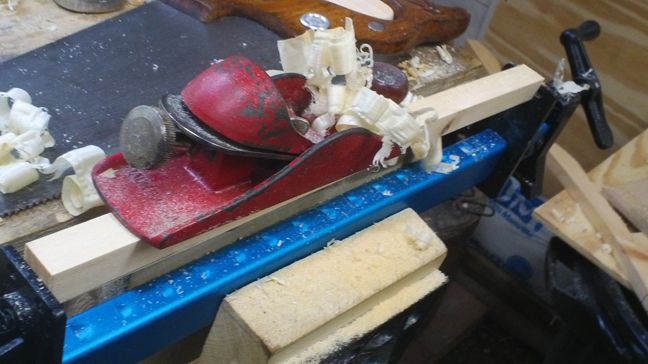 Pic 6-7: I drew a fun curved latch that would hopefully turn and hold the Disstons handle secure. I purposely choose a knotted section to add a little rustic feel to things…....let the pine show off a little!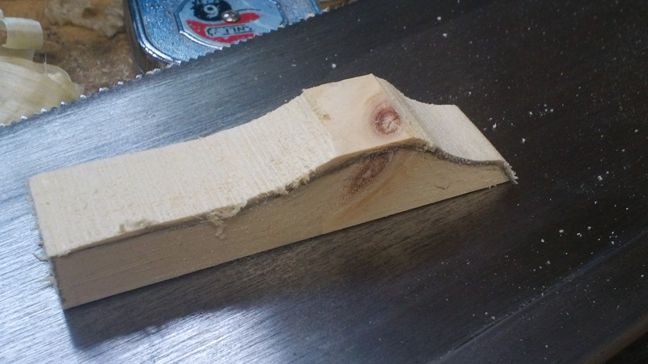 Pic 8-10: Attached and looking good so far. After a few test fits I realized a custom dimensioned wooden spacer was needed, so I got the proper measurments and fashioned it all to have proper clearance, turning and holding when this all gets mounted to the side board of the tote.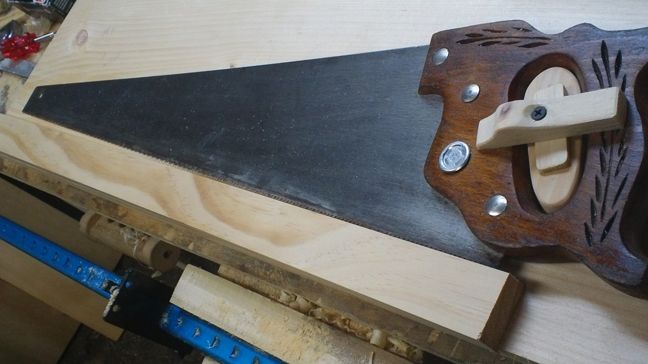 Pic 11-15: Now….the kerfing strip…haa….this was going to get interesting. Let's see….well…remember friends…in this shop….there are no table saws or machines. So I was going to have to do this with some old fashioned learning on the fly…..lol. First, I used my gauge to set up my off centered line to make a small starter kerf. Second, I took my backsaw and just slowly worked this into a kerf and basically got the position of using a handplane….worked well….worked one side to the middle….the flipped…worked the other and met the middle.
Third, I worked up the thickness of blade set with a few saws and finally my kerf was fitting snug but nice for this particualr saw I planed to have on here.

Pic 16-18: Ok….got all my screws set up and mocked it all up with clamps…..holds like a rock!
I am very pleased with what I came up with. Takes a little touch and understanding on getting the saw out…but once you know the trick…..dam, it holds real nice!..lol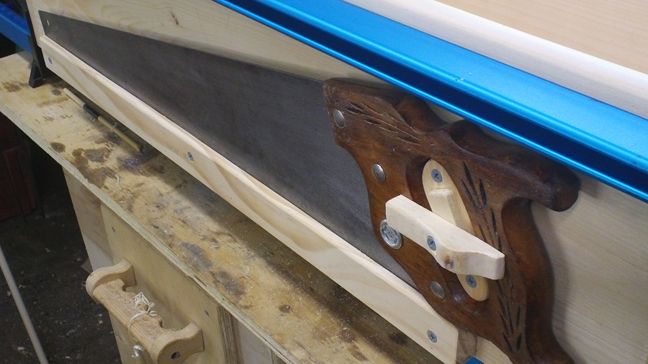 Pic 19-23:
After the test fits….I had a go at ripping this 32 1/2 inch piece for some thinner pine to work some new ideas up I may use on this project. Now…....I have never attempted this kind of monster ripping…and I was surely a bit worried how I might do…...but again by laying in gauge lines then pencil them in for vision I was set about the task. Saw at 45 degrees and flip sides….then saw middle….I repeated this combination for a tender 25 minutes for the duration of the 32 1/2. By no means tough timber sawyer work..but….I was really pleased with the results for a greenhorn effort. Now I have two thinner sheets….one purposely a pinch thinner then the other.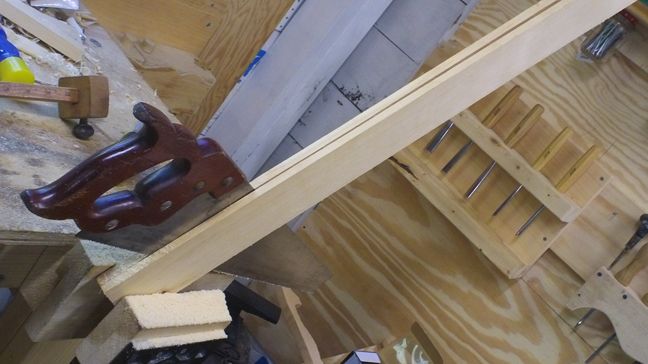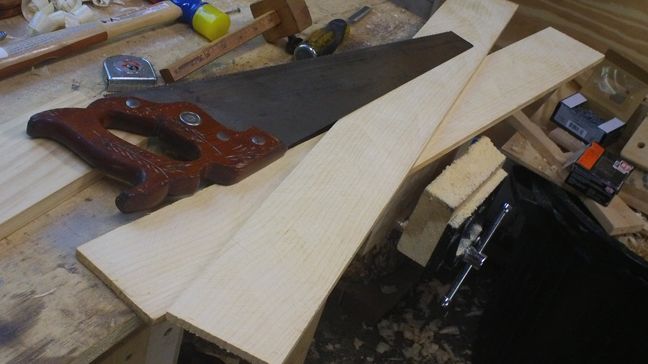 Pic 24: I believe the great Dickey Betts once penned….Back where it all begins…..Cheers to that friends…..what a view!

So…...heres where the wood train stops for this visit. I sure had some fun learning new ways to work ideas through to a fit.
Of course as with anything so many ways…some faster than others to task a project….this was just my small recital of how I thought to pace it and place it.
I really enjoy the enthusiasum of so many more LJ'S fired up about handtools and sharing their talents…amazing work and skills. As always I thank you for your shared interest in my projects. More to follow soon!!
Thanks for stopping by and be well!
Joe
-- "Always continue to learn, laugh and share!" JJW
---